'Parks & Rec' Star Rashida Jones' Geeky Yearbook Photo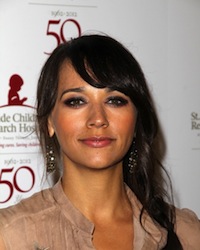 As the daughter of icons Quincy Jones and Peggy Lipton, Rashida Jones spent her childhood hanging out with the likes of Michael Jackson. However, just because the Parks and Recreation star grew up among Hollywood royalty doesn't mean she always had a handle on how to look glamourous. And now we have the photos to prove it.
Jones' 8th grade yearbook photo gives no indication that one day she'd be starring in ads for Dove haircare products. In middle school getting gussied up just wasn't a priority. She told Playboy in a recent interview, "I came out of the womb reading books and thinking about my next project. I'm a born nerd. There's also this thing of wanting to make your parents proud." Jones may still be a nerd at heart, but luckily for her acting career, those awkward years are far behind her!