Video of 19-Year-Old Patton Oswalt Will Convince Aspiring Stand-Up Comics Not to Give Up!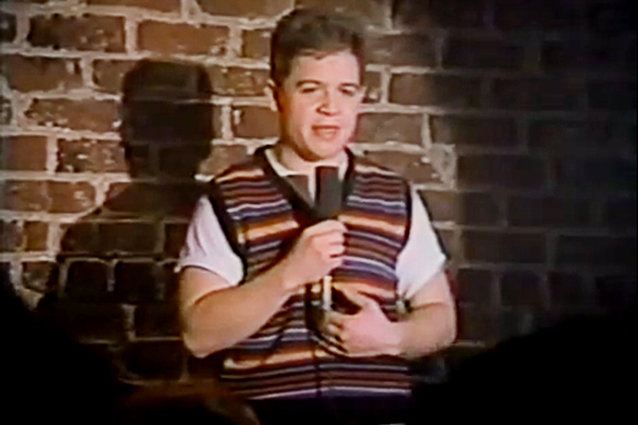 So your Doug Funnie-as-a-stoner bit bombed. Your political-climate-from-the-perspective-of-the-Obamas'-dog shtick got no laughs. Your Instagram-is-just-making-it-easier-for-stalkers material? Crickets. But don't give up — just because your stand-up comedy career hasn't taken off yet doesn't mean you're fated to a lifetime of testing mics for the Stella guys. In fact, a lot of the greats can look back upon modest beginnings. Take Patton Oswalt, for example. The acerbic, offbeat performer is one of today's most popular comic voices. But, as the above video, a snippet of footage from a 19-year-old Oswalt's stand-up act, proves, he wasn't always the hilarious genius we know now.
Yes, even the perfectly manufactured, consistently original routines of Mr. Oswalt had humble beginnings as funny voices and gags about college dining hall food. And our point isn't to take jabs at Oswalt, but to commend him for evolving into one of the freshest and most inventive comics around. And furthermore, to encourage all those aspiring purveyors of laughter to bear in mind that practice makes perfect. keep at it… no matter how many crickets you might be hearing these days.
Follow Michael Arbeiter on Twitter @MichaelArbeiter | Follow hollywood.com on Twitter @hollywood_com
More:
Patton Oswalt Dominates Internet with Filibuster
Karaoke Night at the 'Star Wars' Cantina
Russell Brand's Awkward 'Morning Joe' Appearance
---
From Our Partners


Stars Pose Naked for 'Allure' (Celebuzz)


20 Grisliest TV Deaths of 2012-2013 (Vulture)