Just Say No: Pop Stars Who Should've Turned Down Movie Roles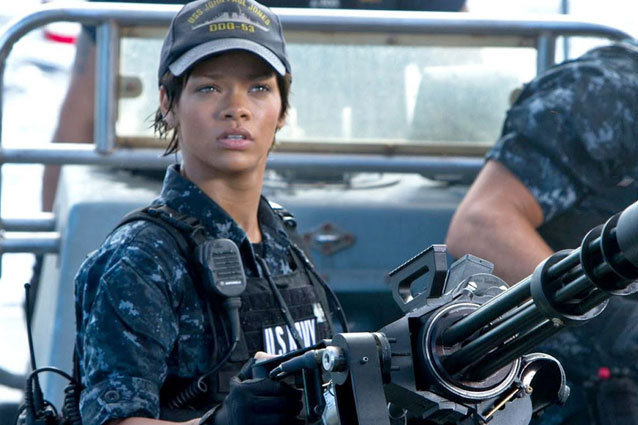 Universal Pictures
When pop singers reach the top of the music world, there's nowhere else to go but venture into other territories. Many stars feel that because they're oh-so-creative they should further express themselves through acting. Though some music stars make decent actors (see: Will Smith, Queen Latifah, Mandy Moore), majority of pop stars are 90% ego and 10% talent when it comes to their acting chops. Here's a rundown of some of the worst pop stars turned actors.
Rihanna
2012's Battleship was a flop, and although that wasn't Rihanna's fault, she certainly didn't help matters. Her monotonous delivery of lines and could-give-a-f**k attitude seeped through her role in the film, and she ended up getting a Golden Razzie for Worst Supporting Actress, most likely the only acting award she'll ever get. She barely even had any lines in the film, proving that even the filmmakers thought she was hopeless, and was instead used to mostly stand in one spot and look gorgeous. Vulture hilariously put together a collection of all Rihanna's lines in the movie (spoiler: they're virtually all one-liners) that's actually better than the film itself.
Justin Timberlake
This is definitely going to be one that not everyone agrees with, but according to yours truly, Justin Timberlake needs to stick to his day job. Timberlake has an impressive resume of films below his belt, which is ridiculous, considering that he simply cannot act. If it's obvious that you're acting, you're not a good actor – simple as that. Regardless of how decent he may seem in a movie (in which case I'd like to smoke what you're smoking), he is consistently the weakest link in every movie that he's in, and yes, that most definitely includes The Social Network. Seeing Timberlake around real actors makes his lack of acting talent all the more palpable. He's also been in many more flops than people like to admit, and if he was any other struggling actor, there's no way he would've gotten as many chances as he had. Timberlake is at his best doing SNL skits and making music, but he seriously needs to say bye, bye, bye to his dreams of Oscar.
Britney Spears
Oh, Britney. Anyone remember the 2002 magnum opus that was Crossroads? The film was didn't do as well as expected, but in all fairness, the plot dealt with some pretty heavy stuff, including rape, teen pregnancy, and estranged parents.  Spears' acting was lackluster at best, with the main attraction being her famous midriff and her performances in the film. She also appeared on How I Met Your Mother in 2008, with barely any comedic timing. Spears always seems like she's playing Britney Spears saying some lines – never the character. The good thing about Spears is that she seems to know that she's not Meryl Streep (unlike a certain ex-boyfriend of hers), and even though she's not the best actress, or even a good one, for that matter, she still comes off as endearing.
Jessica & Ashlee Simpson
You know how sometimes great acting genes can run in a family? Well, apparently it works the other way, too. Both Simpson sisters are dismal actresses with a string of bad scenes under their belts. Jessica's only contribution to The Dukes of Hazzard was wearing daisy dukes and a pink bikini, an image that is also synonymous with her entire acting "career." Ashlee was called out by a source on Melrose Place for being an "embarrassingly bad" actress and her stint was eventually cut short (aka she was told to sashay away from the series). But hey – there's no better type of sisterly bonding than being nominated for Razzies together, amiright?
Madonna
She may have a (debatable-if-she-deserved-it) Golden Globe under her belt, but Madonna is known for being a great pop star who moonlights as a terrible actress. Case in point: Shanghai Surprise, Who's That Girl, Body of Evidence, The Next Best Thing, Swept Away, and any interview where Madonna tries to say something nice about her competitors. She always comes off as blank and wooden, and the fact that she's acting, as opposed to actually being the character, is always extremely apparent. Now, if all of the movies she's been in are actually comedies, though, I take back all my words.
More:
Taylor Swift Cast in 'The Giver'
Julianne Moore Talks Subverting the Rom-Com Genre in 'Don Jon'
5 Must-Watch Indie Romances On Netflix
---
From Our Partners:


40 Most Revealing See-Through Red Carpet Looks (Vh1)


15 Stars Share Secrets of their Sex Lives (Celebuzz)