President Obama's Victory Celebration Playlist Revealed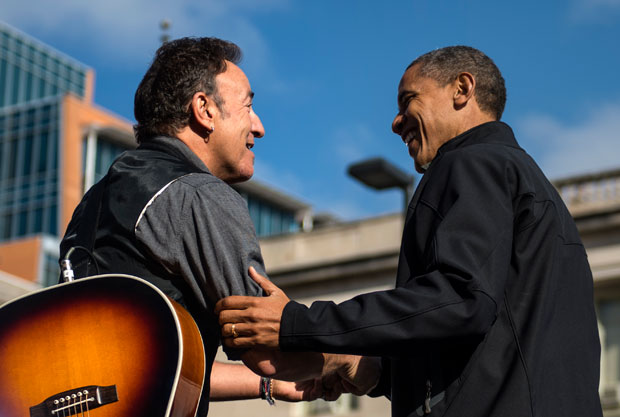 Music's been such a huge part of President Obama's reelection bid. He went on tour with opening act Bruce Springsteen, serenaded one lucky audience at a campaign stop with an impromptu rendition of Al Green's "Let's Stay Together," earned endorsements from Bob Dylan, Dave Grohl, Katy Perry, Lady Gaga, and even got a lyrical assist from Jay-Z who altered his famous "99 Problems" to "I've got 99 problems but a Mitt ain't one." So it should be no surprise that Obama's victory celebration last night at Chicago's McCormick Place would feature some killer tunes.
But who knew it would become an 18,000-person dance party? Mark Ronson, half a world away in a hotel room in Dubai, even tweeted, "Seriously, who is dj'ing OBAMA HQ? incredible. Teena Marie, MAZE etc….every global news station is blastin Frankie Crocker classics," referring to the legendary New York disc jockey and Studio 54 demigod who died in 2000. Well, Crocker wasn't pulling any kind of Lazarus act last night. For maximum hip factor, the Obama campaign brought in Austin-based mixmaster Mel Cavaricci, better known in the dance music scene as DJ Mel. And he put together one helluva victory playlist. Still basking in the glow of Election Day? Recapture the moment with these 22 songs that DJ Mel played Tuesday night, a playlist that he put together with a little input from the Obama campaign itself.
President Obama's Official 2012 Victory Celebration Playlist
Al Green—"Let's Stay Together" (Not the Obama cover, I'm afraid)
Bill Withers— "Lovely Day"
Marvin Gaye— "Got to Give It Up"
Michael Jackson—"Wanna Be Startin' Somethin'"
McFadden & Whitehead—"Ain't No Stoppin' Us Now"
The Heavy—"How You Like Me Now"
Doris Troy—"Just One Look"
Curtis Mayfield & The Impressions—"Keep on Pushing"
The Supremes—"Come See About Me" and "You Can't Hurry Love"
Contours—"Do You Love Me"
Ray Charles—"What'd I Say, Part 1″
Shalamar—"The Second Time Around"
The Four Seasons—"December 1963 (Oh What a Night)"
Aretha Franklin—"Respect"
KC and the Sunshine Band—"Boogie Shoes"
Jean Knight—"Mr. Big Stuff"
Maze—"Before I Let Go"
Teena Marie—"Black Cool" (Marie, who died in 2010, actually wrote "Black Cool" about Obama before her death.)
The Beatles—"Twist and Shout" (played right after it was announced Obama had won the election, because nothing conveys joy like John Lennon's throat-shredding vocals on the 1963 cover)
Stevie Wonder—"Signed, Sealed, Delivered" (Obama's entrance music before his victory speech)
Bruce Springsteen—"We Take Care of Our Own" (which the especially witty Brian Williams noted at 2:00 a.m. Wednesday morning has been widely misinterpreted, much like Springsteen's "Born in the USA" before it, as a pat-yourself-on-the-back anthem rather than a critique of laissez-faire domestic policy)
Democrats really do know how to party, don't they?
[Photo Credit: Nikki Kahn/The Washington Post via Getty Images]
More:
'The Daily Show' Delays Election Results: Why We Can't Expect It To Compete With Cable News
Who Said It: Obama Haters In 2012 or Bush Loathers in 2004?
Election Night Scorecard: How Did the Anchors and Pundits Do?

Kim Kardashian: 'I've Lost 10 lbs'
(Celebuzz)