5 Hottest PG Girl-On-Girl Kisses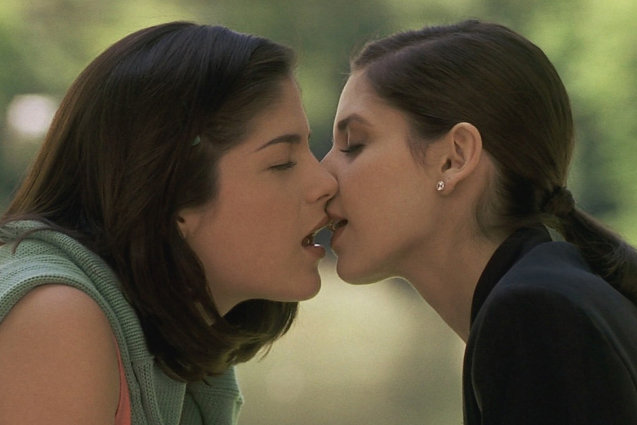 Columbia Pictures
The girl-on-girl kiss has become a primetime mainstay, since writers realised most people really like to see one All-American starlet frenching on another. So, which PG girl-on-girl kisses are going to be burnt onto our retinas for the rest of time?
Sarah Michelle Gellar and Selma Blair, Cruel Intentions
The thrill of girls next door gone wild is potent. (PS. if you live next door to a vampire slayer and a Party of Five star then we're coming to your next bridge tournament).
Winona Ryder and Jennifer Aniston, Friends
This vanilla screen kiss, aired at a time when girl-girl snogging was much less common, is a sneaky callback to an unseen and presumably less PG college makeout session that Ryder's character memorably describes. The image of their 'coconuts knocking together' ensures that just because this quick peck is the one we see, it's not the one on everybody's dirty little mind. Good job, shifty screenwriters!
Allison Williams and Jemima Kirke, Girls
If you live in Brooklyn and you haven't seen your 'free spirit' hipster buddies kissing by now, just zoom in on Lena Dunham's brat pack for the girl-on-girl-on-Girls experience.
Lucy Lawless and Renee O'Connor, Xena: Warrior Princess
The ultimate Amazonian found perennial solace in the leather jerkin of her BFF. (And to their credit, the show's producers did eventually acknowledge that Xena and Gabrielle were offscreen lovers…the characters,that is, not the actresses.)
Mischa Barton and Olivia Wilde, The O.C.
Listen to the crashing of the waves. Hear the soft murmur of girls, bonding. Pretend you don't know the Sapphic action is as inevitable as the tide….
More:
Gay version of HBO's 'Girls' gets green light
Headline 2 Vin Diesel Slams Gay Rumors
Winona Ryder at 'the Black Swan' Premiere
---
From Our Partners:


40 Most Revealing See-Through Red Carpet Looks (Vh1)


15 Stars Share Secrets of their Sex Lives (Celebuzz)