A Complete Ranking of Shia LaBeouf's Most Bizarre Antics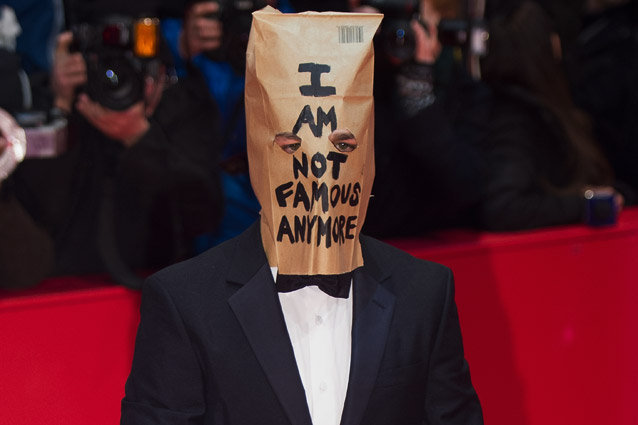 Getty Images
At the beginning of the year, it seemed like you couldn't go a single day without hearing about whichever insane thing Shia LaBeouf had gotten up to in the name of "art." After coming under fire for plagiarizing his short film, the former Even Stevens star embarked on a whirlwind press tour of oddity, until both LaBeouf and the general public grew tired of his antics, so he took a break from being outrageous for a living and we all stopped paying attention to him… until Thursday night, when he was escorted out of a performance of Cabaret in handcuffs at intermission. According to BroadwayWorld, LaBeouf was disruptive and distracting during the entire first act of the Broadway show, which frustrated both the cast and the audience. He was also rumored to have been smoking inside the theater, which is designed to look like run down nightclub in Germany. When security asked him to leave at intermission, LaBeouf refused, and the police were called to escort him out of Studio 54 in handcuffs.
The news confirmed by cast member Danny Burstein, who posted about the incident on his Facebook page, and composer Benj Pasek, who tweeted about it. And because one bizarre altercation wasn't enough for LaBeouf, footage surfaced early Friday morning of the actor chasing a man through Times Square, hours before the show began. Guess now we know why he was in such a terrible mood at the theater. Since this is truly just the latest in a long line of weird, dumb, completely crazy and attention-getting stunt that LaBeouf has pulled over the course of his career, we decided to see where it would fall in the great tableau of his insanity. 
23. Feb 2008: Given a ticket for unlawful smoking in Burbank; issued an arrest warrant for not showing up in court a month later, but the warrant was rescinded when his lawyer showed up a day later.
22. December 2013: Revealed to have plagiarized two of his comic books.
21. August 2011: Brags in Details magazine about hooking up with Isabel Lucas and Megan Fox while they were both in relationships
2o. Jan 2014: Skywrites #stopcreating after he feels attacked by Daniel Clowes and the media for plagiarizing
19. Jan 2014: Hit with a cease-and-desist letter from Daniel Clowes and his lawyers after tweeting about his "new project" and copying the description of one of Clowes' novels word for word.
18. Nov 2012: Starts a bar fight in London after someone steals his hat.
17. Feb 2013: Drops out of the Broadway production of Orphans, citing "creative differences" with Alec Baldwin; Baldwin maintains he was fired due to difficult behavior.
16. June 2012: Appears nude in music video for Sigur Ros' "Fjögur Píanó." 
15. Nov 2007: Arrested for misdemeanor trespassing after refusing to leave a Walgreens when a security guard asked him to.
14. Feb 2013: Publishes an apology email he wrote Alec Baldwin on Twitter which he plagiarized from a 2009 Esquire essay.
13. Dec 2013: Revealed to have plagiarized significant parts of his short film, HowardContour.com from the graphic novelist Daniel Clowes; tweets an apology that itself was plagiarized.
12. Dec 2013: Begins overtly plagiarizing all of his tweets from other celebrities.
11.  Jan 2013: Takes acid in preparation for his role in Charlie Countryman, films his trip and sends the video to co-star Evan Rachel Wood for critique.
10. Jan 2014: Skywrites an apology to Daniel Clowes… nowhere near where the novelist would be able to see it.
9. Jan 2014: Retires from all public life on Twitter; continues to tweet.
8. Feb 2014: Arrives at Berlin Film Festival press conference in ratty, dirty street clothes, recites Eric Cantona's infamous "seagulls" speech, then abruptly leaves.
7. Feb 2014: Attends the Nymphomaniac premiere with a paper bag over his head that reads "I AM NOT FAMOUS ANYMORE."
6. June 2014: Is escorted out of a Broadway performance of Cabaret in handcuffs after "acting disorderly, yelling and being loud" during the first act and reportedly smoking in the theater.
5. June 2014: Caught on video chasing a man through Times Square. Some onlookers claimed he wanted the man's McDonald's French fries, while TMZ claims that the man was actually holding a tan cap, rather than a fast food bag.
4. Feb 2005: Arrested and charged with assault after threatening his neighbor by driving into his car; allegedly showed up on neighbor's doorstep later that night brandishing a kitchen knife.
3. Oct 2013: Attempts to film two girls vomiting on a sidewalk in London, gets punched in the face and kicked in the junk.
2. Jan 2013: Dropped acid on the set of Charlie Countryman in front of the cast and crew to get into character, despite the fact that the character actually takes ecstasy. Gets naked, runs around, hallucinates an owl and traumatizes Rupert Grint.
1. Feb 2014: Holds an art exhibition – titled #IAMSORRY – in which people select a random object and sit in a room with him, while he endures whatever they do to him; he always cries at the end, even though everyone thinks they're the only person he cried for. The exhibition is criticized for ripping off performance artists Marina Abromovic and for being insane. Only Jaden Smith gets it.