Richard Attenborough Dies at 90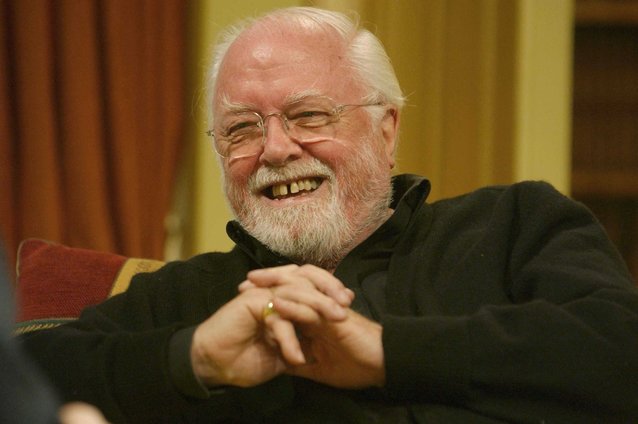 BBC via Getty Images
When you've led a life that had earned you admittance into the Order of the British Empire, presidency over the Royal Academy of Dramatic Art, and a handful of awards recognizing your work both in front of and behind the camera, it is safe to say that you have done pretty well for yourself. The world must bid a sad goodbye to Richard Attenborough, who has passed away Sunday, but should recall the multihyphenate's unbounded degree of accomplishment in the world of, and beyond, cinema. Attenborough was 90 years old.
Born in Cambridge, Cambridgeshire, England, to scholarly parents, Attenborough grew up in an environment that seems to have celebrated academia, creativity, and kindness. During the Holocast, Attenborough's family welcomed into their home a pair of young Jewish refugees from Germany, eventually adopting the girls into the family. Attenborough himself joined the plight against the Third Reich by serving in the Royal Air Force during World War II.
While his similarly renowned brother David went on to pursue work in the fields of nature and broadcast, Attenborough took an early shine to acting, performing at the beginning of his career in films like In Which We Serve, Brighton Rock, and Morning Departure. He also experienced some work on the stage, joining up with the production of The Mousetrap by author Agatha Christie.
The late 1950s and early to mid 1960s saw Attenborough take some big name projects, notably The Great Escape and The Flight of the Phoenix, and comedic projects like I'm All Right Jack and Dr. Dolittle. Attenborough began to appear in fewer films as time went on, however — for fourteen years following 1979's The Human Factor, he did not appear in a single film.
During this time, Attenborough honed his behind-the-camera skills. The director's most cherished accomplishment is doubtlessly his 1982 biopic Gandhi, for which he won Best Picture and Best Director Academy Awards. The film featured Ben Kingsley in a memorable, career-expanding performance as the historical activist. Attenborough created another memorable biopic ten years later: Chaplin, starring Robert Downey, Jr. as the silent film icon.
But Attenborough did return to the screen, and in fantastic form: as the big-dreaming John Hammond in Steven Spielberg's Jurassic Park movies. Some of his most recent contributions to cinema include his directorial projects Shadowlands, Grey Owl, and Closing the Ring. As an actor, Attenborough has appeared in 1998's Elizabeth and 2002's Puckoon.
Attenborough is survived by his wife Sheila Sim, whom he married in 1945, and two children: Michael and Charlotte. Attenborough's daughter Jane passed away in 2004.