Robin Thicke's NSFW 'Blurred Lines' Video Deserves a Dressing Down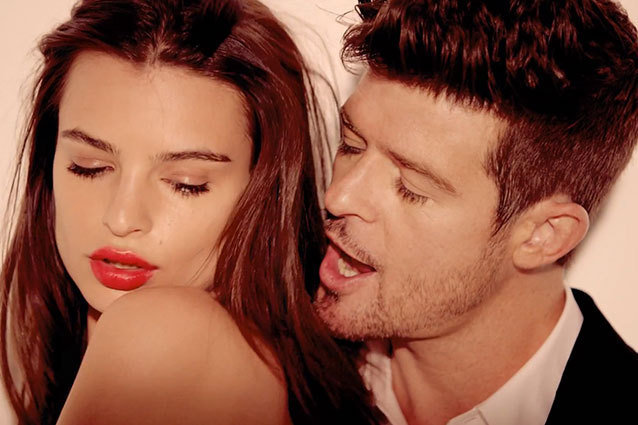 Robin Thicke's video for "Blurred Lines" (which features rappers T.I. and Pharrell) doesn't include suggestive gyrations, drug use, violence of any kind, or simulated sex. But it may be the most NSFW music video to hit the web in recent memory. Because there are boobs. Lots of boobs. With nipples showing. And nothing is more scandalous than an areola. 
"My whole point of the video was to be provocative and show a sense of humor and to not take nudity seriously as we do in America sometimes," Thicke said of the video in a  Google+ Hangout before its release. "A woman's body is the most beautiful thing on the planet. The Greeks used to sculpt that stuff."
If the video — which depicts a fully-clothed Thicke, T.I., and Pharrell surrounded by topless women clad only in flesh-colored thongs — is supposed to be an homage to the beauty of the female figure, then why do I feel so objectified? The answer, I believe, is that the nudity in the video is gratuitous, and not reciprocated. Would it kill Thicke to show a little skin of his own? Or T.I.? Pharrell? Beuller?  
RELATED: Yeah Yeah Yeahs Video Features a Woman Burned Alive
The nudity in Thicke's video seems like it should be a non-issue. After all, the women act like they hardly notice their breasts are bare. But it is precisely this nonchalance that is upsetting. The women, much like the bicycle and taxidermic dog that also make guest appearances in the video, are props. Thicke says it himself: the women's "bodies" are beautiful, and should therefore be gawked at. It's objectification at its purest. 
The wanton nudity is also unfortunate because it distracts from what could be an interesting commentary on kink. With a chorus that proclaims, "I know you want it / You're a good girl" and lyrics that include "Okay, now he was close / Tried to domesticate you / But you're an animal / Baby it's in your nature," "Blurred Lines" seems to laud the adventurous woman. And while sex is implied in the lyrics rather than the action, the video's imagery — which includes not only the aforementioned stuffed dog and bicycle but also Thicke being slapped by a foot, a Hannibal-style mask, and a stop sign on a woman's derriere — certainly seem to celebrate a less-than-vanilla sexual appetite. 
RELATED: 10 Biggest WTFs from Fall Out Boy's 'Phoenix' Video
Unfortunately for Thicke, the nudity as well as the larger-than-life hashtagged words, reek of desperation. A desperation that hits rock bottom at the video's 3:14-minute mark when the words "Robin Thicke Has a Big D**k" make an uncensored show-stopping appearance.
Thicke described his video by saying, "It's totally despicable and wonderful all at the same time." Can we get back to you on the "wonderful" part?
Follow Abbey On Twitter @AbbeyStone
[Photo Credit: Star Trak/YouTube]
---
You Might Also Like:


15 Oscar-Winning Nude Scenes


10 Insane 'Star Wars' Moments You Didn't Notice