Scientology Responds to the 'Vanity Fair' Tom Cruise Accusations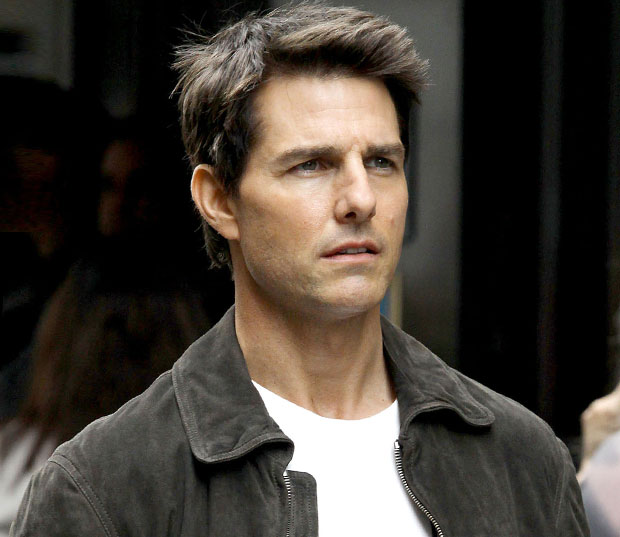 Following Tom Cruise and Katie Holmes' divorce, the actor received a new wave of love and sympathy, recalling his days of 1990s superstardom. But this phase might be over, as a Vanity Fair cover story from the October 2012 issue of the magazine has decided to take a swing at the actor and his highly controversial religion of Scientology. The article, written by Maureen Orth, accused the Church of Scientology of putting together an audition process to find Cruise a Scientology-friendly girlfriend back in 2004. In response to this story, the Church of Scientology released an eight-page letter to Vanity Fair editor Graydon Carter denying the accusations and slamming the magazine for "shoddy journalism, religious bigotry and potential legal liability."
According to Orth's story, actress Nazanin Boniadi was eventually "selected" for what was intended to be a secret relationship, but was subsequently penalized by Cruise and the church for various allegations of disrespect to the religion (and Cruise), and finally was reportedly forced to withstand a series of physical and emotional punishments (i.e., scrubbing toilets with a toothbrush) after revealing her secret relationship to a friend. (Boniadi had reportedly been forbidden from discussing her Cruise relationship with anyone.) You can read about the story in more detail here.
The letter, written on behalf of the Church of Scientology by attorney Jeffrey K. Riffer, begins with the following passage:"We are writing regarding your, your editor's and reporter's shoddy journalism, religious bigotry and potential legal liability arising out of Vanity Fair's upcoming story about the Tom Cruise divorce. Significantly, while Maureen Orth was preparing her story, Vanity Fair ignored its staff and contributors who have firsthand knowledge of Mr. Cruise and of [David Miscavige, leader of the Church of Scientology] and who would burden her story with the truth.
We have further been informed that you are directing this story personally, that you have intentionally kept your LA Office out of the loop and refused any input by Vanity Fair employees with personal knowledge of the Church and Mr. Miscavige. And all of this to intentionally make the Church unaware that a story was even being written about them, until your reporter had written it in full. Her request for an "interview" of Mr. Miscavige was a disingenuous sham, since she couldn't possibly have thought that an "Oh, by the way" phone call to the Church's Public Affairs office requesting an interview with the ecclesiastical leader of the religion could possibly be accommodated.
If she were serious, she would have done at least a molecule of research in seeing that Mr. Miscavige travels across the country and around the world almost non-stop, unlike the anti-Scientologist apostate sources who form the basis of her already-written story and who are available on a moment's notice at the press of "send" on any anti-Scientology hate-site blog. Is it usual for you to take over the editorial direction of Vanity Fair articles or is that reserved for hatchet-jobs of minority religions and its members?"The letter goes on to accuse Vanity Fair of defaming the religion and Miscavige, and continues to insist that the audition process was a fallacious story, solidified in Riffer's statement. "Mr. Miscavige has never had any involvement with the hiring of Mr. Cruise's professional staff or press agents," the letter states. "It is inconceivable (to the entire world) that Mr. Cruise would have difficulty getting a girlfriend."
So is this Vanity Fair story an outlier, or are people comfortable siding against Tom Cruise again? And if the world is back in the habit of Cruise-directed jokes, will this ordeal turn out to be the next "Oprah's couch?"
[Photo Credit: WENN]
More:
Tom Cruise and Scientology Auditioned Girlfriends for Actor, 'Vanity Fair' Article Alleges
Katie Holmes Moves on from Tom Cruise with Her Fashion Debut
Signed, Sealed, Delivered: Katie Holmes and Tom Cruise Divorce Finalized
From Our Partners:
'Hunger Games: Catching Fire' First Look: Jennifer Lawrence Back as Katniss — EXCLUSIVE PHOTOS
(Celebuzz)

(Celebuzz)