17 of the Trippiest Hip-Hop Videos Ever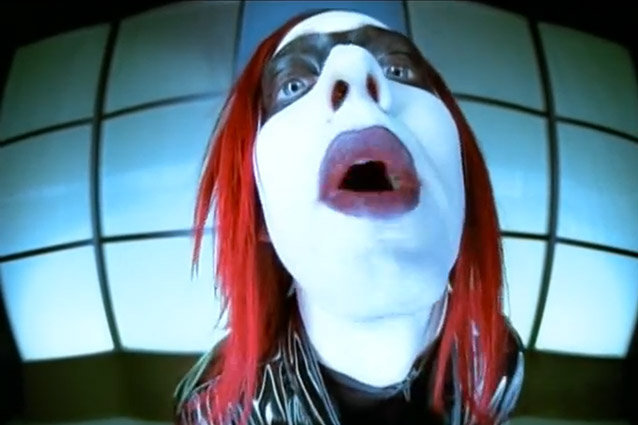 YouTube/EminemVEVO
It needs to be said that hip-hop music has always been wildly innovative, but we've also suffered from a few lulls over the years. Particularly in the music video department, there's been a tendency towards repetition. Or, as the great 2Pac once eloquently pointed out, things can get a little boring when the same video vixens (we call them "vixens" now) are showing up in all of the videos. And The Roots and dead prez have both made satirical videos, pointing out the monotony in popular rap.
But we're here to celebrate those rappers who opted for a different route, which is partly why we enlisted the help of the one and only DJ Rosenberg. Co-host of Hot 97's "The Morning Show" and one-half of the brilliant Juan Epstein podcast duo (DJ Cypha Sounds represents the "Juan" portion), Rosenberg is more hip-hop than roughly 89 percent of the world's population. So when he spoke with us about the aesthetics of a truly trippy rap video — and gave us some suggestions — we listened. And for that we thank him, just as we thank the many stoner rappers, artsy rappers, underground rappers, backpack rappers (and plain, ol' regular rappers) on this list for going against the grain. Here are the 17 trippiest hip-hop videos ever. And yes, 17 is a pretty random number, but once you experience all of the epic randomness in these videos, you'll understand.
1. Busta Rhymes, "Gimme Some Mo"
Ah, yes. The great Busa Buss. One of the most brilliant, beloved rappers ever changed the game when he teamed up with Hype Williams (one of our favorite music video directors-turned filmmakers) and started making videos. Busta Rhymes really needs his own list — since pretty much all of his videos are the trippiest videos ever — but for now we're picking this Psycho-inspired awesomeness as our favorite. Also, can we please have Rah Digga back now?
2. *A Tribe Called Quest, "Jazz (We've Got) Buggin' Out"
Now, Busta's video is so much more interesting when you go back and watch this one. This 1991 track from A Tribe Called Quest got a seemingly simple video that suddenly turns trippy in the end. The bugged-out eyes are a great reminder of the fact that Busta had some powerful influences back in the day.
3. *Gravediggaz, "Diary of a Mad Man"
Back in 1994 the Gravediggaz album 6 Feet Deep became a seminal work in the "horrorcore" rap subgenre. The supergroup (comprised of Prince Paul, Frukwan, RZA, and Too Poetic) teamed up with Shabazz The Disciple and Killah Priest for "Diary of a Mad Man." Themes of religion, dark magic, and street life mesh together in the haunting, black and white visuals.
4. *Pharcyde, "Runnin'"
The beat is a classic, the song is infectious, but if you have a fear of clowns, this may not be the video for you. Still—clowns and all—there's an amazing, dream-like quality to the video that makes for an awesome visual experience.
5. Goodie Mob, "They Don't Dance No Mo"
No disrespect to Outkast, but Goodie Mob is the trippiest rap group to come out of Atlanta. Long before The Voice, Cee Lo Green was being weird and awesome, and rocking footy pajamas in rap videos (sort of).
6. *Psycho Realm, "Stone Garden"
Embraced by Cypress Hill in the early '90s, Psycho Realm came on the scene with a West Coast/gothic vibe that resulted in some pretty intense lyrics and videos. "Stone Garden" opens with some über-trippy hospital scenes (which may have gone on to have some influence on Eminem's "The Real Slim Shady" video).
7. Geto Boys, "Mind's Playin' Tricks On Me"
We can't talk trippy rap videos without the Geto Boys. "Trippy" is really putting it lightly here—paranoia, fear, and intimations of suicide make this one a powerful, eerie video to experience.
8. Missy 'Misdemeanor' Elliott, "The Rain"
If you're grown out here in these streets, you can probably remember the first time you saw this video. You didn't know what you were looking at, you didn't know why there was a garbage bag theme, but you knew you were in love. Like Busta Rhymes, Missy's video catalogue is worthy of its own list. She's the reigning queen of trippy rap visuals, and for that we thank her.
9. Eminem, "My Name Is"
When we first met Eminem back in 1999, some of us were skeptical… and weirded out beyond belief. But the Detroit rapper went on to become one of the biggest deals of all time. His contribution to the world of bizarre rap videos (which went along perfectly with his tripped-out lyrics) is immense, but it all started here.
10. Kid Cudi, "Day 'n' Night"
Mr. Solo Dolo came on the scene back in 2008, a Cleveland native living in Brooklyn who got the ultimate co-sign from Kanye West. The somber sounds of Day 'n' Nite might be attributed to the fact that the song was inspired by troubles he was having with a family member who passed away shortly after the song's release. Some of that darkness gets manifested in the visuals, but there's also a playfulness at work here that we really love.
11. Frank Ocean, "Pyramids"
Director Nabil really outdid himself with this unforgettable video. Frank Ocean's brilliant single from channel ORANGE was brought to life in the strip club of your nightmares, and it was epic. Demonized skrippers flipped the concept of the sexually-charged rap video on its head, and the visual experience for the audience mimics tripped-out Frank's own experiences in the video. John Mayer's cameo towards the end only made it weirder. And by "weirder," we obviously mean "cooler."
12. Kanye West, "Black Skinhead"
Another favorite for trippy video fans, Kanye came back on the scene last year with Yeezus and slayed all. Granted, everyone couldn't get into the new sound, but those of us that loved it, really loved it. The "Black Skinhead" (or "BLKKK SKKKN HEAD") video was dark, twisted, and intense—all while remaining somewhat minimalistic, with a computer-generated version of Yeezy at the center of it all. Yeezy also released an interactive version on his website.
Sidenote: every Yeezy fan should check out his incredible interview with the Juan Epstein podcast.
13. Iggy Azalea, "Pu**y"
Before the amazing, Clueless-inspired video for "Fancy," Iggy was just a young, underground rapper struggling to get some airplay. We can't imagine why radio didn't take to this record (ahem) but we will say that any video explicitly referencing the… uh… things she's referencing in this video—while featuring a bunch of kids — is pretty trippy, and even offensive depending on your feelings. But then again, maybe she's just talking about kitty cats.
14. *Tyler the Creator, "Yonkers"
Thanks to DMX, Yonkers has always seemed like a pretty scary place. But Tyler the Creator took our fears to new heights when he dropped these visuals. Prepare to be terrified… and weirdly intriqued. And for a slightly less dark — but equally trippy video — check out Tyler's video for "Tamale" (a song which also features one of the most powerful verses anyone's ever written about their father, probably).
15. Earl Sweatshirt, "WHOA"
Yes, the Odd Future fellas have got the trippy hip-hop video game on lock. Earl Sweatshirt's "WHOA" video almost feels like a tribute to what is probably the trippiest movie ever, Gummo. When he starts dancing with that 45 year-old-ish ballerina outside of his trailer, you just know things have gone too far. It's awesome.
16. Angel Haze, "Werkin Girls"
Creepy, stone-faced kids? Check. Frightening Freddy Krueger hand prop? Check. Weird kidnapper dude with an aluminum foil mask under his shades? Check. If you haven't been checking for Angel Haze, consider this your introduction. She's talented, trippy, and her latest video for Battle Cry is equally dope.
17. Flume & Ghostface Killah, "Space Cadet"
One way to make a dope rap video is to team up with an Australian electronic musician. Flume got Ghostface to feature on his new track, and the collaborative video is one of the coolest we've seen so far this year. Plus, don't you want a little cartoon Ghostface Killah of your own? Of course you do.
*Rosenberg's Top Trippy Picks
Follow @Hollywood_com Follow @shannonmhouston