How Shia LaBeouf's Plagiarized Email Might Have Ruined My Life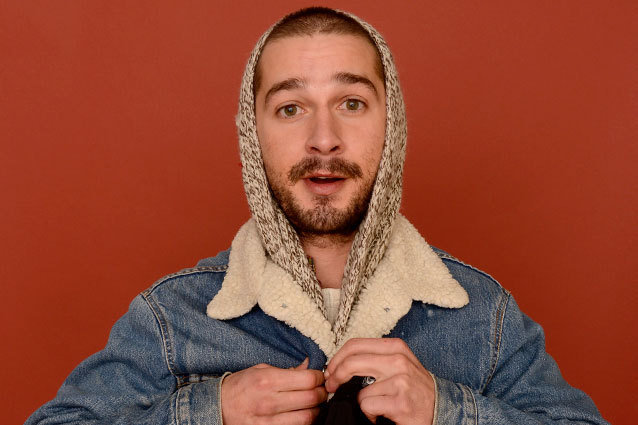 Shaken to life by a loving sunbeam this morning, I awoke with the inclination that today would be different. Today, I would stumble upon that intangible thing I have so desperately been looking all these years. A tall order, of course — perhaps one I was far too ready to accept. One that I should have known would prove to be, just like each and every one of my dreams, an impossibility. Early on in the workday, I grabbed hold of what just might have been the key to this new wave — a piece of monumental, stirring, transcendental poetry penned by the unlikeliest of sources: Shia LaBeouf. A dark, albeit life-affirming adage written by the 26-year-old actor in an effort to illustrate to Alec Baldwin, and the world, the true definition of manhood.
A poem that nearly changed my life.
A poem that took me on a journey through and beyond the very fabrics of the reality we've come to accept as our universe.
A poem that, as I now know, was plagiarized.
RELATED: Shia LaBeouf in 'The Company You Keep' Trailer
Let's back up a bit. It was announced on Wednesday that LaBeouf would be leaving the cast of the Broadway play Orphan just over a month prior to its April debut, in which he was set to star opposite Baldwin and actor Tom Sturridge (it was announced Thursday that LaBeouf has been replaced by actor Ben Foster). E! reported the standard "creative differences" spiel via LaBeouf's rep, leaving us to surmise that it might have been any one of the usual issues — money, scheduling, the actor's sudden realization that there weren't actually any alien robots in this play — that led to his departure. 
But following the revelation, we got wind of a new amendment to the story, rooting LaBeouf's choice to leave in a mysterious feud upheld with costar Baldwin. LaBeouf braved the oceans of Twitter to post the following pair of emails. First LaBeouf tweeted a reasonably coherent message from Baldwin to LaBeouf, but then he revealed the real the coup de grâce: LaBeouf's initial apology to Baldwin, a poetric triumph destined to launch any daring reader upon a mind-boggling adventure to new levels of conscious thought. LaBeouf writes:
"Apology" 
My dad was a drug dealer. He was a shit human. What I know of men Alec is-
A man is good at his job. Not his work, not his avocation, not his hobby. Not his career. His job.
A man can look you up and down and figure some things out. Before you say a word, he makes you. From your suitcase, from your watch, from your posture. A man infers.
A man owns up. That's why Mark McGwire is not a man. A man grasps his mistakes. He lays claim to who he is, and what he is, and whether he likes them or not.
Some mistakes, though, he lets pass if no one notices. Like dropping the steak in the dirt.
He does not rely on rationalizations or explanations. He doesn't winnow, winnow, winnow until truths can be humbly categorized, or intellectualized, until behavior can be written off without an explanation.
A man knows his tools and how to use them — just the ones he needs. Knows which saw is for what, how to find the stud.
A man does not know everything. He doesn't try. He likes what other men know.
A man can tell you he was wrong. That he did wrong. That he planned to.
He can tell you when he is lost. He can apologize, even if sometimes it's just to put an end to the bickering.
Alec, I'm sorry for my part of a dis-agreeable situation.
Shia
RELATED: Shia LaBeouf's Indie Career Is Off to an Awful Start
Following my initial read-through of the bonkers diatribe, I reflected upon my very state of being. I have experienced a wide variety of emotions in my 24 years as a human (and brief six-month stint as a cutlery vendor). I've known sorrows so deep they'd rival the Mariana Trench, joys so high as to call envy from the Himalayan Vulture. But a new wave of feelings overtook me upon reading LaBeouf's email. I couldn't just sit on this spiritual awakening, but I knew that the world would better deserve thoughts far and beyond that of which I was capable. So, to Gchat I ventured.
I contacted every academic I know — literary analysts, editors, English teachers, college professors, playwrights, novelists, publishers, screenwriters. I promised each a venue to showcase his or her penchant for the written word: an article delving into the poetic merit and psycholoanalytical substance of LaBeouf's writing. I staked my reputation on this post. It was going to be my big break.
But then, midway through my Internet forays, Jezebel broke the news that LaBeouf had not written the poem himself. He plagiarized it from a 2009 Esquire essay by Tom Chiarella.
And to be honest, we should have known. It's not like there weren't clues. For instance, the stolen portion of the email — beginning with the second line, "A man is as good as his job," and ending with "just to put an end to the bickering" — is perfectly sound in terms of grammar and punctuation, and yet it is sandwiched between introductory and conclusive sentences that would earn a third grade student a stern, red-inked "See Me!" The use of words like "avocation" seems far from the reach of the Transformers star. The mention of Mark McGwire feels particularly anachronistic.
'Transformers 4' Replaces Shia LaBeouf with Jack Reynor
So yes, we should have known. We just wanted to believe. I wanted to believe. I just wanted to feel like the universe was not confined to the stagnant observations in which I've been festering for more than two decades. I wanted to create something to make others feel the way LaBeouf had made me feel, channeling the talented cohorts I had acquired over the years to result in something wholly invaluable. I wanted this to mean something.
But instead, we're left with the same murky, dilapidated, old reality — one filled with lying actors and average Esquire poems that seem entirely less inspiring when you know that an actual writer wrote them. Life, once again, is meaningless.
And while we're really no worse off than we were yesterday, we've been teased with the perilous idea of false hope. We're thrown back into the drawer of knives that is our day-to-day. We're in pain, we're restless, we're alone.
And it's all because of Shia LaBeouf. As we all imagined it someday would be.
Follow Michael Arbeiter on Twitter @MichaelArbeiter.
[Photo Credit: Larry Busacca/Getty Images]
---
From Our Partners:


25 Forgotten Celebrity Crushes of the '90s (Vh1)


30 Stars Who Have Gone Topless (Celebuzz)