Random Stars You Didn't Know Were on Dawson's Creek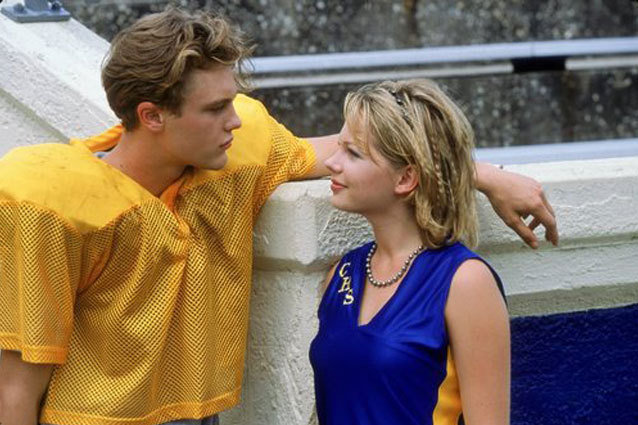 The WB
You were probably too busy looking up the big words, or screaming at Dawson's bangs to notice these celeb cameos the first time you watched Dawson's Creek, but now that we're 15 years passed the original air date, let's take a look back at all the famous folk who walked the hallowed halls of Capeside High and hooked up with Katie (err, Kate?) Holmes. 
Michael Pitt as Henry Parker
Before he was all gangsta on Boardwalk Empire, Michael Pitt was featured on season three as Jen's sappy, budding, young boyfriend. He allegedly left the show because he felt the role wasn't challenging enough.
Ken Marino as Professor Wilder
You know him for his deadpan humor in We're the Millers, Wanderlust, Party Down and Children's Hospital, but before hitting his comedic stride, Ken Marino waxed poetic as Joey's naughty English professor during season 5. They may have made out. 
Seth Rogen as pot-smoking college kid
In a role he was born to play / has only ever played, he "porks" (his word, not ours) Joey's roommate, Audrey (Busy Phillips – his former Freaks and Geeks co-star) during the show's last season.

Scott Foley as jock 
Scott Foley shines as a dim quarterback who took Jen on a date – forcing Dawson – who was also pining for her – to do some epic soul searching (for the seventh time that episode).

Ali Larter as Kristy

Best known for her bangin' whipped cream-covered bod in Varsity Blues, (also Heroes and Legally Blonde), Ali Larter steals Pacey's heart as a popular chick who's out of his league (poor thing). 
Rachael Leigh Cook as Joey's proxy
The She's All That star (seriously, where has she been since then?) plays Joey in one of Dawson's masturbatory movies (Season 2, Episode 13). He's so meta.
Jane Lynch as Mrs. Witter
As Pacey's uber-religious, disparaging mother (we don't see the resemblance either) the incomporable Jane Lynch got practice for her role on Glee. (Season 4, Episode 12).
Chad Michael Murray as Charlie Todd

This soapy darling's dimples had already appeared on Gilmore Girls and would go on to star in One True Hill after his stint on the fifth season of Dawson's. He plays a collegiate cad who sleeps with Jen and then has a miniature affair with Joey after she performs with Charlie's band "Aggressive Mediocrity" in a moment that's almost as cringey as when she performs "On My Own" during season one. 
More:
Outrageous Oscar Snubs
Great Movie Trilogies
Movie Presidents We'd Grab A Beer With
---
From Our Partners


Stars Pose Naked for 'Allure' (Celebuzz)


20 Grisliest TV Deaths of 2012-2013 (Vulture)