Taylor Swift, Miley Cyrus Named Most Charitable Celebs — They Donated HOW Much?!?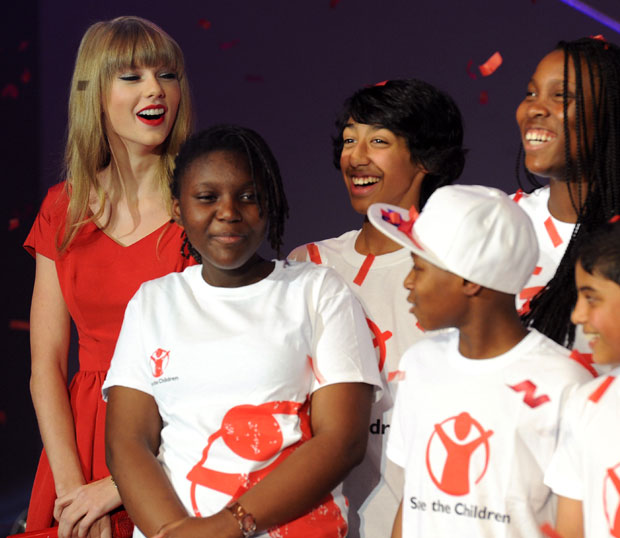 The end of the year brings more best/worst/top lists than you could possibly imagine, but one list that really matters is DoSomething.org's Most Charitable Celebrities of 2012, which was just released.
All year long, we've kept up with celebrity news, gossip, and rumors, and it's nice when those celebrities who dominate the headlines and charts give back. They truly put their success to good use. And you wouldn't believe who made this year's list!
Here are the top 5 most charitable celebrities of 2012:
The teen pop sensation's Believe Charity Drive raised over $1 million for charity, and he works with Pencils of Promise to build schools in third-world countries. He also takes time out of his crazy touring schedule to visit young cancer patients in the hospital. And to cap it all off, he donated $100,000 so homeless children can go to school. Beliebers, you've picked a great role model to idolize.
4. Lady Gaga
With a $1.2 million personal donation, Mother Monster started her Born This Way Foundation, which combats bullying and promotes acceptance of the LGBT community. She also pledged $1 million to relief efforts in the wake of Hurricane Sandy. All this, and she started her own body revolution to help put an end to body-shaming, and kick start healthy body images for her Little Monsters.
People magazine's Sexiest Man Alive and his wife, Jenna Dewan-Tatum, helped raise millions for the Rainforest Foundation. They also support Angels for Animals and sponsor abused farm animals through Gentle Barn. All that good karma is manifesting: Channing and Jenna are bringing another beautiful, charitable person into the world.
2. Miley Cyrus
Despite all her crazy and scandalous antics, and along with getting engaged to Liam Hemsworth, Cyrus has had quite the charitable year. She spent her 20th birthday promoting Saving Spot! Rescue, a non-profit organization that is dedicated to finding homes for dogs in shelters with high rates of euthanasia. Additionally, Cyrus participated in 2012's TOMS' One Day Without Shoes challenge and has worked toward the benefit of Save The Music Foundation, the Starkey Hearing Foundation, and the Make-A-Wish Foundation.
And the No. 1 most charitable celebrity of 2012 is…
1. Taylor Swift
It's safe to say that 2012 has been this country/pop star's year. First came the successful release of her album, Red, then she celebrated her 23rd birthday, and then there's the long list of her bevy of boyfriends (while that could be viewed as a negative, at least it gave her lots to write about!), and now she's been named the most charitable celebrity of the year. Not bad, Swift. Not bad at all. She is the youngest person to ever receive the Ripple of Hope Award from the Robert F. Kennedy Center for her charity work. She also donated a record $4 million to the Country Hall of Fame Museum, and has made large contributions toward organizations supporting young cancer sufferers.
Follow Sydney on Twitter @SydneyBucksbaum
[Photo credit: David M. Benett/Getty Images]
More:
Music Video for Taylor Swift's 'I Knew You Were Trouble' Shows a Whole New Girl
Miley Cyrus Finds a Travel Companion in a Blow-Up Doll — PHOTO
Channing Tatum and Jenna Dewan-Tatum Are Expecting Their First Child

20 Hottest Bikini Bodies of 2012: Kim Kardashian and More!