Nardwuar's Most Epic Celebrity Interviews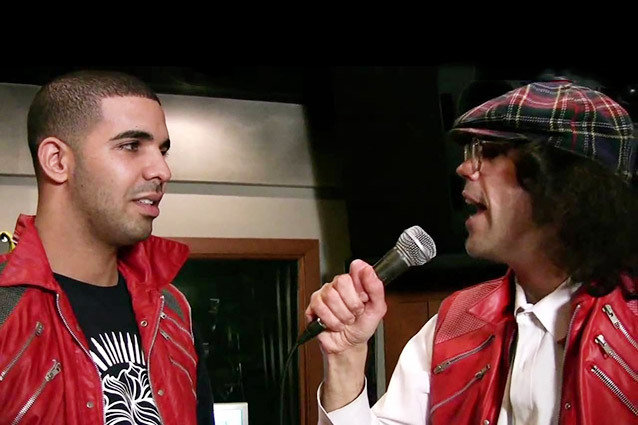 NardwuarServiette/YouTube
Barbara Walters. Katie Couric. Matt Lauer. All great folks. All legendary journalists. But none of them, nor their colleagues, can compare to Nardwuar, the Human Serviette. Straight outta British Columbia, celebrity interviewer Vancouver Nardwuar (born John Ruskin) owes much of his unique Q&A styling to his mother, who was a local journalist as well as a high school history teacher and historian. Nardwuar himself has a degree in history and it shows in his love for the stories behind some of the greatest musicians. He's interviewed everyone from Ice-T to Henry Rollins to A$AP Rocky and the A$AP Mob. Here are just a few of his very best. Doot doola doot doo… doot doo!
Nardwuar vs. Drake
Nothing says "Nardwuar interview" like a Michie Mee rap pack trading card. All kinds of epic. 
Nardwuar vs. Katy Perry
You can watch the first part of the interview here. We had to post the second part because of the unbelievable references to the legendary Jimi Hendrix's "situation"… which apparently has major significance in the life of Katy Perry. Anyway, this is just an adorable video.
Nardwuar vs. Lil Wayne
This is probably the most NSFW Nardwuar interview ever… mainly the part where he asks Weezy about his favorite food. But there's also a great moment where Weezy talks about his love for Nirvana and then goes on to discuss his love for Pimp Daddy (who actually influenced his original name: Shrimp Daddy… true story).
Also: rap snacks. That is all.
Nardwuar vs. Kurt Cobain & Courtney Love
You can watch parts two and three of the interview here and here. It's a very strange collection of videos, with Courtney Love coming off pretty cool and not at all like someone who'd be throwing a shoe at Madonna within a year. And Kurt Cobain and the rest of Nirvana were as opposed to the interview as you'd expect, though Cobain ends up coming around in the end. The Human Serviette has named this as one of his all-time favorite interviews. In an interview with Spin he explained how it all went down: 
"After stalking Nirvana for two days trying to get this interview, I was ready to give up until Courtney Love snuck me backstage, telling security I was her cousin. Sadly, I was never able to talk to Cobain again, as he died only a few months later. I think this is one of his last interviews ever."
 Pharrell vs. Nardwuar
And in a dramatic turn of events, the student becomes the teacher. At the end of his own interview (which you can watch here), Pharrell does the unthinkable and interviews Nardwuar! Except, Nardwuar is so clearly not used to playing the role of interviewee and it makes for some hilarious moments. But probably the best part was when Pharrell bestowed upon him the Here's A Ho! Vancouver sheet music and they began to sing some sort of trap remix to the 1914 ditty. And there was a "ho" pronunciation tutorial as well. Epic.
Follow @Hollywood_com Follow @shannonmhouston