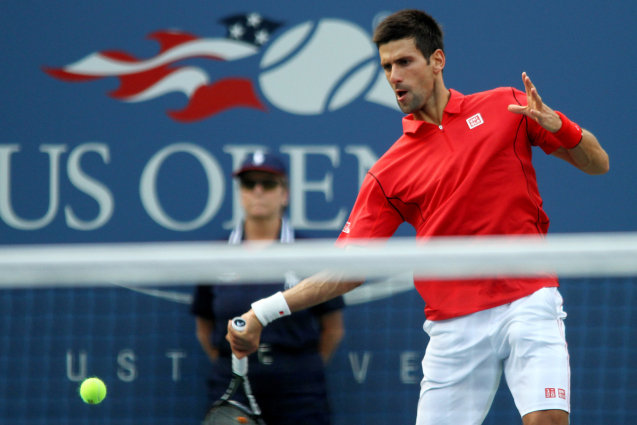 WENN
The U.S. Open Tennis Tournament has begun (not to get you confused with the U.S. Open Golf Tournament) and the legends of the mens game are on display. Well, one of them was bounced early, but everyone's human. Here are the four Gods of the Tennis World right now.
Novak Djokovic 
The "Joker" of the Tour has grown up and shed the clown label. As of the Open, he was No. 1 in the world and looked to keep his grip on that ranking for a very long time. He won the 2013 Australian Open earlier, his sixth time winning that tournament and as of this writing, he was still in the 2013 U.S. Open.
Roger Federer
Federer was on top for a long time, but he is on the other end of his career, as his being eliminated before the Quarterfinals this year shows. Still, the man has had a run that rivals the all-time greats, and nobody stays on top of the hill forever in tennis. As of the Open, he was ranked No. 7 in the World, though he had a very long run at No. 1 before Djokovic. 
Rafael Nadal
If there's one word to describe Nadal on the court, it's fierce. He gives no quarter and while that is a good trait, he's also brutal on his body. That could curtail what has been a fine career, though he's struggled in the shadow of Federer and Djokovic. It's like Highlander, though: There can only be one. When the Open began, Nadal was ranked No. 2 in the World.
Andy Murray
By winning Wimbledon in 2013, the first time someone from Britain had won it in 77 years, Murray muscled his way into the Mens Pantheon. It moved him up to the No. 3 World ranking when the Open began and he was looking to keep on that perch.
More:
Top 10 Sports Movie Quotes
5 Unbelievable Martin Scorsese Oscar Snubs
Top 5 Comedy Central Roast Moments


---
From Our Partners:


40 Most Revealing See-Through Red Carpet Looks (Vh1)


15 Stars Share Secrets of their Sex Lives (Celebuzz)