The Lindsay Lohan-ization of Amanda Bynes & Why Child Stardom Still Sucks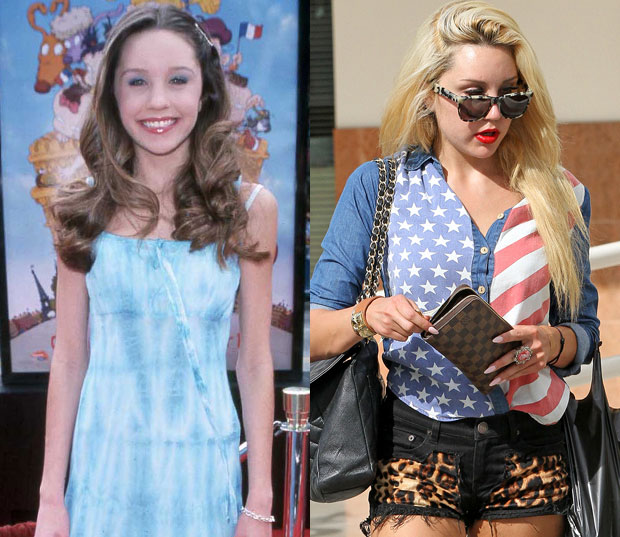 Amanda Bynes was always one of the '90s child stars who showed real promise. She wasn't the wholesome popular girl like Vanessa Hudgens or the cute little sister like Jamie Lynn Spears. She wasn't the made-for-marketing Olsen twins. She was genuinely funny, quirky and not afraid to do something a little weird and/or ugly (remember her sticking a tampon up her nose in She's the Man?).
But, now the 26-year-old's erratic behavior, a series of puzzling car accidents, an arrest, and her shocking new appearance (see pic from Aug. 16 above) aren't making it easy to root for her. 
What went wrong? Bynes started acting professionally at age 7 but seemed like she'd never fall into the kid actor curse. She was a straight-A student, who came from a stable family (her parents have been married for over 40 years). "I have really smart grounded parents who weren't nouveau riche," she said in 2007. "They really earned their money and they know the value of a dollar. They gave morals to me and I wouldn't want to do anything that would embarrass my parents."
In comparison, the cards were always stacked against her fellow child star, Lindsay Lohan, also 26. After her parents' ugly divorce, she became the family's main breadwinner — and her manager mom Dina never reigned her in. And for years, dad Michael seemed more obsessed with making his own headlines than leading the way for her. 
Five years ago, Bynes and Lohan were on divergent paths. Bynes had just come out as good-girl Penny Pingleton in the musical blockbuster Hairspray. Meanwhile, Lohan was already halfway to Crazy Town, clocking two DUI-related arrests that set off a s**tstorm of other legal problems. 
But then, in a move worthy of Freaky Friday, Bynes began her own Lohan-ization. Suddenly, the girl who once said she hated drinking, was a regular on the party scene. And her bizarre Twitter ramblings about magic mushrooms, her sexual attractions and other minutiae had fans scratching their heads.
Then in 2010 came her strange announcement that she was ending her acting career at the ripe old age of 24. "Being an actress isn't as fun as it may seem," she tweeted. "If I don't love something, I stop doing it. I don't love acting anymore, so I've stopped doing it." Of course, she "un-retired" shortly after. 
Reports of diva behavior and curious late-night photos followed. And by 2012, her transformation was complete. Bynes, like Lohan before her, was involved in a series of suspicious car accidents. On April 6, she was arrested for suspicion of DUI and accused of a hit-and-run. Then, just a month later, she was accused of two other hit-and-runs, on May 5 and May 27.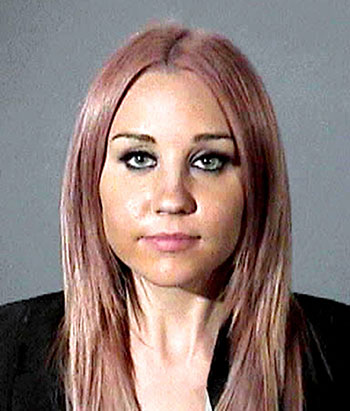 By now, the child star curse has been well-documented — a sad timeline punctuated with deaths (Dana Plato, Corey Haim), arrests (Eddie Furlong) and drug problems (Jodie Sweetin, Mackenzie Phillips). 
Of course, compared to the '60s and '70s, the industry is more aware of the pitfalls now and has enacted regulations to protect young actors financially and to lighten their workload. But the element that Hollywood will never be able to control is more personal and emotional. What happens when you've peaked early? When your Pavlovian response is triggered by applause in your formative years, are you just destined to be a hot mess later in life? 
Don't get me wrong, I'm not writing Amanda Bynes off for good. Drew Barrymore is living proof that you can go nuts for a while and turn it all around. 
But it might take a lot for Amanda to return to the nice, sweet girl I rooted for. And a chauffeur. 
[Photo credits: Wenn, Merino/INFphoto, LA County Sheriff]
Follow Michelle on Twitter @HWMichelleLee
More:
Amanda Bynes Arrested for DUI
Amanda Bynes 'At Fault' for Car Accident
Amanda Bynes Retires from Acting