The Silversun Pickups Issues Mitt Romney a Cease and Desist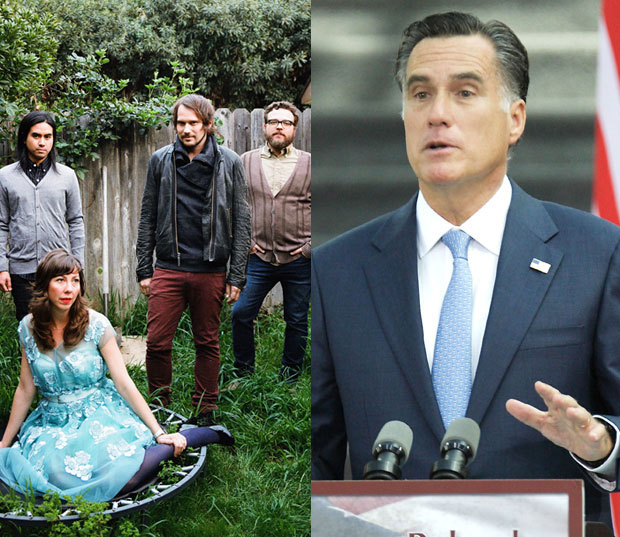 Some would say that hipsters and Republicans make unlikely bedfellows — and indie band The Silversun Pickups would agree. When they heard that their 2009 hit "Panic Switch" was played at a campaign event for Mitt Romney, they were, um, not so happy. The band's attorney issued a cease and desist letter to the Romney campaign on Wednesday, the Associated Press reports.
"We don't like people going behind our backs, using our music without asking, and we don't like the Romney campaign," lead singer Brian Aubert said in a statement to the AP. "We're nice, approachable people. We won't bite. Unless you're Mitt Romney!" Zing!
But here's the kicker. Aubert continues, "We were very close to just letting this go because the irony was too good. While he is inadvertently playing a song that describes his whole campaign, we doubt that 'Panic Switch' really sends the message he intends." Double zing!
For the record, Romney's camp told the AP they didn't mean to play the song, and, per The Silversun Pickups' request, will not play it again. Romney spokeswoman Andrea Saul wrote in an email to the AP, "As anyone who attends Gov. Romney's events knows, this is not a song we would have played intentionally. That said, it was covered under the campaign's regular blanket license, but we will not play it again."
Such a kerfuffle, which pits artist against politician, is not new. Politicians have been inappropriately appropriating music for generations. It all started with The Boss.
1984: Bruce Springsteen vs. Ronald Reagan
During his 1984 bid for reelection, Ronald Reagan attempted to make Bruce Springsteen's anti-Vietnam War anthem "Born in the U.S.A." his theme song. Reagan, who clearly missed the point of Springsteen's song, said in a speech on the campaign trail in Hammonton, N.J., "America's future rests in a thousand dreams inside your hearts; it rests in the message of hope in songs so many young Americans admire: New Jersey's own Bruce Springsteen. And helping you make those dreams come true is what this job of mine is all about." Springsteen, who did not endorse Reagan, wasn't amused.
1996: Sam & Dave vs. Bob Dole
When Bob Dole decided to run against an incumbent Bill Clinton in a race for the presidency, he knew he had to have a killer theme song. His pick: Sam & Dave's 1967 hit, "Soul Man." Sam Moore was on board, and rewrote the song as "I'm a Dole Man." The song's publishers, however, refused to let Dole use the song at his voter rallies.
2000: Sting vs. George W. Bush
In 2000, Bush wanted to use Sting's tune "Brand New Day" as his campaign anthem. Sting, a democrat, declined. The plot thickened, however, when Sting agreed to allow Al Gore, Bush's opponent, use of the song.
2008: The Foo Fighters, Jackson Browne, John Mellencamp vs. John McCain
Let's just say, John McCain had a hard time getting permission to play any music at all while on the campaign trail. The Foo Fighters denied McCain access to "My Hero," John Mellencamp quietly asked McCain to stop playing "Our Country" and "Pink Houses," and Jackson Browne sued for McCain's use of "Running on Empty." Browne, who was outraged that his song was used without his permission by the Ohio Republican Party to denigrate Barack Obama in a pro-McCain ad, actually filed a lawsuit. 
2008: Sam Moore vs. Barack Obama
Lest we lead you to believe that this is a problem only Republicans face, here's an example from our very own POTUS, Barry Obama. In 2008, Obama used Sam & Dave's song "Soul Man" (not be be confused with "Dole Man") at his rallies. Sam Moore issued Obama a cease and desist letter.
2008: Heart vs. Sarah Palin
Referencing her high school nickname, Palin chose Heart's "Barracuda" to welcome her onstage at the Republican National Convention. Heart was outraged. "Sarah Palin's views and values in NO WAY represent us as American women," they said in a statement. "We ask that our song 'Barracuda' no longer be used to promote her image. The song 'Barracuda' was written in the late Seventies as a scathing rant against the soulless, corporate nature of the music business, particularly for women. (The 'barracuda' represented the business.) While Heart did not and would not authorize the use of their song at the RNC, there's irony in Republican strategists' choice to make use of it there." Again with the irony!
2011: Tom Petty vs. Michele Bachmann
In her short-lived (but spirited) bid for the presidency in 2011, Michele Bachmann decided to play Tom Petty's "American Girl" while she walked onstage at a rally. Far from being flattered that Bachmann chose his song, Petty issued a cease and desist.
Follow Abbey Stone on Twitter @abbeystone
[Photo Credit: Autumn de Wilde; WENN]
More:
Mitt Romney is 'Considering' Appearing on 'SNL'
Clint Eastwood: 'America needs Mitt Romney for President'
Rush Limbaugh's 'Dark Knight Rises'/Mitt Romney Conspiracy Theory