Who Was The Real Star Of The 2014 VMAs?
Last night was the night! The night everyone tunes into MTV again and wonders how this channel is still classified as the "Music Television" channel. It was the 2014 Video Music Awards (VMAs) and the stars all flocked to Inglewood, CA. Some of the biggest names in the music business were there. There were stars, like Beyonce, with numerous nominations, while some up and comers, 5 Seconds Of Summer, had their first. But only one person truly can be crowned the star of the VMAs, and it's not who you might have predicted.
The winner for "Star of the 2014 MTV VMAs" is…Blue Ivy Carter!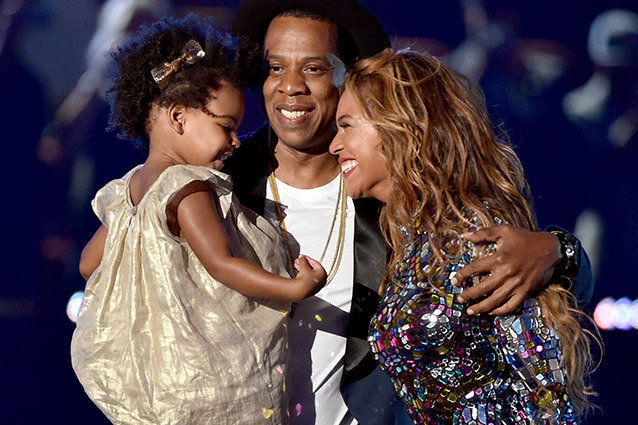 Getty Images/Kevin Winter
Sorry Katy Perry, we know you tried hard with that Britney-inspired ensemble. But Blue Ivy showed up with Jay Z as her personal dance buddy and stole our hearts. During her mom's performance (free concert) Blue Ivy gave us all a glimpse into the future, and it's all going to be about Blue.
Just watch her dancing:
throwyadiamonds.tumblr.com
Flawless.
hateretha.tumblr.com
This moment was quite obviously Twitter approved:
Lol I'm sorry but #blueivy doing the flawless dance… #priceless

— MOTHER MARY (@BeingSaphron) August 25, 2014
#BlueIvy just stole the show right along with her mama. OMG so precious when she said "good job mommy" THE CUTEST

— Lea Does It Better (@dancergleek) August 25, 2014
I think I watched the video of #BlueIvy dancing to #Flawless like 50 times…cutest thing I've seen this year lol

— Devyn Rose (@IAMDEVYNROSE) August 25, 2014
Still obsessing over #BlueIvy https://t.co/pDtHQSk0Dp

— Ashley Castillo (@AshleyKittyXO) August 25, 2014
After dancing like we all wish we could, she and her father joined mommy Beyonce on stage.
mtvstyle.tumblr.com
hateretha.tumblr.com
Our hearts are so happy. We love you Blue and can't wait to see more of you!
Do you think Blue Ivy just totally stole the show? Tweet us your thoughts!