The Tony Awards 2012: The Best and The Worst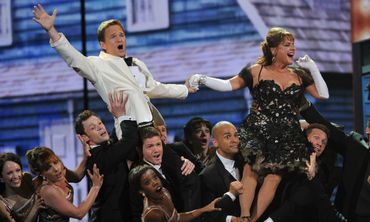 What good is sittin' alone in your room? Well, actually, a lot of great things come out of sitting alone in your room–like Game of Thrones marathons! (What were you thinking, sickos?) Anyway, come hear the music play, old chum! Doesn't Everbody loves a good Broadway hootenanny, right? Of course you do! And if you don't, well then get out of this post! Helmed again this year by the man of many fabulous hats, Neil Patrick Harris, the show was all that is glittery and jazz-handy about the Great White Way (or as NPH called it, "Fifty Shades of Gay" ba-zing!).
Below we have the best and the worst of the 2012 Tony Awards–at least, the bits that Hollywood didn't try to steal from the Broadway scene. Because, yeah, hey, wow, there were lots of TV and Movie actors on this show, huh? Are they mad that they don't have their own award shows or something? In any event, some people won, more people lost, and if you want that list, please click here. Please consider this our official petition to have Neil Patrick Harris just host everything forever.
Best Kooky Tony's Intro Starring A Whole Bunch of White Dudes:
The Book of Mormon
Best Use of Theater Surprise Face:
Best Excuse to Put John Lithgow on TV:
The 2012 Tony Awards
Worst Attempt at an 1890s New York Accent:
Best Use of a Mushroom Cap as a Wig:
Michael McGrath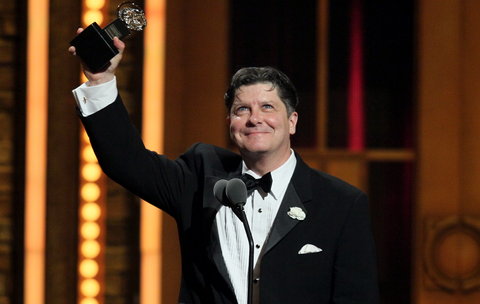 Best Speaking Voice, Ever:
Bernadette Peters and her Incredible Non-Moving Face
Best Use of a Roger Sterling LSD trip:
The Follies' performance
Worst Idea Ever:
Ghost, The Musical
Best Use of a Face:
John Larroquette's glasses
Best Use of the Color Blue:
Josh Young's perilously well-tailored suit
Best Use of Puns:
NPH's Spider-Man bit featuring the flawless Angela Lansbury
Worst Glittery Nipples: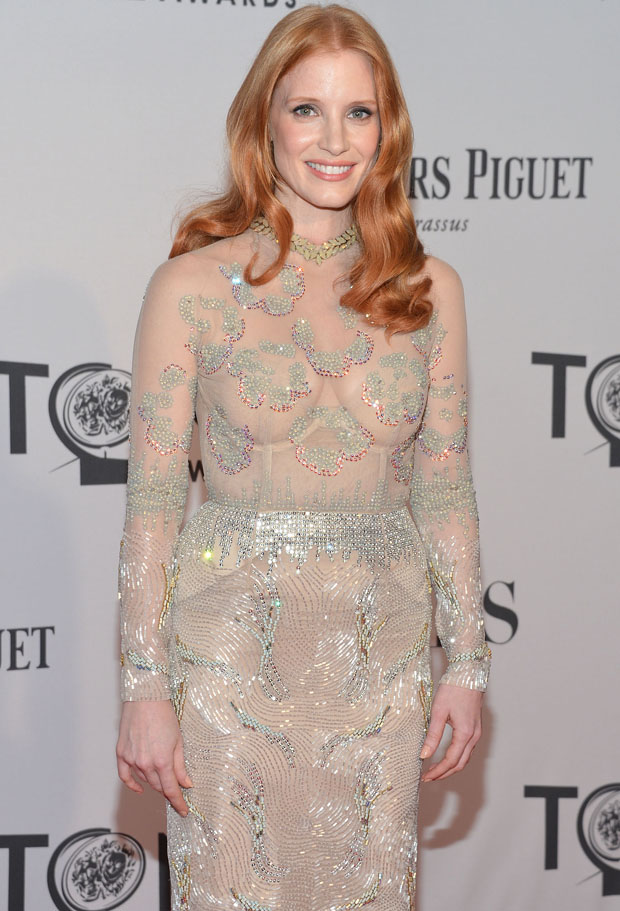 [Image via Getty]
Best Name of a Real Live Human:
Da'Vine Joy Randolph
Worst Consolation Prize for "Bombshell" Not Getting Nominated For Anything:
Christian Borle aka Tom Levitt (#SmashJokes)
Best Use of Holographic Automaton Technology:
Jesus.
Best Mustache: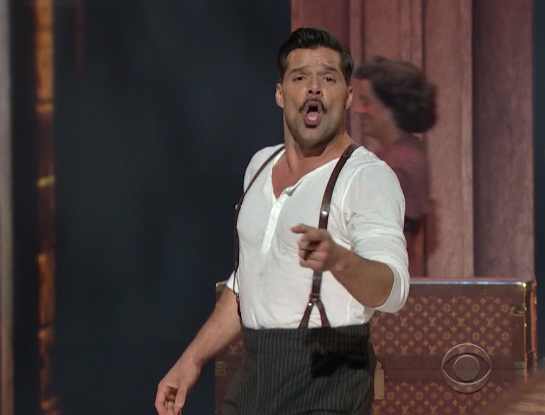 Best Broadwayiest Moment:
Mandy Patinkin and Patti LuPone singing at each other
Best Use of a Harvey Fierstein: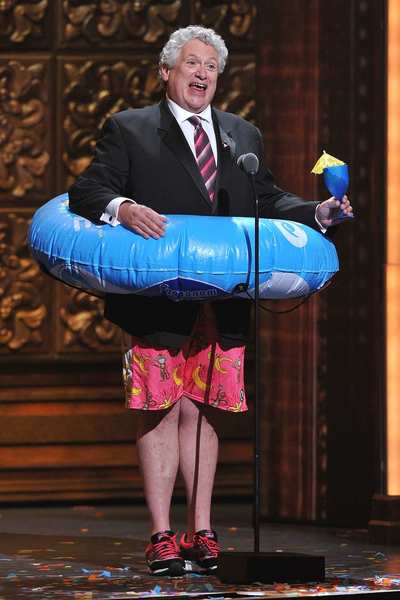 Worst Crowdsurf Ever:
That chick that crowd-surfed behind NPH after Hairspray. Because there's nothing cooler and more appropriate at a black-tie awards ceremony than to crowd-surf. And yes, it was probably a planned gag (since they were real into those sort of behind the scenes/unplanned gags), but it was STILL the worst of the planned "unplanned" gags.
Featheriest, Platformiest:
Hugh Jackman's wife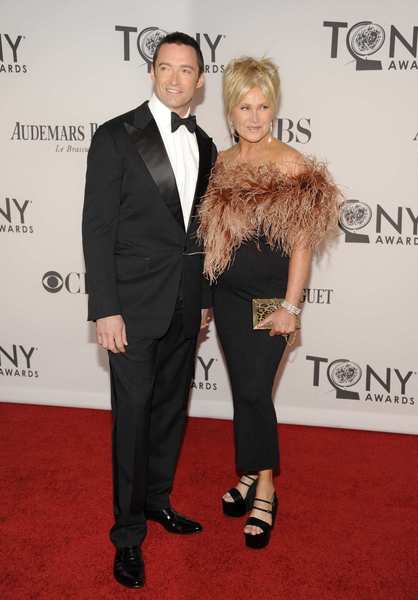 [Image via Associated Press]
Worst Hobo Resort Collection:
Candice Bergen's shirt and the technicolor jacket from hell that has taken her hostage
Best, Most Adorable Accent, EVER, YOU GUYS!:
James Cordon
Best Tony Awards Drinking Game:
Drink every time: Jesus.
Best Bizarre Crush:
Nina Arianda on Christopher Plummer
Best Members of the Theater Elite:
Best GIF Ever Created in the History of the Internet: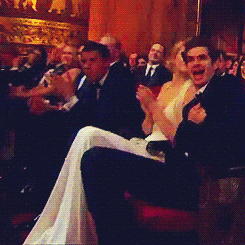 [GIF via Daniel Shannon]
Is that all there is? Is that all there is?! It is all there is, my dear, but let's keep dancing! Discuss your favorite moments in the comments below!
[Main Image via WNYC]
Follow Alicia on Twitter @alicialutes
More:
'Once' Sweeps the Tonys, 'Starcatcher,' 'Salesman' Follow
'Once', Philip Seymour Hoffman, Andrew Garfield Earn 2012 Tony Nods