The Yoko Ono 'Firework' Cover Never Happened (And Santa's Not Real Either)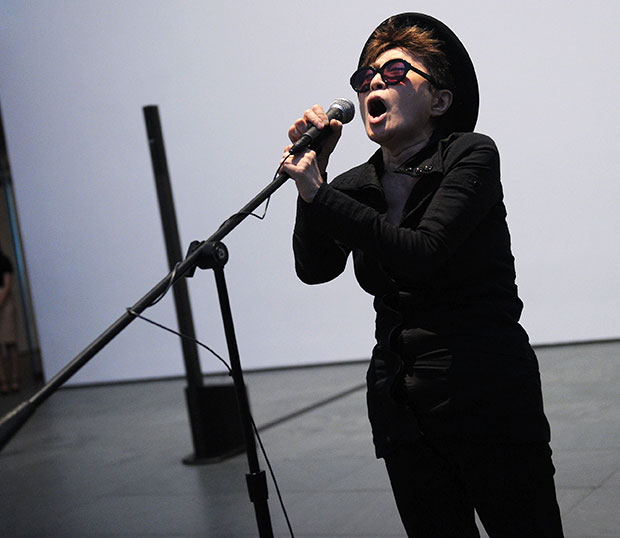 On Monday evening, Twitter was alive with the hum of the latest Internet video to be dubbed a viral masterpiece: Yoko Ono's cover of Katy Perry's "Firework." In the video, a piano softly, lovingly plays Perry's "be yourself" anthem, as Yoko steps up to the microphone and begins screaming in a way that can only be described as a very loud combination of agony and ecstasy.
While the video was uploaded on June 5, 2012, in the mysterious ways of the Internet it only began to circulate widely this week, appearing on click-friendly sites such as Buzzfeed, Jezebel, and The Daily Beast. But, unfortunately, these sites and the legions of people who tweeted the LOL-worthy video are blind to the sad truth. You see, this video isn't real.
Well, it's real in that it exists as a video that you can watch and laugh at, but Yoko Ono never screamed while accompanied by Katy Perry's "Firework."
Rather, the video was created by layering a recording of Perry's ballad over a 2010 performance art exhibition Ono gave at the Museum of Modern Art in New York City, titled Voice Piece for Soprano & Wish Tree. YouTube user (and clear comedy visionary) Kroiker McGuire saw the funny potential in Ono's performance and ran with it. In addition to creating Ono's "cover" of "Firework," McGuire created video mashups of Ono's performance and "The Star Spangled Banner," "Dynamite," "Bad Romance," and "Someone Like You" (which may be my personal favorite). 
Below, watch Ono's original performance. And then (because it's still funny) her "Firework" cover.
Follow Abbey Stone on Twitter @abbeystone
[Photo Credit: Jason Kempin/Getty Images]
More:
Rhesus Pieces! Jacket-Wearing Ikea Monkey Has a Meme — PHOTOS
Follow for LOLs! The Top 10 Fake Twitter Accounts of 2012
Strippers, Snakeskin, and Side Boob: Miley Cyrus' Merry XXX-mas — PICS
From Our Partners:

Fall Bikini Bodies: The Good, the Bad and the OMG

Kim Kardashians Best Bikini Moments (PHOTOS)