15 Things You Didn't Know About Jesse Eisenberg
If there's one thing we know for sure about Jesse Eisenberg, it's that he's adorably awkward. He also does a fantastic job of staying out of the paparazzi's prying eye and remains a low key member of Hollywood's elite in-crowd. While he's good at keeping his private life out of the headlines, details about Jesse still manage to leak into the mainstream. Here are 15 things you probably didn't know about the Oscar-nominated actor.
1. Jesse Eisenberg is shocked whenever he is cast in a movie.
Tumblr
2. His mom performed as a professional clown at children's birthday parties for 20 years.
PlayBuzz
3. Prior to shooting The Social Network, Jesse had never even seen a Facebook page.
WordPress
4. Jesse suffers from Obsessive Compulsive Disorder, but it has never affected his acting. 
GifSmile
5. If he weren't an actor, Jesse says he'd be a bike messenger.
Giphy
6. While shooting The Social Network, Jesse set up a fake Facebook account for Andrew Garfield.
Tumblr
7. Jesse doesn't follow fashion and describes his personal style as, "everyday is laundry day."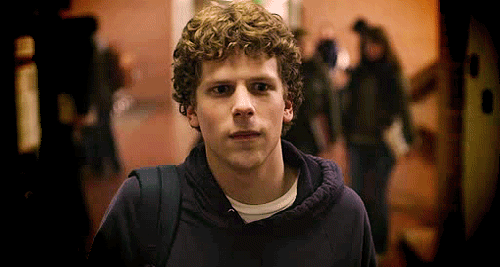 Gifrific
8. Being recognized out in public makes him uncomfortable. 
InvisionFree
9. When it comes to chick flicks, his favorite is Sleepless in Seattle.
TriStar/HelloGiggles
10. Jesse has been playing drums since he was 8-years-old.
Paramount/Mommyish
11. Jesse's little sister Hallie Eisenberg was the adorable face of Pepsi in the '90s.
12. He absolutely hates watching himself act in movies.
Blogspot
13. Before he was part of Hollywood's A-list, Jesse took on the part of "Naked Boy" in a Dr. Pepper commercial.
Rebloggy
14. Jesse has often been mistaken for Michael Cera.
Rebloggy
15. One of Jesse's biggest fans is Robert Pattinson.
GifSmile
RELATED:
15 Things You Should Know About OITNB's Ruby Rose