15 Things You Didn't Know About Kristen Stewart
Kristen Stewart has always been a fiercely private member of Tinseltown's A-list, and since her break-up with Robert Pattinson, the 25-year-old has done her best to stay under the radar. Sure the paparazzi follow her every move, but the award-winning actress still manages to remain a mystery to the masses. With her new movie American Ultra set to hit the big screen in less than two weeks, here's 15 facts about Kristen you may not know.
1. She's terrified before she begins any new role.

FanPop
2. Kristen considers herself a skater. "Skating around downtown [LA] might be my happy place."

Tumblr
3. She has a competitive edge and loves to play all kinds of games.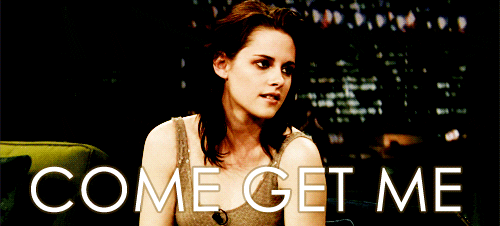 Giphy
4. Kristen doesn't share her personal life with the public, but says she isn't trying to keep anything under wraps either. "Google me, I'm not hiding."

Tumblr
5. She was eight-years-old when she was discovered by a talent agent who saw her singing in a school play.

Live Journal
6. One of Kristen's favorite snacks is Flamin' Hot Cheetos.

Buzzfeed
7. Her role in Panic Room was originally meant to be played by Hayden Panettiere, before Kristen replaced her.

WeHeartIt
8. Emile Hirsch, whom she acted alongside in Into The Wild, was the one who recommended her for the role of Bella Swan in Twilight.

Summit Entertainment/Deviant Art
9. She's really good at baking apple pies.

GifGallery
10. Kristen is a multi-instrumentalist. She plays acoustic and electric guitar, as well as the trumpet.

Tumblr
11. Her favorite scary movie is The Shining.

Warner Bros./Awesomenator
12. If she could be any animal, Kristen would be a cat

CatGifPage
13. Her favorite scene from Twilight is when Jacob Black (Taylor Lautner) takes off his shirt in front of
Bella's Dad.

Summit Entertainment/ReBloggy
14. One of Kristen's hobbies is photography.

WiffleGif
15. Kristen's family has pet wolves.

Fanpop
RELATED
12 Signs You're Amy Schumer's Secret Twin
15 Things You Didn't Know About 'Dazed And Confused'
15 Things You Should Know About OITNB's Ruby Rose