'90's Nostalgia May Have Peaked with This Photo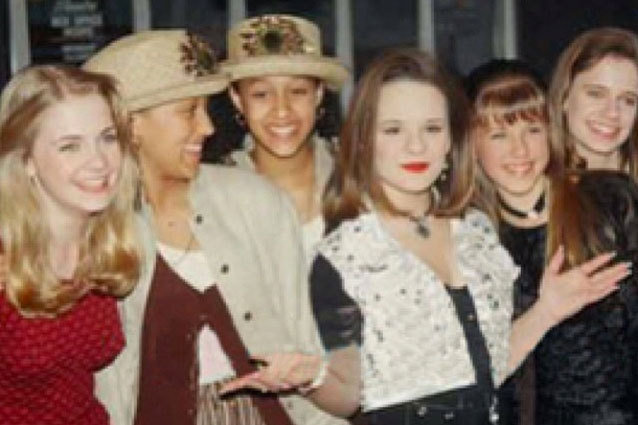 tiamowry/Instagram
If you've spent any amount of time on the Internet recently, you're probably aware that the world is currently in the midst of a long period of '90s nostalgia. Between a Boy Meets World spin off, the 'NSYNC reunion at the VMAs, and countless BuzzFeed articles, it seems like there has never been a time period more popular than the 1990s currently are. But for everyone who enjoys complaining that the cartoons today aren't as entertaining, bemoaning the lack of TGIF every week and looking for the exact outfit that Cher Horowitz wears in the beginning of Clueless, we have some bad news: '90s nostalgia may have peaked. 
Tia Mowry, who rose to fame in the '90s on Sister Sister with her twin, Tamera, posted what may be the ultimate nostalgia photo on her Instagram yesterday. For Throwback Thursday, she shared of photo of herself and Tamera with Clarissa Explains It All and Sabrina the Teenage Witch star Melissa Joan Hart, Blossom's Jenna Von Oy, and Jodie Sweetin and Andrea Barber, who played Stephanie Tanner and Kimmie Gibbler on Full House. Mowry captioned the photo "TBT Can you recognize who's who? We are all mommies now 🙂 xx". 
Mowry's photo may be the ultimate piece of '90s nostalgia. It's hard to top a photo that gathers together the stars of the biggest shows of the decade, wearing both the best and worst fashion trends of the time, posted by a '90s star herself. We, as a society, may have to move on from idolizing the 90's and choose another decade to collectively fawn over. No lists, spinoffs or reunions will be able to beat this moment. It's not like there's anything else left to say about the decade anymore. We've dissected the fashions, the music, the movies, the televison shows, and the toys in such depth that the only thing left to write are some detailed essays about POGs — and nobody wants that. 
We've reached a point of nostalgia overload, and Mowry's photo may have pushed us over the edge. So, let us take her Throwback Thursday as a sign that it is time for all of us to put away our plaid vests, our platform shoes and the episodes of Hey, Arnold we've still got on VHS somewhere, and focus on a new time period. We could bring back the flapper dresses of the 1920s, celebrate the end of Mad Men with a 1960s revival, or just move forward in time and remember the early 2000s in all of their denim-tuxedoed, Britney-and-Boy-Band glory days. 
Besides, let's face it, those floppy hats have never looked good on anyone.