Tiffani Thiessen Almost Played the Worst Bond Girl Ever
Can you imagine Kelly Kapowski as a nuclear physicist and sexy sidekick to 007? Well, it could have happened.
If Denise Richards hadn't nabbed the role of Christmas Jones in The World Is Not Enough, it could have been '90s heartthrob Tiffani Thiessen bearing the brunt of the unofficial title: Worst Bond Girl Ever. But fate was clearly on her side.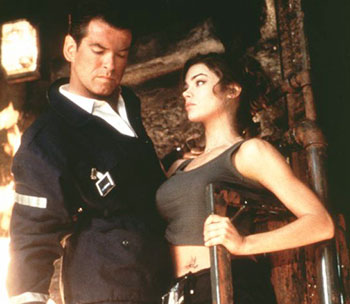 In an interview on MeinMyPlace.com, the woman who made us believe in the sexy power of high-waisted shorts and high ponytails confesses that she gave the Bond role her best shot. "I got very close to that once, one thing that I always wanted to do was be a Bond Girl. I tested but didn't get it. It was also probably the hardest rejection, because I'm such a fan of the movies. It was between me and two other actresses at the time. Unfortunately, the actress who got the job went on to be voted as one of the worst Bond Girls as well," she says.
It was sweet of her not to name names. Kelly always was good at doing the right thing in the end.
And perhaps it was best that Thiessen (who will forever be Kelly Kapowski in our minds, even with her more recent roles on series like White Collar) never swept James Bond off his feet. Could you imagine the damage our brains would endure with the knowledge that the same woman intrigued the world's greatest spy and Zack Morris, the world's greatest freeze-framing, Cosby-sweater-wearing cheeseball teen this world has ever known?
Follow Kelsea on Twitter @KelseaStahler
[Photo Credit: Michael Edwards/MeInMyPlace.com; United Artists]
To see more of Thiessen's photo shoot, check out the MeInMyPlace app.
More:
How James Bond Will Finally Get His Oscar Due
Why Isn't There a Female Equivalent of James Bond?
Does James Bond Have a Problem With Gays?

Child Stars: Where Are They Now? (Celebuzz)