Tiffani Thiessen's Tips How To Send The Perfect Holiday Gift
She's starring in the suspenseful final season of White Collar, has a new show on the Cooking Channel in the works, is a mom to four-year-old daughter Harper, and is a holiday gifting guru. Tiffani Thiessen is teaming up with the U.S. Postal Service to share tips on the best ways to ship gifts to friends and family this holiday season.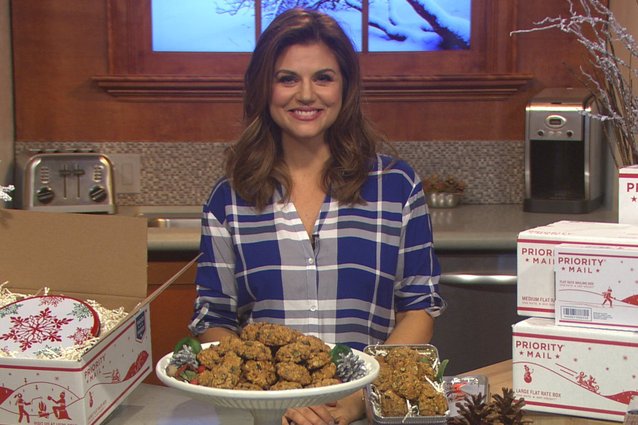 USPS

Thiessen tells Hollywood.com all about how she plans to spend her holidays cozy at home with her family making homemade holiday gifts for loved ones. "It's something we can do together and spend a lot of family time in the kitchen." She told us how easy it is to ship these homemade treats using USPS priority mail flat rate boxes. The boxes even come with holiday themes on them, or, Thiessen tells us her daughter likes to decorate the boxes herself – so cute!
Thiessen's favorite holiday recipe is cookies because they're foolproof to make with her daughter. "The cookies are the easiest and the best." We agree. She also likes to send different kinds of breads, chocolate bark and muffins. Yum! "It just depends," she told us. "You can do anything." You can see Thiessen's cookie recipe at the end of this article.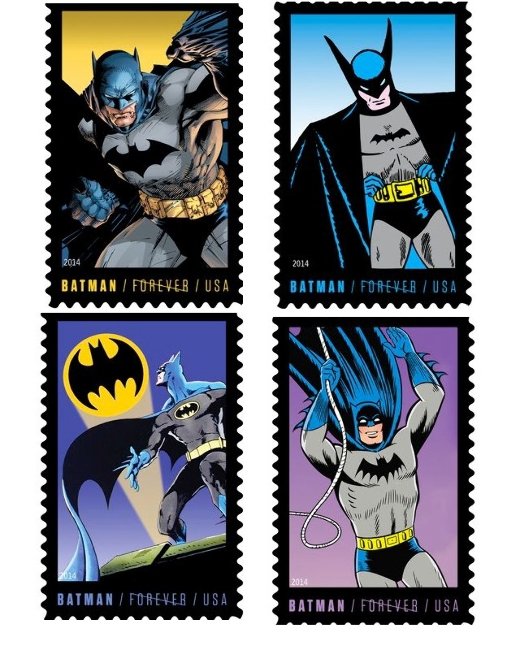 USPS/Greg Breeding
Other gifts she likes to send to friends and family over the holidays are personalized stationary and – believe it or not – stamps. She told us she just got a bunch of really cute Batman stamps from USPS as stocking stuffers for her nephew. That actually does sound really cute! To find out more exciting gifting options when it comes to shipping gifts this holiday season, head over to usps.com/holiday. Gift wisely!
Thiessen stars in White Collar, which is currently in its sixth and final season. She Tells Hollywood.com exlusively about the final season:
"I can tell you that it has a lot of questions answered. It leaves, I think, the fans in a good way. I think all of us were pretty happy about the way the show was ending, even though we were all sad that it was ending. But I think the fans are going to be very happy how we ended it."
You can watch the final season of White Collar Thursdays at 9/8C on USA Network.
Thiessen is also "cooking up something with the Cooking Channel." She's doing a show called Dinner at Tiffani's. The premise of the show is she'll be hosting an intimate dinner party with her celebrity friends. "I can't tell you too much because it's kind of a secret, but kind of a cool secret. But I can tell you, you're going to see a lot of recognizable people coming by my house for sure for a good meal." Sounds fun!
When asked whether the former Kelly Kapowski would ever do a Saved By The Bell reunion, Thiessen says,
"I don't know if you'll see anything from us anytime soon."
The SBTB cast (Mario Lopez, Mark-Paul Gosselaar, Elizabeth Berkley and Lark Voorhies, along with Thiessen) did a People Magazine spread a few years ago for the show's 20th year reunion, and Thiessen said the magazine spread "kind of fulfilled us." She goes on to say, "People ask us all the time, it's very funny. I guess the show kind of held a very special place in a lot of people's hearts, which is understandable. A lot of us still talk so we kind of have our own reunion all the time."
Thiessen has appeared multiple times on E's Fashion Police in the past alongside the late, great Joan Rivers. About the recent announcement that Kathy Griffin and Brad Goreski will be joining the show, Thiessen tells Hollywood.com exclusively: "I think it's great. I think those are some really hard shoes to fill, and I don't think anybody can do it exactly, but I don't think that's what their job is for. I think their job is to hopefully just do their own thing on the show and I'm sure it's going to be just as great." Well said, Tiff!
Tiffani's Shippable Holiday Treats
INGREDIENTS

3.4 ounces all-purpose flour (about 3/4 cup)

1 cup old-fashioned rolled oats

1/2 teaspoon baking soda

1/4 teaspoon salt

3/4 cup packed brown sugar

1/4 cup butter, softened

1 teaspoon vanilla extract

1 teaspoon of cinnamon

1 large egg

1/3 cup cranberries, pepitas & shredded coconut (or any dried fruit or nut of your choice)
Coconut oil

PREPARATION

1. Preheat oven to 350°.

2. Weigh or lightly spoon flour into dry measuring cups; level with a knife. Combine flour, oats, baking soda, and salt in a medium bowl; stir with a whisk. Place sugar and butter in a large bowl; beat with a mixer at medium speed until well blended (about 5 minutes). Add vanilla and egg; beat well. Add flour mixture; beat just until combined. Stir in cranberries, pepitas and shredded coconut last.

3. Drop cookie dough rolled into balls about the width of a quarter 2 inches apart on 2 baking sheets coated with oil. Bake at 350° for 11 minutes or until lightly browned. Cool on pan for one minute. Remove cookies from pan and transfer to a wire rack for cooling.

4.  Pack cookies in an airtight container and place in a holiday-themed Priority Mail box with bubble wrap or newspaper.  Add a special note with greeting. and send to friends and family for a homemade holiday treat!