'Time' Omits Someone Big in Their List of 100 Most Influential People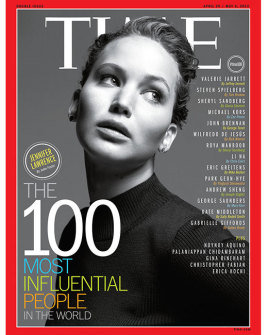 Jay-Z, Shonda Rhimes, Sheryl Sandberg, Jennifer Lawrence, Mindy Kaling, Frank Ocean, Lena Dunham, Beyonce … Time's annual list of 100 Most Influential People celebrates diversity, innovation, inclusiveness, and, of course, the requisite share of hyperbole. (Lena Dunham is cool, but is she already an "Icon"?)
Of course, we still apparently have some work to do in the gender parity department, with only 35 of the 100 being women. Does the list reflect that women simply still don't get to hold as many power positions as men, or does it reflect a media bias against powerful women? It's hard to say for sure, but it's hard to imagine that, for instance, Hillary Clinton — the leading candidate for a presidential run in 2016 — didn't make it the cut. 
Speaking of Hillary, how is it that Christina Aguilera made it but Mrs. Clinton did not? Look, I love Christina more than, as far as I can tell, a lot of people. I think she's a great role model, as far as pop stars are concerned: She's unapologetically outspoken, she takes responsibility for her own career, and she's sung an empowering song or two. Her talent is undeniable, as Time's little piece "by Celine Dion" notes, but I'm not sure that even the most transcendent singing voice makes one influential. 
In the other pop cultural examples on the list, those named stand for something greater, or do something greater, than themselves: Grey's Anatomy and Scandal creator Shonda Rhimes broke into the white male-dominated world of TV writing and created shows that revolutionized how we portray race and gender. Mindy Kaling used her unique brand of comedy to become the first South Asian lead on TV — not to mention another woman of color running her own show. Lena Dunham is a young force to be reckoned with; she pushed the single-young-woman sitcom into places we never dreamed it would go. Frank Ocean changed the face of hip-hop. And Justin Timberlake has demonstrated uncanny business sense, evidenced by the way the release of his latest album, The 20/20 Experience, dominated the cultural conversation for weeks.
Maybe Christina is taking this season off from The Voice to plot her own world domination? Or her presidential run? 
Hollywood.com correspondent Jennifer Keishin Armstrong is the author of Sexy Feminism and Mary and Lou and Rhoda and Ted, a history of The Mary Tyler Moore Show, due out in May. Visit her online at JenniferKArmstrong.com.
Follow Jennifer on Twitter @jmkarmstrong 
More:
Hillary Clinton Gets an Eyeful… Of Christina Aguilera's Cleavage 
Hillary Clinton Erupts at Benghazi Hearing  
'Time' Mag Sexes Up Same-Sex Marriage on Cover  
---
From Our Partners:


Eva Longoria Bikinis on Spring Break (Celebuzz)


33 Child Stars: Where Are They Now? (Celebuzz)