Titus Makin Jr. Talks His Role in The CW's 'Star Crossed'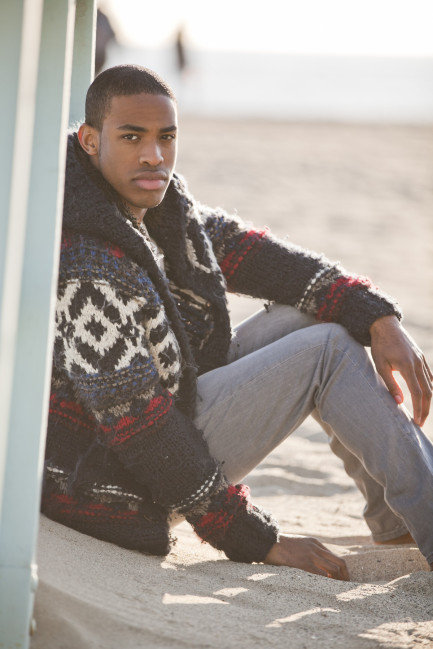 George Flattery
This season, The CW introduces a new series: Star Crossed, a human/alien romance that might affect more than just the two parties involved. Titus Makin Jr., one of the show's stars, talks about the upcoming program and playing an Earthling surrounded by extraterrestrials, and the show's "funny guy."
What can you tell us about your character on the CW's new show Star Crossed?
I play the character of Lukas Parnell. He's a human in this new alien-filled world and best friend of Emery, played by Aimee Teegarden. Lukas plays the role of the tech-savvy, charismatic comedic relief of the very intense dramatic scenarios that arise during the season. He does have his share of drama, but really tries to focus on the positive things within this world of new struggles and obstacles. 
Do you relate to him in any way?
I relate to Lukas in many ways. I love that he and I are both very optimistic and joyful people. He also has a very keen sense of fashion. I love being someone who really appreciates male fashion. We are different in the sense of our technology knowledge. There are words and phrases that I had to learn as Lukas that I had never heard of before, but it helped me grow as a person and actor through the process.
What is it like on set?  
The set is amazing, the cast and crew are so kind and it makes for such a smooth filming process. Pranks are pulled constantly, we like to print out funny pictures of one another and hang them on each other's dressing room doors.
How is it working with actors like Aimee Teegarden, Matt Lanter, and Grey Damon, to name a few?
It's amazing working with them, they are all extremely talented actors who have been in the business much longer than myself, so I'm constantly learning from them and growing as a new family member of "young Hollywood"
Does everyone get along well? Any stories you can share about the cast/crew?
Everybody genuinely gets along wonderfully. It's great that there is no drama on the set and everyone is mature and handles any situation with respect towards the other person. We are constantly in mass text chains with each other while we're not filming.
The basis of the show is teen romance, but it is obvious just by the trailer that there is a deeper meaning underneath the show. Differences between people can cause huge rifts in community and relationships. How does it feel to be a part of a show with a deeper meaning, one that could be considered controversial?
I think it's great to be part of a potentially controversial project because it really makes people listen and focus on how we can change for the better as a whole. The story takes place in the future but there is not only a lot of action, but it deals with some serious things that relate to modern-day time, such as racism and acceptance in many facets. 
What's next for Titus Makin Jr.?
I've been able to take the time to get back into my music this New Year, which is extremely exciting for me. I've been able to sit down and do some writing, in expectance for an acoustic set I'm performing this upcoming month at The House of Blues in Hollywood on Feb. 12. I'm also hoping and praying that the shows ratings are great and people are tuning in so we could be cleared for a second season!