What You Didn't See on TV at the 67th Annual Tony Awards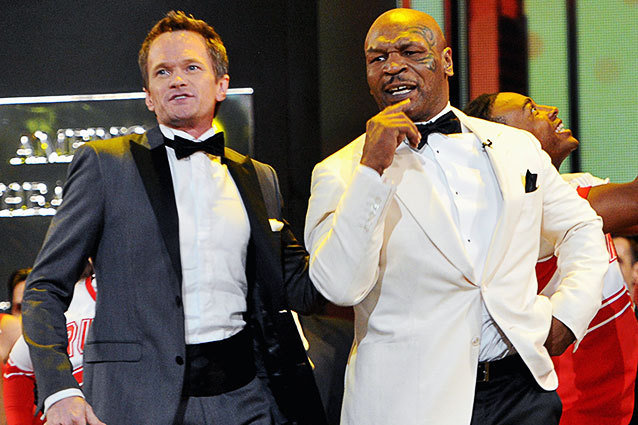 The 67th Annual Tony Awards, held at Radio City Music Hall on Sunday, was swimming with A-List stars — and from the moment they stepped foot on the red carpet to the final curtain call, they were having a blast. We should know, we were in the thick of it.
While viewers at home were transported to Broadway with 15 musical numbers and laughed along with Neil Patrick Harris' fantastic hosting, those of us on the red carpet and in the media room were privvy to a little extra bit of fun. Here's what the TV cameras didn't catch. 
Mike Tyson, who enjoyed a stint on Broadway with a one-man show last year, amazed everyone with his cameo appearance in Harris' show-stopping (or show-starting, as the case may be) opening number. But before he hit the stage, we watched Tyson hug The Sopranos' Steven Van Zandt (who would later present an award with Tom Hanks) on the red carpet. Tyson looked dapper on stage, but outside in the 90-degree New York City heat, the fighter was sweating like he had just exited the boxing ring. Inside the theater, Tyson cozied up with Now You See Me star Jesse Eisenberg.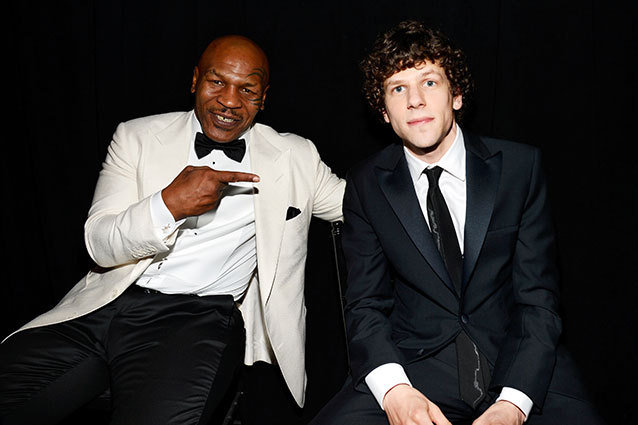 Broadway veteran Bernadette Peters cut a stunning figure in a green Donna Karan Atelier with a basketweave texture. What you didn't see was the assistant she had on hand to scoop up and properly arrange her gown's train between poses.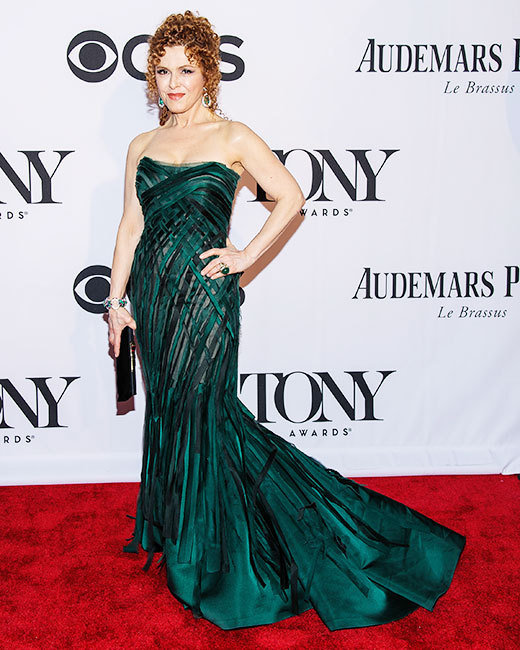 Cyndi Lauper was the well-deserving belle of the ball on Sunday night. Not only did she rake in six awards (her show, Kinky Boots, was nominated for 13), but she was incredibly gracious to her fans and her energy was boundless. On the carpet before the ceremony, Lauper made sure to wave to the legions of fans lining the street (Glee and Annie star Jane Lynch did the same). Following her win, she hammed it up for photographers in the press room.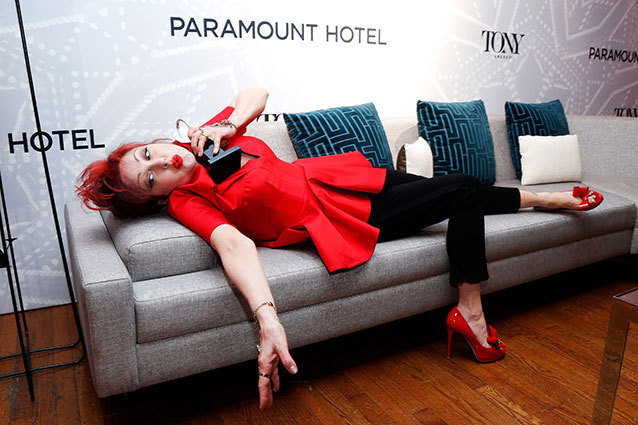 On the red carpet, Scarlett Johansson greeted Sienna Miller (whose fiancé, Tom Sturridge, was nominated for his work in Orphans) with a kiss on the cheek. Backstage, Johansson was equally chummy with fellow presenter Alan Cumming. The two played patty-cake before presenting the award for Best Performance by an Actor in a Leading Role.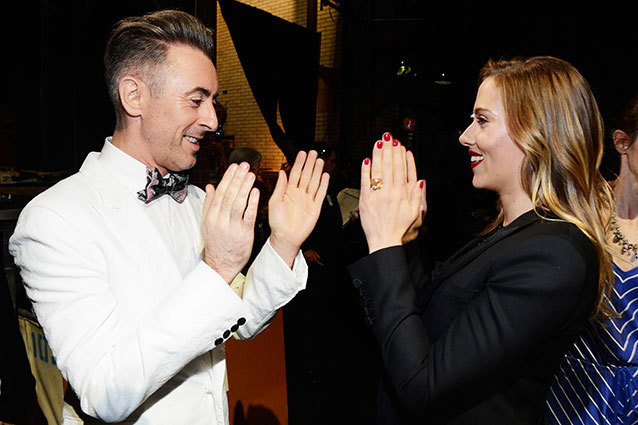 On the carpet, Cumming made peace signs and crazy faces while posing for photographers.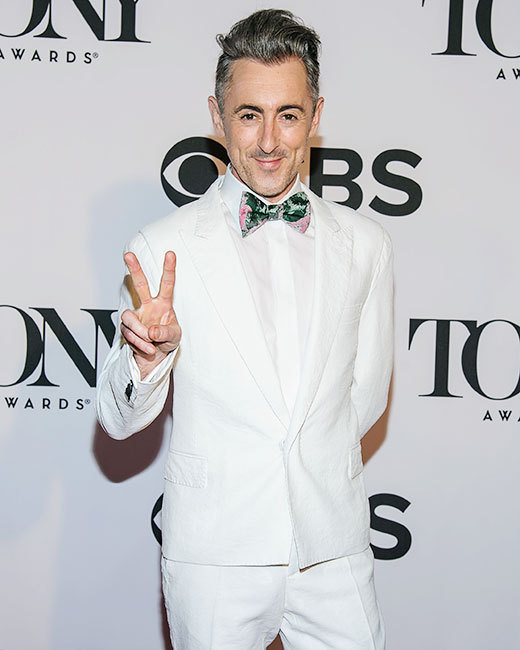 Four-time Tony Award winner Audra McDonald (whom you may know from Private Practice) shared the spotlight — and a hug — with her daughter, Zoe.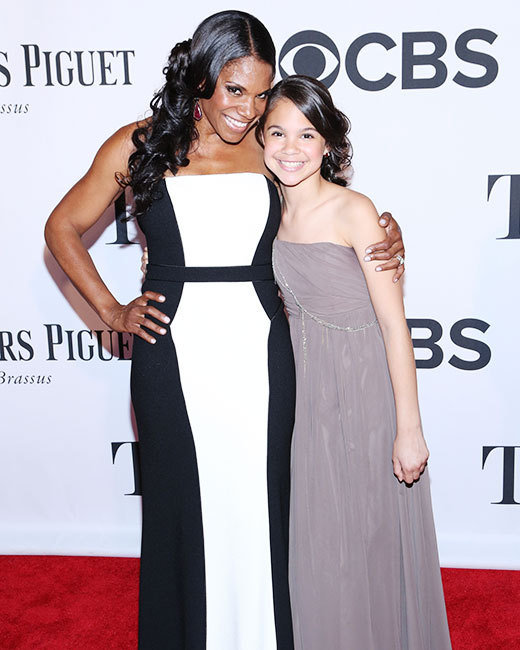 Smash star Megan Hilty shared the stage with fellow Broadway actors-turned-TV-stars Laura Benanti (Go On) and Andrew Rannells (The New Normal) for a laugh-out-loud musical number that poked fun at their bad luck on screen (cliffnotes: their shows have all been canceled). Hilty's Smash co-stars Debra Messing and Will Chase — who notoriously had a real-life affair — were conspicuously cuddly.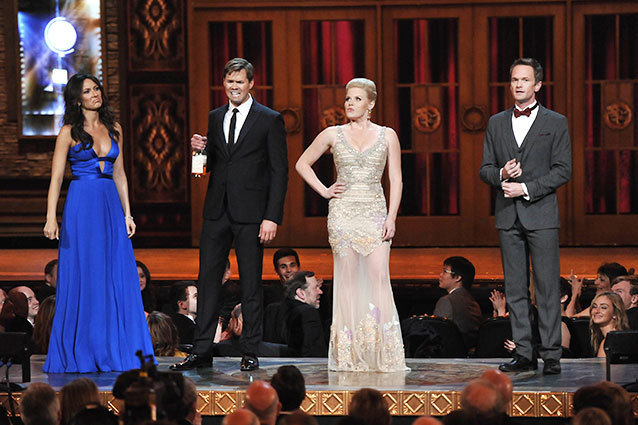 Home audiences were lucky enough to see this tender moment between Annie star Sunny (who plays Sandy, the lovable stray canine) and host Neil Patrick Harris. But since it's just too cute for words, here it is again: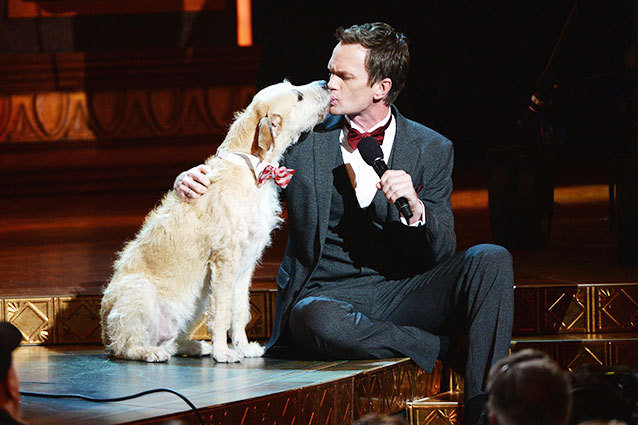 Reporting by Lauren Paylor
More: 
The A-Lister Presenter List for the 2013 Tony Awards 
Neil Patrick Harris Will Host The Tony Awards Again
The 2013 Tony Awards Nominations 
---
From Our Partners


Stars Pose Naked for 'Allure' (Celebuzz)


Which Game of Thrones Actor Looks Least Like His Character? (Vulture)