Top 5 Moments from the 2012 CMA Awards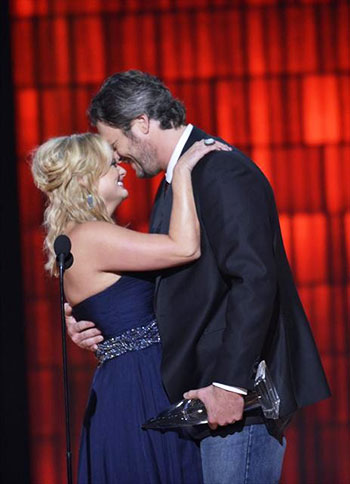 All of country music's biggest and brightest stars gathered in Nashville's Bridgestone Arena for a night of celebration at the 46th annual Country Music Association (CMA) Awards on Thursday. Led by intrepid hosts Carrie Underwood and Brad Paisley, the ceremony was a night to remember — filled with heartfelt speeches, bring-down-the-house performances, and adorable Southern accents. (Not yours, Hayden Panettiere. Yours is fake.) 
But even with all the hootin' and hollerin', beltin', twangin' and general camaraderie, not everyone was able to walk away a winner last night. Some, like Taylor Swift, left empty-handed. And, as some songs and some singers are named better than others, so it goes with the broadcast. Like a prized cherry pie at a county fair, some moments were simply more delicious than all the others.
Here's a countdown of the top five moments from Thursday's CMA Awards:
5. Carrie Underwood and Brad Paisley's Stylish Opening
Underwood and Paisley kicked off what would be a very successful hosting job with a few cracks at their fellow country stars before cashing in on the popularity of this year's biggest viral dance craze. Underwood gets mad props for pulling off those moves in sky-high heels.
4. Taylor Swift's Heartfelt Performance
She may not have walked away with a trophy this year, but Swift's presence was certainly felt throughout the broadcast. From Underwood and Paisley's breakup ditty in the opening moments to Miranda Lambert's shout-out during her acceptance speech for Female Vocalist of the Year, Swift was on everyone's mind. And when she literally took the spotlight for a rendition of her new single, "Begin Again," she reminded everyone just how much heart goes into each one of her songs.
3. Willie Nelson Tribute
At awards shows, the tribute performances are guaranteed to simultaneously get the waterworks flowing and bring down the house. This year's tribute to country legend Willie Nelson was certainly no exception. Lady Antebellum, Blake Shelton, Keith Urban, Tim McGraw, and Faith Hill all performed Nelson's classics before the man himself took to the stage for "On the Road Again."
2. Kelly Clarkson Goes Full Country
Welcome to country music, Kelly. Try not to make everyone else look bad, will ya?
1. Blake Shelton and Miranda Lambert Make Everyone Cry
Shelton and Lambert just ooze love — for one another and for music — as they take the stage to accept their award for Song of the Year. Lambert can't stop crying as Shelton tells a touching story about his deceased brother and father. Can someone pass the tissues?
Bonus: Miranda Lambert's Acceptance Speech
It's possible that Lambert's acceptance speech for Female Vocalist of the Year, in which she names why each of the other nominees may have deserved the award more than she, is even more adorable than her joint speech with Shelton. Her humility is infinitely appealing.
Follow Abbey Stone on Twitter @abbeystone
[Photo Credit: Katherine Bomboy-Thornton/ABC]
More:
CMA Award Winners: Did Taylor Swift Walk Away Empty-Handed?
Taylor Swift Storms the First Round of the CMA Awards Nominations
'The Voice' Sparks Country Feud — Blake Shelton & Miranda Lambert Respond

Country Music Association Awards 2012: See the Best-Dressed Stars of the Night (PHOTOS)
(Celebuzz)