5 Strangest Music Collaborations of 2013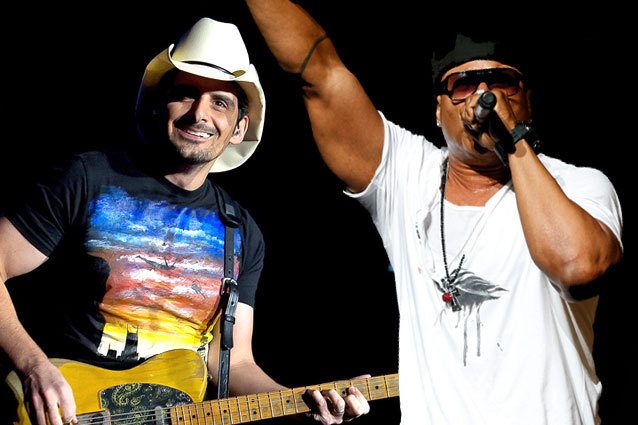 Wenn; Getty
"Suit & Tie," "Get Lucky," "Just Give Me A Reason" – some of this year's biggest hits have featured two, or sometimes three, superstars from different genres pooling their resources together in an effort to conquer the Billboard charts. But while the likes of Justin Timberlake and Jay-Z, Pharrell & Daft Punk and Pink and Nate Ruess felt like natural hook-ups between artists with a mutual respect for each other, there have been just as many collaborations where the names involved appear to have been plucked randomly out of a hat. Here's a look at five of 2013's most bewildering.
Brad Paisley & LL Cool J – "Accidental Racist"
This "slavery for dummies" lesson may have had honorable intentions but its simplistic and patronizing attempt to promote the idea of harmony ironically left you thinking that country and hip-hop should never mix.
Snoop Dogg & Miley Cyrus – "Ashtrays and Heartbreaks"
Long before she twerked her way to MTV infamy, Miley Cyrus made her first effort to ditch her squeaky-clean Disney past by heading into the studio with marijuana's most high-profile advocate for a surprisingly half-decent slice of rasta-friendly pop.
Phoenix & R. Kelly – "Trying To Be Cool"
A regular on the Phoenix pre-show playlist, R. Kelly then teamed up with the French synth-pop outfit during their Coachella set before lending his soulful croon to a remix of the highlight from their comeback album Bankrupt.
Avicii & Aloe Blacc – "Wake Me Up"
A classic soul singer in the mold of Curtis Mayfield, Blacc didn't seem the most obvious candidate to join the EDM revolution until he shared his talents with superstar DJ Avicii on a bizarre country/house crossover which recalled '90s one-hit wonders Rednex.
Fall Out Boy & Elton John – "Save Rock and Roll"
Later contributing to Queens Of The Stone Age's …Like Clockwork, Elton John first staked his claim as an unlikely alt-rock hero by joining forces with Fall Out Boy for a stadium-sized ballad hell bent on achieving its title's objective.
More:
LL Cool J Is Proud Of Accidental Racist
Miley Cyrus Pioneers The Movement To Sexualise Teddy Bears
Pete Wentz Eyeing Movie Career
---
From Our Partners:


40 Most Revealing See-Through Red Carpet Looks (Vh1)


15 Stars Share Secrets of their Sex Lives (Celebuzz)