Vampire Weekend Meeting Steve Buscemi Is Strange and Glorious — VIDEO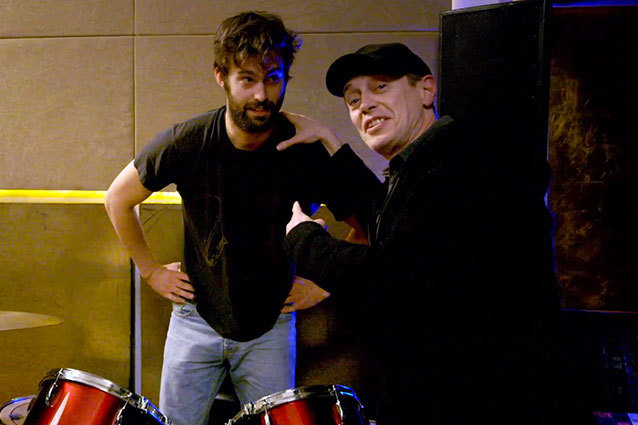 Imagine, if you will, the unexpected strangeness of Steve Buscemi just showing up unannounced at your job. Thre you are, going about your day, and Steve f**king Buscemi pokes his interesting little face in. Now, that would be a bizarre occurence in and of itself, but then Buscemi, the very same guy who met the better half of a wood chipper in Fargo, tries to tell you how to do your job. Oh, and this is all after discovering you're distant relatives. 
No, this isn't a nightmare you had last night, or even the plot of the next Coen Brothers film, but what indie rockers Vampire Weekend recently endured with the actor. As it turned out, band member Chris Baio's maternal great-grandmother was related to the paternal great-aunt of Buscemi. And since family's gotta stick together, the hipster-friendly group asked the star to direct their American Express Unstaged concert at New York City's Roseland Ballroom on April 28, which will be streamed live on online outlets like YouTube's mobile website for fans not lucky enough to catch the show in person. 
While that's all fine and good, Buscemi showed up unannounced to one of the band's rehearsal sessions and it went… well, exactly as you'd imagine it would. If, that is, you imagine Steve Buscemi showing up, confusing you for one of your band mates, saying he didn't quite understand your music, and suggesting how to raise your profile. It's wonderfully weird and hilariously awkward, just like Steve Buscemi himself. 
Of course these videos, including one in which the Boardwalk Empire actor mistakenly calls the band "Vampire Holiday" (honest mistake, really, considering they have a popular song called "Holiday") are all in good fun. In a press release, lead singer Ezra Koenig said, "We are thrilled to be working with Steve Buscemi, a wonderful actor, a NYC legend and a great director. We couldn't have picked a better guy to man the cameras for our April 28th event."
Watch the clips below, cringe/sing along, and keep your eye out for Buscemi. You never know when that guy might just show up. 
More: 
The 12 Wackiest Looks at Coachella 2013 
'Boardwalk Empire' Season Finale: How Do They Get Out of This One? 
'The Incredible Burt Wonderstone' Needs a Few More Tricks Up Its Sleeve 
---
From Our Partners:


Eva Longoria Bikinis on Spring Break (Celebuzz)


33 Child Stars: Where Are They Now? (Celebuzz)