Vivienne Westwood Hates Michelle Obama's Style: Back Off the FLOTUS, V-Dubs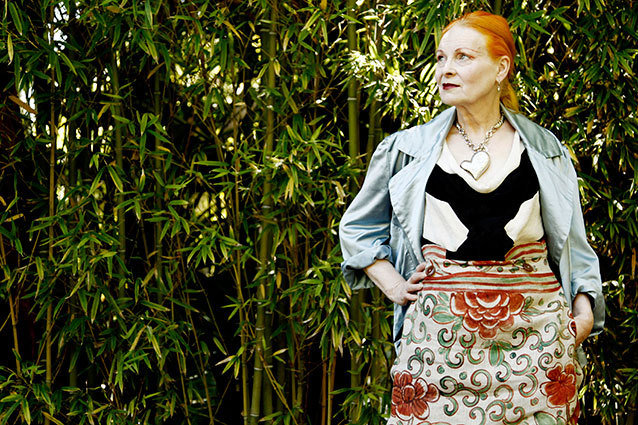 Alert the media: Someone doesn't like Michelle Obama for completely non-political reasons again. This time, it's not her bold choice to add bangs (but they, like, cover her whole forehead!) that's the focus of criticism, or the fact that her arms are ridiculously defined (an aspect of her physique that apparently makes some people feel so guilty about not going to the gym they react with rage). This time, it's just everything about the way she presents herself every day of the year. Famed fashion designer Vivienne Westwood thinks the FLOTUS has "dreadful" style. Naturally, we have a problem with that. 
RELATED: Michelle Obama Rocks New Bangs
Westwood, while a respected name in the fashion industry for her innovative designs that marry English punk and haute couture, is clearly missing the point of Mrs. Obama's wardrobe. "Don't talk about her. It's dreadful what she wears," Westwood told the Times when asked how she liked the First Lady. Of course, a comment like this prompts the immediate question: "On what grounds, Miss Westwood?" Obama has the style and grace of a classic old Hollywood star. She's conservative enough to keep her husband's critics at bay, yet flashy enough to grab our attention, even when she's standing alongside the likes of Beyoncé at the POTUS's second inauguration. What could Westwood possibly object to?
"She's a very nice looking lady, but it's a nonstarter regarding clothes that suit her. Jackie Kennedy was a different matter altogether. It just has to suit her and be something that makes a human being more glamorous. That's what fashion is there for. It's there to help, not just to make you look more conservative," she said.
RELATED: Is It Sexist To Worship Michelle Obama's Look?
Well, you're entitled to your opinion, Miss Westwood, but for a First Lady, Obama isn't all that conservative. When was the last time a first lady's ball gown upset Iran so much they leapt to Photoshop to cover her up? And if Westwood is right and we're all just lemmings for loving everything Obama drapes over her impossibly sculpted arms, at the end of the day, she's still the right-hand woman to the leader of the free world, so something tells me she can survive a few fashion world jibes. 
Follow Kelsea on Twitter @KelseaStahler
[Photo Credit: Matt Sayles/AP Photo]
---
From Our Partners:


40 Most Revealing See-Through Red Carpet Looks (Vh1)


15 Stars Share Secrets of their Sex Lives (Celebuzz)