The Odd Couples: Unexpected Onstage Duos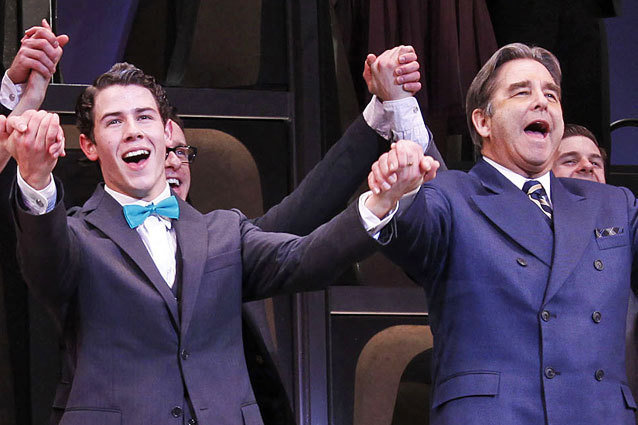 WENN
The intriguing rumor about casting for Broadway's upcoming revival of Of Mice and Men was quickly confirmed, and now we know that Chris O'Dowd (Bridesmaids) and James Franco (everything else) will be our leads. Neither is without a great deal of talent (though some might argue that Franco's talents don't lie, as he would have us believe, in every art form), but the announcement still raised some eyebrows. "Huh," we all said, collectively. But this show wouldn't be the first time that Broadway has brought such seemingly disparate actors together. Here are some of the more memorably unexpected onstage duos.
Nick Jonas and Beau Bridges — How to Succeed in Business Without Really Trying
When the youngest Jonas took over the role of J. Pierrepont Finch from Daniel Radcliffe and Darren Criss in the revival, he was paired up with veteran thespian Beau Bridges as his boss, J.B. Biggley. Their big moment as a delightfully mismatched stage team is a musical production number that involves mimed, old-timey football and Jonas ending up on Bridges's shoulders.
Paul Rudd and Michael Shannon — Grace
These actors are heavyweights , and both of them have plenty of stage experience. The fun here is picturing the totally chill Rudd hanging out with Shannon, the human embodiment of intensity, for eight shows a week.  
Alicia Silverstone and Henry Winkler  — The Performers
The Performers didn't last very long and begs the question, "Who thought a romantic comedy set at the Adult Film Awards would?" But the show left its mark in the annals of Broadway history by pairing up Cher Horowitz and the Fonz within its ensemble, in one big meta-celebration of the coolest kids in school.
Diddy and Audra McDonald — A Raisin in the Sun
When a stage virgin who's willing to leverage his industry power and put up a lot of cash to play a legendary role in a legendary play, you'd do well to ground that production with a stalwart talent. Say, a five-time Tony Award winner?