Why I Laughed Until I Cried At Jay Leno's '60 Minutes' Interview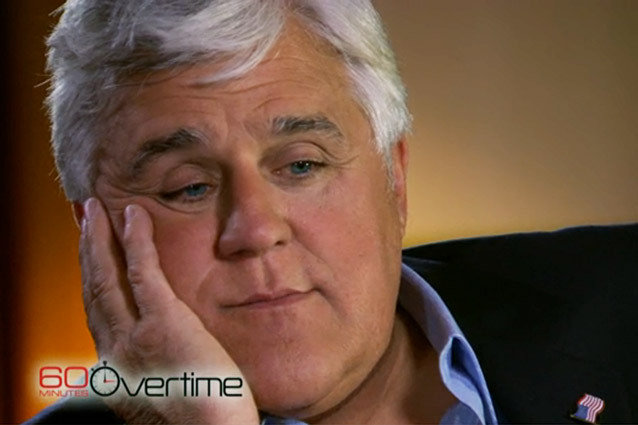 CBS Broadcasting, Inc.
Jay Leno was on the January 26 airing of 60 Minutes and during his interview, he expressed bitterness about the fact that he was leaving The Tonight Show for the second time and this time, it was for real. Truly. I was so moved by this that I had to pause my live TV and laugh so hard that I nearly threw up.
My disdain for the Chinned One goes way back into the 1990s, back when David Letterman was supposed to be the heir to Johnny Carson and take The Tonight Show mantle. That didn't happen, with Leno weaseling his way into the picture, even hiding in a closet to listen to an NBC board meeting. Ever since that happened, I have been a Letterman fan and have watched maybe two hours of Leno in over 20 years. Part of it has been that I never liked Leno's comedic style either (One exception – I loved when he asked Hugh Grant what he was thinking when he was caught with a prostitute in his car).
Of course, Leno was playing his "Aw Shucks" persona during the interview – he said that no one should feel sorry for him, since he makes millions of dollars. What, did you expect him to hit the interviewer with a chair, rip off his shirt and scream that he was going to be going after Jimmy Fallon? Whoops. I think I may have just given Vince McMahon an idea over at the WWE.
See, despite his protestations, he has been involved in not one but two screw jobs involving the hosting of the show, with Letterman and Conan O'Brien. With Fallon slated to take over the reins in February, the producers of the show might be wise to store some of Leno's old things. You know, just in case. At least this time he didn't finagle a crappy variety show that killed some of NBC's other dramas and comedies since it hogged a whole hour each day and potentially sabotaged the lead-in numbers for Conan. The whole thing just reeked.
Of course, I'm not the only one that views Leno in a poor light. Jimmy Kimmel has been very outspoken in how he didn't like how the whole O'Brien/Leno situation occurred. I wonder if he'll dress up like him again before his final Tonight Show, you know, one more final shot across the bow at Leno.
Maybe now he'll be visited by the ghost of Carson during his retirement and see the error of his ways. I doubt it. Don't entirely unpack your bags, Fallon.