Why Rihanna Is the Sexiest Woman in the World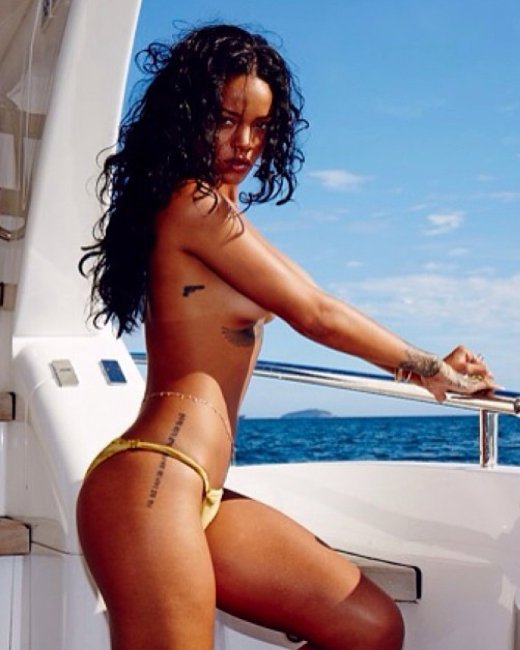 badgalriri/instagram
There are a lot of beautiful women in the world and there are plenty that are sexy as well. There is, however, only one Rihanna.
The pop singer has been called the "Sexiest Woman Alive" multiple times, most officially when Esquire bestowed that title upon her in 2011. But, why is she so desirable? What is it about her that screams "sexy"? Why does most of the world seemingly want her?
We think that we have some idea… and we're willing to share.
She Doesn't Care What We Think
Rihanna is as comfortable in her own skin as anyone. Just take a look at her Instagram posts and it's easy to see that she's not worried about how people see her. The fact that she can look good whether she's trying to or not is part of her allure. Of course, it hasn't always been that way. On the heels of filming a part in Battleship in 2012, she told Women's Fitness magazine, "You always find something wrong, you always find something you're uncomfortable with, and one thing turns into another and you get embarrassed and self-conscious about it. After a while, it was like, 'What's the worst that can happen?' and I just started being a little more daring with it. It was just knowing my body is the way it is no matter what that helped me, knowing that it is what it is under clothes or outside of clothes." She seems to prefer the outside the clothes option, but there's nothing wrong with that.
She Doesn't Shy Away from Her Sexuality
The woman that sings "S&M" and "Pour It Up" has a stage show that matches her songs lyrics. Rihanna makes Miley Cyrus look like she's back playing Hannah Montana, and neither Madonna nor Lady Gaga has anything on her when it comes to being provocative. During one tour, she would select a male audience member to simulate sex with on stage. More than that, she is open and honest about it in real life as well. When reporters ask her about her sexually charged image, she has no problem answering. "I like to take charge, but I love to be submissive. Being submissive in the bedroom is really fun. You get to be a little lady, to have somebody be macho and in charge of your s**t. That's sexy to me," she told Rolling Stone. "I like to be spanked. Being tied up is fun. I like to keep it spontaneous. Sometimes whips and chains can be overly planned — you gotta stop, get the whip from the drawer downstairs . . . I'd rather have him use his hands."
She Has Her Share of Celebrity Crushees
When the website Violet Grey asked Mad Men's January Jones who she would most like to go to bed with her answer was Rihanna. After Shakira shot the video for their duet "Can't Remember to Forget You," she gushed to Glamour, "Working with her was utopia. She's the sexiest woman on the planet." None of that is a surprise to her BFF Katy Perry. "It's disgusting how gorgeous she is," Perry told Rolling Stone. "Anytime I introduce my friends to her, male or female, the ride back always consists of, 'What, does she drink the blood of virgins?'" (Of course, Perry also told Elle Canada that her friend smokes a lot of pot and doesn't sleep… making her looks even more impressive.)
She Rocks a Bikini Like Nobody Else
Swimsuit models don't spend as much time in a bikini as Rihanna does. When the singer was her native Barbados' Ambassador for Youth and Culture, her role seemed to be more or less to show up all over the island showing off her lithe body in an assortment of string bikinis. She doesn't always wear the entire suit, but who are we to complain? She's been photographed so often in the string swimwear that a Google Images search for her wearing one returns results that keep going and going… and going.
She's Not a Victim
There is no getting away from the ugly incident that happened with former boyfriend Chris Brown. The photos of the singer with her faced bruised after Brown's attack are an indelible image. Rihanna does not allow that to define her, though. In an interview with Oprah Winfrey last year, she stated that she has forgiven Brown and still considers him a friend. Whether that's a wise choice or not is debatable, but showing that you won't be kept down by a past abusive relationship evokes a strength that is extremely appealing.
She'll Change Her Looks if She Feels Like It
The singer's skin glows and her green eyes sparkle, so there are some natural elements to her beauty that are God-given. Beyond that, though, Rihanna does what she wants. Her hair color changes periodically as does it's length and style. When she's not naked or in a bikini, then she looks equally stunning in a simple wrap dress as she does in a formal gown. Heck, she can grab attention just by wearing jean shorts and a tank top. If there's a look that she can't pull off, we haven't seen it yet.
She's Not Fake
Besides being forthcoming in interviews, sharing her life (not to mention her dates with Drake) on Instagram, and not trying to put gag orders on her friends, Rihanna tends to stay true to herself in every way. Even when she endorses a product, it's something that you get the impression that she actually likes. Case in point, her clothing collections with River Island felt like the kinds of things that the singer would choose for herself. Being able to keep things real, even when you're an international singing star, is sexy in a way that has nothing to do with looks.