Internet Win: Awful 'Women of L.A.' Video Gets the Shaming it Deserves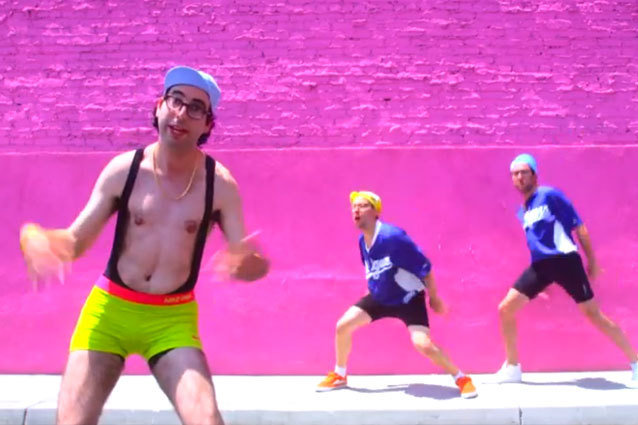 Man, women are the worst, aren't they? I mean, they should be the best, what with their boobs and their bodies and their vaginas and long hair and whatnot. Sometimes they even smell good! Women should be the greatest things on the planet — a real treat for the men who want them! But somewhere down the line, a f**k up occurred, giving women free will and brains controllable without the help of a dude! And now, thanks to these ladyjerks, a billion boners the world over have gone untouched. 
Nowhere is this phenomenon more present than Los Angeles. Because apparently, all of the women in this town are withholding boobs and vaginas without permission. And for people like Pauly Shore! Like OMG WTF, right? It's not fair that these women are allowed to run around being all hot and attractive but not share their bodily wealth with the dudes that want them. Not only that, but most of the women in LA are coke fiends (and we don't mean soda) that refuse drink enough booze on dates. Sure, these ladies might cite things like "safety" and "the law" as reasons for not imbibing the right amount to get a guy laid (pish posh!), but we all know they're just trying to ruin men's lives for funsies. How are the men of LA  supposed to get their d**ks wet if the vaginas they're after aren't drunk? Ugh, ladies be dumb, right?! 
RELATED: New Bravo Show Insults Doctors, Women, and Wives
How dare us females do that to the men of Los Angeles — don't we know better? Maybe we should all just move to the Valley — a mythical land made up completely of unf**kables (aka ugly and/or fat girls, because not even the men of L.A. would stoop so low) — and stop advertising that our bodies are open for business when clearly they're not. Prejudice!
Are you mad yet? Welcome to the world of the viral video atrocity "Women of L.A.," an ode to the exclusively-frigid females that populate the city of Angels. Angels like DJ Lubel, the comedian who spent a heck of a lot of time and money crafting the deeply-misogynistic clip below. If you haven't seen it yet, you're in for a real treat. Watch it without pulling your hair out, I dare you.
Lubel and his cast of guest-stars (including Jaleel White, Pauly Shore, and Mr. Belding himself, Dennis Haskins) regale us with their song of woe. Hot girls won't sleep with our hereos here, Internet! It's crazy, right? All these dumb hot ladies (don't you worry, ladies of the Valley: you're not worth anyone's time) only want monied men! Or some hot dude! Life's a b**ch, then you marry one, and then you die, amirite?
Luckily, the Internet (save for Ashton Kutcher, because of course) has made us proud over the past few days with its overwhelming disdain for the video. Comedians like Patton Oswalt, Christine Nangle, Ed Lee, and Tim Neenan have all voiced their dislike for the video's overwhelming misogyny passed off as comedy. Perhaps the most eloquently-stated of them all was a response from L.A.-based funyperson Erin Gibson, who wrote a fabulous blog post explaining frame-by-frame why the whole thing was just the worst.
RELATED: Who Won the Super Bowl? Women!
Now, Lubel might have created the video as a satire (one could only hope), perhaps in an attempt to skewer the very type of men who would say these sort of things. But the problem is that a lot of people see this sort of thing as truth-comedy: that women are nothing more than objects with heartbeats (and holes to put penises in!!!!!) put on Earth for male enjoyment. Whether Lubel sees that his rape joke-laced misogynistic complaint-rap as a joke or a commentary has yet to be proven, but that doesn't really matter. And this is where Gibson's thought-out analysis really hits the nail on the head; while she's "sure DJ Lubel didn't set out to make something misogynistic or anti-women," he has, and that sort of unwitting naïveté is "what makes [the video] so horrifying."  Lubel "doesn't even know what he's doing. It's the attitude of 'I'm a guy, how dare these women reject me!?', implying that women are here to serve men, despite how women feel." And since Lubel is so "blind to what he is doing, he doesn't realize the degree to which he is completely dehumanizing women to the point of denying that they have their own wants and desires and thoughts and opinions, all so he can promote a series of LA clichés that were sort of acceptable before 1985." Preach, Gibson!
In the end, there will always be a core group of fans for this sort of hackneyed, base style of humor, but it doesn't mean we have to put up with it when shoved in our faces. It warms the cockles of this woman of LA's heart to hear the Internet collectively stands up against something so offensive. YouTube commenters and Kutchers notwithstanding, of course.
What do you think of the 'Women of L.A.'? Do you find it funny or foolish? Let us know in the comments!
[Photo Credit: YouTube]
Follow Alicia on Twitter @alicialutes.
---
From Our Partners:

'SI's 25 Sexiest Swimsuit Covers of All Time (Vh1)

Pregnant Kate Middleton Bikini Pics Spark Palace Anger (Celebuzz)