Yoko Ono Didn't Actually Invent Those Crotch-Grab Pants, Says Brooklyn Designer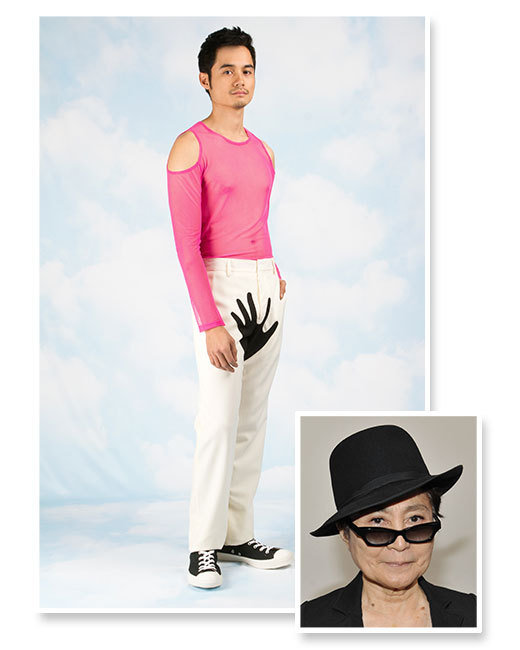 You know you're having a rough day when you can't even take full credit for inventing a garment that places handprints on the wearer's private parts. Sorry, Yoko Ono.
RELATED: Yoko Ono's Clothing Line is Nuts… & Butts… & Crotches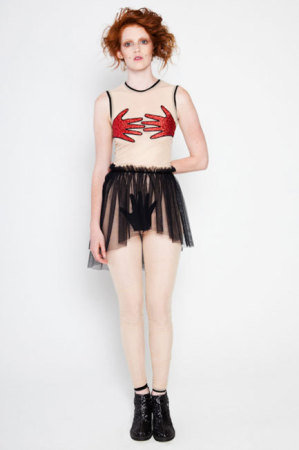 John Lennon's widow and recent Open Ceremony guest designer Ono debuted a menswear collection at the high-end retailer in November to a tidal wave of chatter about the presence of crotch-grabbing cutouts, butt-outline hoodies, and plastic see-through tank tops. Despite the wave of jokes that followed Ono's collection, one Brooklyn designer doesn't want to let Ono take all the credit: Haleh Nematzadeh, 26, has filed a lawsuit against Ono claiming that the 1969-2012 line resembles designs she submitted to Opening Ceremony prior the debut of Ono's line, according to a report from the Daily Telegraph. 
Ono claimed the line came from a series of drawings she gave to her late husband on their anniversary, but one look at Nematzadeh's red dress certainly raises some questions. It reportedly is just one of many designs featuring the distinctive hand grab. It seems that Nematzadeh's claim that the $335 asking price for the scandalous, borderline crass clothing should be benefiting her instead of the famed musician and artist doesn't seem as far-fetched as say, the Ukranian woman who thinks her sexy Santa song begat "Call Me Maybe."
RELATED: The Yoko Ono Katy Perry Cover That Never Happened
The day the suit came to light, Nematzadeh tweeted, "Standing up for truth is scary, but I wouldn't live any other way." True, standing up for what's right is scary. I just never thought I'd see the day two women fought over the right to call "crotch-grab clothing" their own, original ideas.
Follow Kelsea on Twitter @KelseaStahler
[Photo Credit: Opening Ceremony; Wenn; Haleh Nematzadeh]
---
You Might Also Like:


15 Oscar-Winning Nude Scenes


10 Insane 'Star Wars' Moments You Didn't Notice