Lost Queen Live Album and Film Set for Release After 40 Years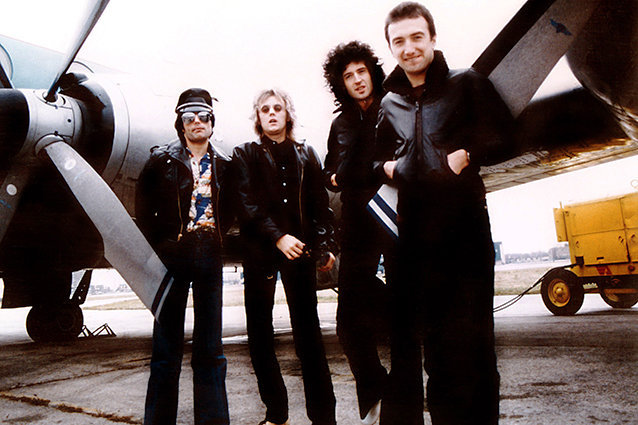 Everett Collection
One of rock group Queen's most famous early concerts is to be released as a CD, DVD and Blu-Ray 40 years after it was recorded in London. Queen: Live at the Rainbow '74 chronicles the then-up-and-coming band onstage at the fabled venue and features over a dozen tracks never previously released on any official Queen live album.
The concert came days after Queen were invited to perform their new single Seven Seas of Rhye on U.K. TV music show Top of the Pops after David Bowie had to pull out of an appearance at the last minute. The TV slot helped Queen sell out The Rainbow, and producer Roy Thomas Baker opted to film the show and record it for a planned live album.
However, the gig served as the group's launch into the big time – and they put Queen: Live at the Rainbow '74 on hold to record breakthrough album Sheer Heart Attack. A spokesperson for Eagle Rock Entertainment, the company behind the new release, tells WENN, "As a result the already completed Rainbow live album was shelved and consigned to the archives. Now, a remarkable 40 years later, Queen: Live at the Rainbow '74 has finally surfaced, providing an invaluable record of emerging superstars demonstrating their talent."
The project will be released in September (14) in a variety of formats, all newly mixed and mastered. These range from a standard two-CD package, a DVD, an SD Blu-ray, a gate-fold double vinyl, a quadruple vinyl boxed set, and a super deluxe collector's edition, which features two CDs, a DVD and Blu-Ray, a 60-page hardback book containing rare photographs, and various items of memorabilia such as reproductions of the tickets, show souvenir programme and poster, as well as material from the band members' personal archives.
The tracklisting includes Flick Of The Wrist, Killer Queen, Seven Seas Of Rhye and Stone Cold Crazy. News of the release comes as Queen stalwarts Brian May and Roger Taylor prepare for a North American tour with Adam Lambert replacing the late Freddie Mercury as frontman.