10 Best Sports Movies of All Time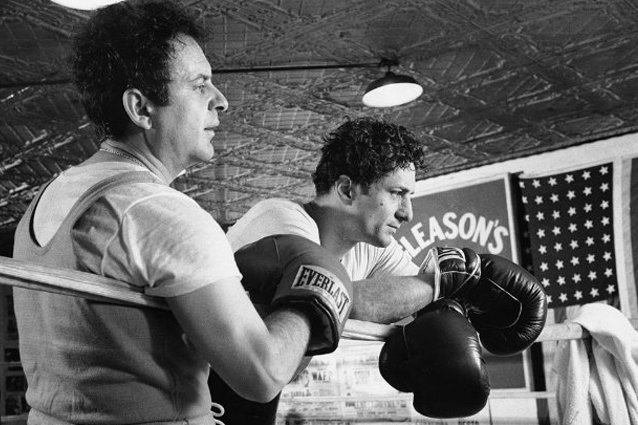 MGM
Over the decades, sports movies have been either hit or miss, with a good portion of them missing. What makes it so tough is that the rhythms and nuances of sports is hard to capture on film without seeming contrived. These movies did that.
Sylvester Stallone's tale of an underdog boxer still rings triumphant even years later.
2. Bull Durham
The best movie about baseball, with some of the best lines about the sport in any movie ever. "I'm the player to be named later," indeed.
3. Raging Bull
Robert De Niro is a tour de force as Jake La Motta – and it's also amazing how committed he was to the role with his weight gain at the end.
This is a great film despute Ray Liotta's unwillness to even fake hitting lefthanded like Shoeless Joe Jackson did in real life.
Admit it: the theme song makes you want to run barefoot on the beach.
Yes, even Madonna did a more than passable job of acting in this movie about women playing in their own professional baseball league.
7. Miracle
Most movies with this kind of ending would be ridiculed for being too hokey. Funny thing is that's it's from real life. I'm also biased since some members of the 1980 U.S. Olympic team went to my alma mater, Boston University.
8.  Hoosiers
Gene Hackman gives the performance of a career in this movie. A must-see if you're a basketball fan.
C'mon… Football? Al Pacino? Sold!
10. Slap Shot
Another great hockey movie – and one of the most wickedly funny ones too.
Follow @Hollywood_com
More: 10 Athlete TV Cameos from the 1980s and '90s 5 Great Celebrity/Athlete Interactions LeBron James Develops New Sitcom?
---
From Our Partners:

40 Most Revealing See-Through Red Carpet Looks (Vh1)

15 Stars Share Secrets of their Sex Lives (Celebuzz)