10 Cate Blanchett Performances to Watch After 'Blue Jasmine'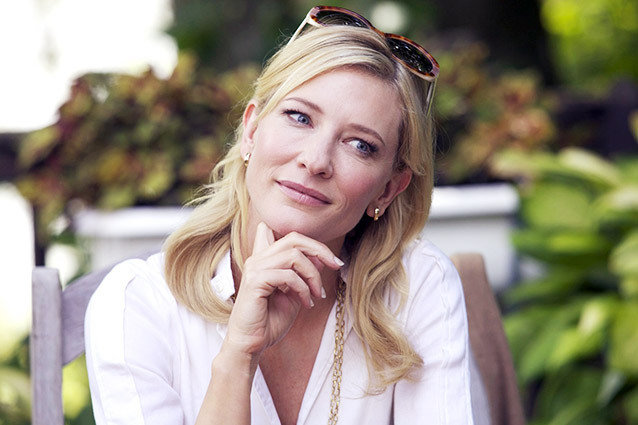 Sony Pictures via Everett Collection
Cate Blanchett recently won her second Academy Award for her brilliant performance in Blue Jasmine , which means that a younger generation of moviegoers is becoming familiar with her work for the first time. Prior to this, Blanchett has been relatively absent from the film industry, devoting her time instead to the Sydney Theatre Company which she co-directed with her husband for six years. Moreover, most moviegoers recognize Blanchett for her brief appearances as Galadriel in the beloved The Lord of The Rings trilogy, or for her performances in more mainstream films like The Curious Case of Benjamin Button (2008) and The Aviator (2004), for which she won her first Academy Award as legendary actress Katharine Hepburn. All of this is fine, but Blanchett's greatest performances can be found in lesser-known, independent films that mainstream audiences tend to overlook. Below is a list of 10 of these performances to remind us once again why Blanchett is one of the most captivating screen actresses of our time.
1. Jude in I'm Not There. (2007)
In Todd Haynes' wildly inventive "biopic" of Bob Dylan, Blanchett owns the film as a version of the musician during his electric years. Since the film isn't told in a linear fashion, audiences didn't bother to see it, but within seconds it becomes clear that Blanchett is the only performer — male or female — who could have played this role.
2. Philippa in Heaven (2002)
Blanchett is a revelation as a woman who is arrested for terrorist acts and subsequently falls in love with the officer (Giovanni Ribisi) who is supposed to look after her while in a holding cell. Heaven begins as a thriller and ends as one of the most romantic films ever made, with Blanchett taking the audience on this riveting journey every step of the way
3. Sheba Hart in Notes on a Scandal (2006)
Blanchett goes toe-to-toe with acting legend Judi Dench in this taut psychological drama about a teacher (Blanchett) who has an affair with a student and is found out by one of the senior teachers (Dench) at the school. Few films are as impeccably acted as this, and during the film's intense, climactic showdown, Blanchett shows a side of herself that audiences haven't seen since.
4. Cate and Shelly in Coffee and Cigarettes (2003)
Coffee and Cigarettes is an anthology film by Jim Jarmusch, and in one of the vignettes entitled "Cousins," Blanchett stars opposite herself as both Cate and Shelly, two wildly different cousins who reunite over a cup of coffee. Not much happens here, except that we are shown Blanchett's incredible range as she inhabits both of these characters with equal skill. Who else can pull something like this off and yet make it so watchable and believable?
5. Tracy in  Little Fish (2005)
Blanchett is riveting as a drug addict struggling to rebuild her life in this excellent Australian drama. Those who marveled at Blanchett's ability to confront addiction head-on in Blue Jasmine might be surprised to find that she's just as fierce in Little Fish, a film that might have earned her a Best Actress Academy Award if it were more popular in the United States.
6. Charlotte Gray in Charlotte Gray (2001)
Blanchett is lovely as a young Scottish woman who joins the French Resistance during WWII to find her boyfriend who is lost in France. Director Gillian Armstrong is known for her beautiful restraint, and Blanchett matches her with a performance that feels so authentic we almost forget she's acting at all.
7. Kate Wheeler in Bandits (2001)
Who knew Blanchett could be so funny? Bandits is a ridiculous caper that stars Billy Bob Thornton and Bruce Willis as two bank robbers who kidnap Blanchett and fall in love with her. Unlike Heaven, which is somber and serious, Bandits is a playful romp. For those who admired Jennifer Lawrence's "Live and Let Die" moment in American Hustle, remember that Blanchett did it years ago while dancing to "I Need a Hero" in this film.  
8. Veronica Guerin in Veronica Guerin (2003)
In this true story, Blanchett plays Veronica Guerin, an Irish journalist who was murdered by drug dealers when she exposed their crimes in her articles. This is a heartbreaking tale about an ordinary hero, and Blanchett's riveting turn pays proper homage to Guerin while simultaneously allowing her legacy to live on in the hearts and minds of those fortunate enough to who watch this courageous film.
9. Petal Barr in The Shipping News (2001)
The Shipping News isn't a great movie, but it is worth mentioning for Blanchett's scene-stealing turn as Kevin Spacey's reckless lover who leaves him in the beginning of the movie. Her part is small, but she makes an undeniable impact, and shows how she can make the most of even the slightest roles. For the few scenes she's in, Blanchett makes us feel like we've been with this character forever.
10. Queen Elizabeth I in Elizabeth (1998)
One of the biggest injustices in Academy Awards history is when Gwyneth Paltrow won the Best Actress Oscar for Shakespeare in Love in the same year that Blanchett gave us her rendition of a young Queen Elizabeth in Elizabeth, one of the finest lead performances in the history of cinema. Paltrow is fine, but Blanchett's work in this film is in a class by itself. This is the one that started it all.