10 Female Action Heroes to Watch Before Scarlett Johansson's 'Lucy'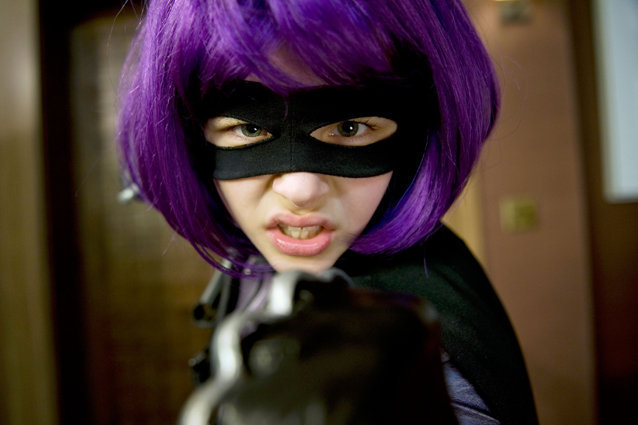 Lionsgate via Everett Collection
If the trailer for Scarlett Johansson's upcoming action film Lucy is any indication, her character is going to kick some serious butt. The director of Lucy, Luc Besson, is known for his high-octane action flicks, and is shifting gears by handing the leading role in this picture to a woman. Men have traditionally played the action hero in Hollywood films, but every now and then, a woman will come along to show them how it's done. Below are 10 of the most dangerous female action heroes that you must watch before Lucy hits theaters in August. 
1. Hit Girl 
Mindy Macready may be a sweet, innocent child, but her superhero alter-ego Hit Girl is a force to be reckoned with. Chloë Moretz owns the screen as the foul-mouthed fighter who can take on any grown man in Kick-Ass and Kick-Ass 2, two of the most innovative superhero movies of the 21st century. Below is a clip that demonstrates why Hit Girl is a champion. 
2. Beatrix Kiddo 
Quentin Tarantino's epic revenge fantasy Kill Bill Vol. 1 and Kill Bill Vol. 2 features arguably the most heroic, empowering action hero ever put on screen. Uma Thurman is Beatrix Kiddo, a.k.a. The Bride (a.k.a. Black Mamba), and her purpose is to kill the men and women who tried to murder her on her wedding day. Every fight scene is epic, but the clip below is especially awesome. 
3. Yu Shu Lien and Jen Yu
Ang Lee's masterful Crouching Tiger, Hidden Dragon is noteworthy for having two women who can match any male soldier. Michelle Yeoh is Yu Shu Lien and Ziyi Zhang is Jen Yu, and in the scene below, both women go toe-to-toe in an attempt to assert their authority. I won't spoil the ending for those who haven't seen the film, but in this clip, the fight ends in a draw, so it's only fair to include both of them. 
4. Hanna
In Joe Wright's techno-pulp action film Hanna, Saoirse Ronan plays Hanna, a 15-year-old assassin who is being tracked down by a government agency. As the film progresses, we see how tough and lethal Hanna actually is. Below is a user-generated montage of the film that provides a glimpse of Hanna's dangerous grip. 
5. Ryan Stone 
If you're one of the few people in the world who hasn't seen Gravity, you owe it to yourself to marvel at Sandra Bullock's heroic performance as Ryan Stone, an astronaut who is lost in space and uses her strength to find her way back home. The clip below is one of the more moving scenes from the film that highlights Ryan's courage. 
6. Clarice Starling
Long before the television series Hannibal, we had Jonathan Demme's The Silence of the Lambs, which introduced the world to Clarice Starling, a feminist action hero if ever there was one. Jodie Foster won her second Oscar for her performance as Clarice, a strong FBI agent who overcomes sexism in the agency to track down a serial killer. The scene below shows the lengths Clarice will go to save the day, as she has a conversation with the creepy Hannibal Lecter. 
7. Princess Merida
In Pixar's Brave, Princess Merida challenges conventions by playing archery and doing all sorts of activities "respectable" women aren't allowed to do. Brave is a wonderful movie that should inspire young girls to follow their dreams despite the obstacles that are in their way. 
8. Mallory Kane
We don't know much about Mallory Kane in Haywire, but we do know that she's a fighter. Gina Carano emerges as the next Steven Seagal and Jean-Claude Van Damme with her forceful star presence, proving that women can be iconic action stars as well. Below is one of the best scenes from the movie. 
9. Sidney Prescott 
Aside from being one of the best horror series in cinema history, Wes Craven's Scream franchise deserves credit for creating Sidney Prescott. Neve Campbell revises the "scream queen" trope with her performance as Sidney, a tough, no-nonsense teenager who refuses to be a victim. Unlike other slasher films with women at the center, Scream portrays its female protagonist as smart and sophisticated. Below is a clip that shows why Sidney is a unique, unprecedented female character in the slasher genre. 
10. Foxy Brown
Pam Grier shines in this blaxploitation classic as Foxy Brown, a tough black woman who gets revenge on the mobsters who murdered her boyfriend. The blaxploitation films of the 1970s turned Grier into a star and sex symbol, and they inspired Quentin Tarantino to cast Grier in Jackie Brown, a modern revision of the genre. Below is a clip that shows why Foxy Brown is the coolest female action hero on this list.