15 Things You Didn't Know About 'Scrubs'
Scrubs is one of the most beloved medical comedy dramas ever to be created for television and aired for nine seasons between 2001 and 2010. Told through the unique perspective of J.D., the series follows the practice of medicine at the fictional Sacred Heart Teaching hospital. Although the ninth season didn't exactly work out, the series as a whole is one of my all time favorites. To celebrate its 15th anniversary, here are 15 facts you didn't know about Scrubs!
1. It was Zach Braff's idea to use the song "Superman" by Lazlo Bane as the show's theme. 2. J.D. and Turk's names are based on two of the medical advisers on the show.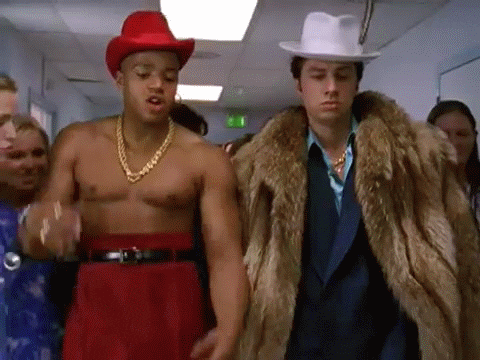 Their names are based on Dr. Jonathan Doris and Dr. Jon Turk.
3. Zach Braff improvised the line "Eagle!" in season one but he never expected people to yell it at him years later. Via @TheePaulSmith Was Eagle scripted or did you throw it in?" I improvised that. Never thought people would yell it at me across the globe.

— Zach Braff (@zachbraff) April 26, 2012
4. Sarah Chalke was actually pregnant with her son Charlie Rhodes Afifi in season 9. 5. The couple that made the bungee jump for Zach Braff and Sarah Chalke in the second season met on set that day and later married. 6. John C. McGinley jokingly calls his good friend and neighbor John Cusack girls names much like how his character Dr. Cox does to J.D. in the show.
The only girl's names Dr. Cox has repeated more than once are Betsy, Brittany, Carol, Ginger, Gloria, Gidget, Janice, Lily, Marcia, Nancy, Shirley, and Toto.
7. Carla Espinoa speaks with her mother in Italian in the Spanish dubbed version of the show. 8. The Janitor was originally going to be a figment of J.D.'s imagination as a final plot twist if the show got cancelled.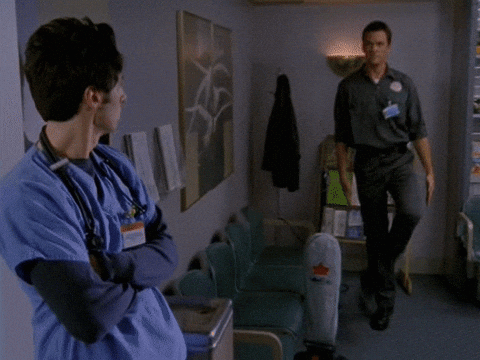 This is why the Janitor never speaks directly to any character other than J.D. in the first season.
9. Janitor correctly guessed Osama Bin Laden's location in the episode "His Story IV" in 2007 before he was actually found in 2011. 10. Ted's band is an actual a cappella group Sam Lloyd formed with his friends in college. They met during their time studying at Syracuse University and have released two albums: "Riding the Wave" and "Worth The Weight."
11. Ted has a picture of his mother in his office which is an actual picture of the actor's mother. 12. No single character appears in every episode. The closest are Dr. Cox and Dr. Turk who are only absent from three episodes each. They are followed by Dr. Kelso who was absent from seven and J.D. who was absent from eight.
13. Colonel Doctor, Snoop Dogg Intern, and Dr. Beardface started as extras but were later written into episodes with speaking roles. 14. The officiant at the wedding of Lady and the Janitor is Scrubs creator Bill Lawrence. 15. The janitor seen at the season 8 finale when J.D. leaves Sacred Heart is also Bill Lawrence.