2012 Vs. 2013 Midsummer Box Office Comparison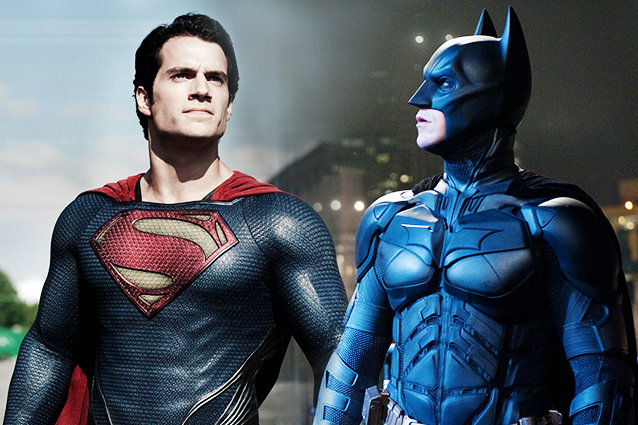 We're about halfway through a summer movie season that's seen several blockbusters outperform expectations and a few releases that were DOA on their opening weekends. But SSN is curious to know how the 2013 numbers stack up so far against the monster box office of 2012.
The short answer: The box office is in good shape. How good? Well, if we agree that the start of the season is May 1 (or the first weekend thereafter) and run the numbers through June 27 (which excludes this weekend's openings), we find that the 2012 domestic box office was just under $1.91 billion. Using the same time frame for 2013, the figure is just a shade under $2.01 billion. That's a difference of almost $100 million. A notably wide margin.
"It has really been a phenomenal summer," says Phil Contrino, editor of Boxoffice.com. "We were worried at first, because in 2012, we had The Avengers and Dark Knight Rises, and we were concerned about how you make up for the impact of that, but it hasn't been a problem at all.
"The thing is, there are a lot of movies over-performing," he continues. "Iron Man 3, Man of Steel,World War Z, they've all been shattering what people thought they were going to do. That kind of strength is heartening, and needed, after a very weak first quarter."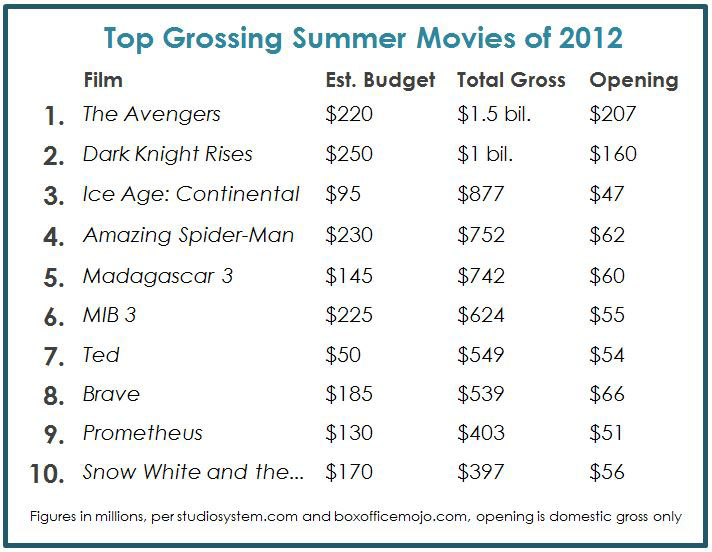 Indeed, while 2012 is ahead so far in year-to-date numbers (a tad more than $4.5 billion against $4.2 billion for 2013), what's interesting is the number of hits and misses in the May 1 to June 27 time frame. There were 14 films released on at least 2,000 screens between in that frame in 2012, and 15 this year, which makes the comparison rather easy.
In 2012, the releases The Avengers, Madagascar 3: Europe's Most Wanted, Men In Black 3, Snow White and the Hunstman, and Brave were all unequivocal hits while Battleship, Rock of Ages, That's My Boy, Chernobyl Diaries and Abraham Lincoln: Vampire Hunter were resounding flops. Somewhere in between were Prometheus, Dark Shadows, The Dictator and What to Expect When You're Expecting.
Tallying out the tote board, that's five hits, five misses and four somewhere in between; pretty much a batting average of .500. Not bad, but not great, especially when you consider that The Avengersaccounted for $600 million of that take while and no other film on the list cleared even $200 million.
Meanwhile, if we consider the box office over that frame for 2013, the totals are surprising.Iron Man 3, Fast and Furious 6, Star Trek Into Darkness, Man of Steel, The Great Gatsby, The Hangover Part III, Monsters University, The Purge and This Is The End are all certain hits. While some might quibble aboutGatsby and the final Hangoverflick, the worldwide numbers (both well over $300 million) take care of any doubt about each film's overall success.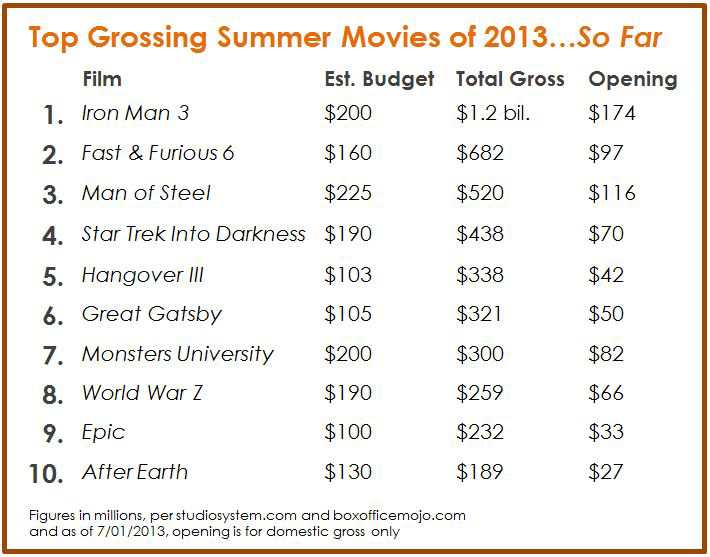 Similarly, while there were no real shockers on the Hit List a year ago, anyone who claims to have predicted that The Purge and This Is The End would post such spectacular numbers (The Purge especially) needs to grab the nearest fire extinguisher and aim it at their pants.
"Actually," Contrino says with a laugh, "we were really close on This Is The End. We were predicting in the mid-20s, and it came in a little over 30. The Purge, though, we thought it was poised to break out, but not to the degree it did. Honestly, the overall box office numbers have surged because people stayed home in March and April and are coming out in droves in May and June."
If you're counting along, that's nine hits out of 15 releases in our 2013 frame. Granted that Epic andNow You See Me are not quite hits, not quite misses and that it's still a bit soon to tell about World War Z (though,  it too appears destined for the Hit column as its first-week numbers close in on $85 million, and a sequel has already been green lit) that leaves three outright flops: After Earth, The Internship and Tyler Perry Presents Peeples.
Factor in that there are four movies this year that have cleared $200 million domestically (with Iron Man 3 beyond $400 million and more than $1 billion worldwide), and you'll see that 2013's batting average is markedly higher than 2012's.
There are those who consider Star Trek Into Darkness a bit of a disappointment. It reaped had a smaller haul over its opening weekend than its 2009 predecessor. And it's underperforming domestically: Star Trek finished with $257 million on a $150 million budget while the sequel has only reached $217 million on a $190 million budget after six and a half weeks of release. But the very fact that the second film has cleared $430 million worldwide against the first film's $386 million puts the kibosh on that argument.
"Star Trek Into Darkness may not have met initial expectations, but it surged," Contrino explains. "There is a very superficial analysis by the media about box office numbers. The feeling is that it has to do better than its predecessor, but the movie is making a killing overseas—much more than the first film made—and that supercedes what it's done in North America."
Another significant factor to take into account is that a year ago, on June 27, major releases like The Dark Knight Rises, The Amazing Spider-Man, Ice Age: Continental Drift, The Campaign, The Expendables 2 and The Bourne Legacy had yet to emerge. And let's note that Expendables 2 and Legacy were only deemed successful because of their worldwide numbers. Also, like The Purge and This Is the End, surprise smashes like Ted andMagic Mike reminded us never to count out the dark horses.
This summer, we still have this weekend's The Heat andWhite House Down leading the charge ahead of The Lone Ranger, Despicable Me 2, Pacific Rim, Grown Ups 2, Red 2, R.I.P.D., Turbo, The Conjuring, The Wolverine, Two Guns, The Smurfs 2, Elysium, Percy Jackson: Sea of Monsters, Kick-Ass 2 and The Mortal Instruments: City of Bones, among a host of other potentials.
Now, just as there are surprise hits every summer, it's certain that a number of the above-mentioned impending releases will fizzle at the box office. But that doesn't change the developing trend that the 2013 summer movie season has been far more good than bad.
"June is clearly going to finish strong, but I think things will calm down a bit in July," Contrino says. "There are some sure things in July, like The Wolverine and The Conjuring, but there are question marks too. The Lone Ranger might lose some of its family audience because it's opening against Despicable Me 2. Warner Bros. has big ambitions for Pacific Rim but launching an original property is tough. Likewise, I'm not sure about R.I.P.D."
The caveat notwithstanding, Contrino has high hopes for the rest of the summer. "This is a cyclical business," he says. "Moviegoers are sending a clear message to the studios that the movies … this summer are the kinds of movies that audiences want to see. I think the summer over summer numbers will see 2013 come out ahead."
With half the summer already behind us, we'll know soon enough if Contrino's prediction pans out. Let's check back around Labor Day to see how this one ends.
More:
'The Lone Ranger' Review
'Monsters University' Tops Box Office
'Despicable Me 2' Review
---
From Our Partners


Stars Pose Naked for 'Allure' (Celebuzz)


20 Grisliest TV Deaths of 2012-2013 (Vulture)