21 Things You Didn't Know About 'Guardians of the Galaxy'
New concept art for Guardians of the Galaxy Vol. 2 was recently released and showcases what the Guardians might look like in the sequel. Sadly, Volume 2 isn't set to hit theaters until May 5, 2017 so we still have quite a lot of time to kill. So in the meantime, find out 21 things you didn't know about the first film!
1. Many of Star-Lord's scenes were improvised by Chris Pratt.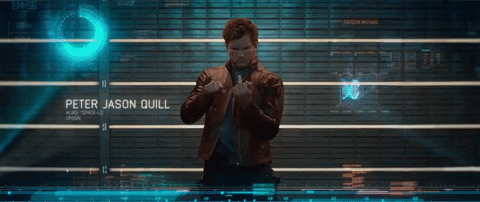 According to Director James Gunn, Star-Lord's obscene gesture and the line "If I had a blacklight, this place would look like a Jackson Pollock painting," were all by Pratt.
2. The scene where Star-Lord drops the orb in front of the Collector was also improvised by Chris Pratt. According to the commentary, Pratt accidentally dropped the orb while shooting the scene but remained in character so it made it to the final cut.
3. Director James Gunn was so impressed with Chris Pratt's audition that he was going to offer him the role even if Pratt did not get into shape in time. Gunn joked that he was willing to CGI a six pack on Pratt's body, but Pratt managed to lose 60 pounds in 6 months for the role.
4. Chris Pratt has cited Han Solo and Marty McFly as influences for his performance as Star-Lord.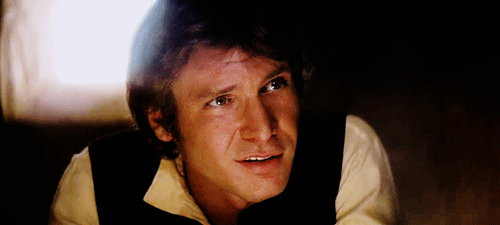 Chris Pratt was 35 years old when he played Star-Lord which is the same age Harrison Ford was when he played Han Solo in Star Wars.
5. Vin Diesel recorded the line, "I am Groot," over 1,000 times.
6. Vin Diesel also recorded his lines in several different languages.
He recorded them in French, German, Mandarin, Portuguese and Russian so they could use his voice for the international versions of the film.
7. The word "Groot" means "big" in Dutch, Afrikaans, and Flemish.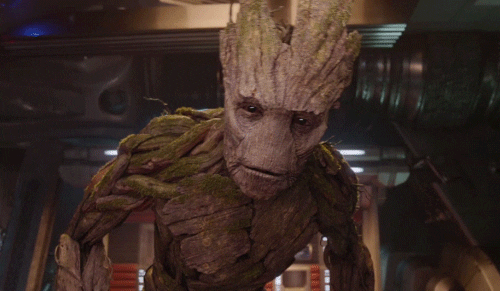 Which makes sense because that would mean Groot would be saying "I am big."
8. Vin Diesel would wear stilts while recording his lines so that he could get a sense of how big Groot actually is. He apparently loved playing Groot so much that he would go to promotions for the film wearing the stilts he wore for the movie, and a shirt that read "I Am Groot."
9. Vin Diesel's performance as Groot helped him through the death of his best friend and Fast and Furious co-star Paul Walker.
He said, "It was the first time I came back to dealing with human beings after dealing with death, so playing a character who celebrates life in the way Groot does was very nice."
10. Drax's comment about Groot's ability to release "fireflies" is a wink to to the comics.
Drax asks, "When did you learn to do that?" because Groot has never shown to have this ability in the comics.
11. Dave Bautista apparently broke down in tears because he was overjoyed that he landed a Marvel film role.
He immediately signed up for extra acting classes to prepare for his role as Drax the Destroyer.
12. It took 5 hours for the makeup artists to apply makeup and 18 prosthetic tattoo pieces onto Dave Bautista. According to Chris Pratt, Bautista stood the entire time and never made any complaints. The process was eventually shortened to an average of 3 hours and the time required to remove the makeup was 90 minutes.
13. Rocket Raccoon was modeled after a raccoon named Oreo from the UK.
14. The director's brother, who did the on-set acting for Rocket Raccoon, improvised the line, "A bunch of jackasses standing in a circle." 15. Zoe Saldana said she wanted to portray Gamora through makeup rather than CGI or performance capture like Avatar. 16. In the film, Gamora says she doesn't dance, but Zoe Saldana is actually a professionally trained ballerina.
Her ballet training helped her land her first film role as Eva Rodriguez in Center Stage.
17. The Collector's home in the film is in the space station Knowhere, which is the name of the Guardians' base in the comics.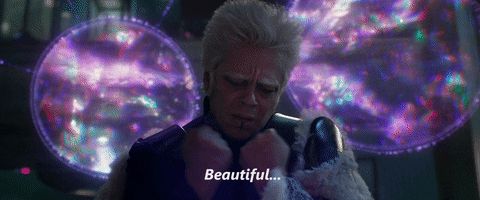 18. The album of the movie was the first soundtrack to ever reach #1 without a single original song. "Awesome Mix, Vol. 1" hit #1 on the US Billboard 200 chart and was was also nominated at the 2015 Grammy Awards for Best Soundtrack.
19. Yondu's weapon of choice is a sentient arrow which is a nod to him being an archer in the comics.
20. After filming was done, James Gunn gave Dave Bautista a Drax lunchbox to add to his collection of vintage lunchboxes.
In addition, Bautista gave Chris Pratt and Zoe Saldana custom WWE Championship belts.
21. Iron Man was supposed to have a cameo role in Guardians, but the idea was scrapped because Robert Downey Jr. wasn't sure if he wanted to reprise his role as Tony Stark back then.