What-the-Ki-Yay? 5 of the Weirdest 'Die Hard' Riffs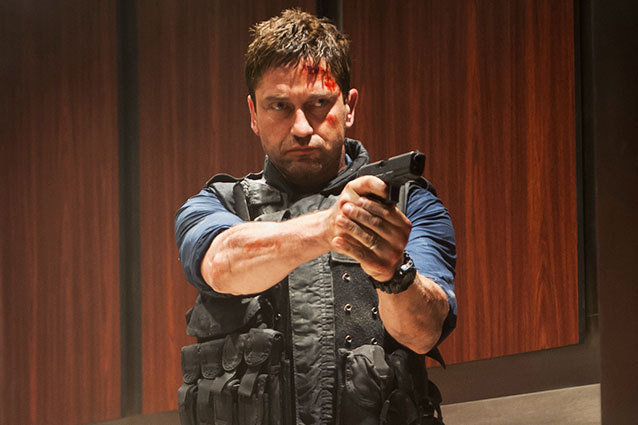 Last month, the fifth film in the Die Hard franchise was released upon theaters. As the minutes of the run time clicked away, it became painfully clear that A Good Day to Die Hard didn't actually feel like a Die Hard movie. Sure, it again starred Bruce Willis as John McClane, and indeed he was taking on a fresh crop of bad guys. However, from a fundamental story standpoint, it felt miles apart from the original film, and we don't just mean that in the sense that it took place in Russia. 

Then came the first trailer for Antoine Fuqua's Olympus Has Fallen. In the movie, a lone secret service agent is the only one who can step in to save the president when The White House is besieged by terrorists. Every inch of that trailer would suggest that Olympus has Fallen is merely Die Hard in The White House. There's even similar sounding dialogue that suggests similar villain misdirection; "who said anything about negotiating" versus, "who said we were terrorists?" This got us thinking about some of our favorite, and weirdest, instances of the Die Hard model being applied to other narrative setups. 

Die Hard on a Bus: Speed

1994's Speed is probably the most well-known of this lot of Die Hard rip-offs, but it's also the one that boasts the most direct shared heritage. Jan de Bont made his directorial debut with Speed, after making a name for himself in Hollywood as a cinematographer on such films as Cujo, Ruthless People, and, oh that's right… Die Hard. Interesting note: the airplane into which the bus crashes at the end of the movie is labeled Pacific Courier — the same company brandished on the side of the truck that brought the terrorists to the Nakatomi building in Die Hard.
RELATED: What Makes a 'Die Hard' Movie a 'Die Hard' Movie?
Die Hard at a Rock Concert: Command Performance
There is usually one scene in every Die Hard movie in which John McClane takes on someone much bigger than himself; keeping him relatable to the audience even as he establishes himself as an action hero. However, you'd be hard-pressed to find someone much larger than Dolph Lundgren, and yet he assumes the John McClane role for Command Performance. In the film, Lundgren plays the drummer of a rock band who happens to be performing in Russia when a group of kidnappers invade the concert. They are hoping to abduct the Russian president and his daughters who are there to see America's number one pop star. The movie is totally absurd, but wildly entertaining despite itself. Not to be missed is the scene wherein Dolph takes down a foe with the sheer power of rock n' roll.
Die Hard on Ice: Sudden Death
Another of Willis' Expendables 2 co-stars, Jean-Claude Van Damme, gets his chance at inhabiting his own John McClane-type character in 1995's Sudden Death. Terrorists take hostages in the premier private suite during the NHL Stanley Cup playoffs, and it's up to one unfortunate ex-firefighter to save the day. The parallels to Die Hard here are evident even from the nosebleed seats, as is the fact that Sudden Death was originally written to be a comedy. There is actually a scene, played with deathly seriousness in the final cut, wherein Van Damme engages in a brutal altercation with a woman in a giant penguin costume.
RELATED: 10 Cheesy Jean-Claude Van Damme Photos
Die Hard at a Beauty Pageant: No Contest
As it turns out, ripping off Die Hard is an equal opportunity enterprise. In 1995's No Contest, a Die Hard scenario breaks out at a beauty pageant, and it's up to the hostess of the show — who, incidentally, is also a kick-boxer — to save the day. Adult film star Shannon Tweed stars as the stone in the collective shoe of the sinister gangsters who take the prospective beauty queens hostage. The gang is lead by none other than controversial standup comedian Andrew Dice Clay. One direct connection is the fact that Robert Davi, who played one of the two Agent Johnsons in Die Hard, appears in No Contestas, get this, an authority figure on the outside looking in.
Die Hard with a GPA: Toy Soldiers
You're never too young to be yippee-ki-yay your way to action hero status. In 1991's Toy Soldiers, a private boarding school, attended by the children of a number of prominent, wealthy citizens, is taken over by terrorists. A group of rambunctious young pranksters decide to put their skills to good use and make trouble for their uninvited guests. Sean Astin, Samwise Gamgee himself, stars as the leader of the collective teenaged McClane here. In this abridged clip, we see that part of Astin's plan for foiling the terrorists even involves crawling through air ducts. Now, who else do we know who does that?
[Photo Credit: Film District]
---
You Might Also Like:


15 Oscar-Winning Nude Scenes


Young Jack Black Is Totally Unrecognizable