83rd Academy Awards: We Predict the Winners
Who's going to be taking home lots of little golden men this Sunday? Check out our predictions for the 83rd Annual Oscars and get a leg up on your picks (we know you're all secretly hosting lavish Oscar parties this weekend).
Best Picture: The King's Speech
We all know the Oscars have a formula. The Academy loves biopics, art-house films and, well, the Holocaust. Looking at the nominees this year — and since there isn't a WWII drama — the two obvious standouts are The King's Speech and The Social Network. Both are based on a true story. Both sport a strong leading actor. And both, well, are fantastic films. That said, The King's Speech will win Best Picture. Not because it's a "better" film than The Social Network, but because it's a better fit for the Oscar mold.
Bottom Line: It's got that historic feel (which the Academy loves), an epic character struggle (which the Academy loves) and a few tear-jerking moments (which the Academy definitely loves). Sorry, Fincher. Maybe next time. -Eric Sundermann
Best Actor: Colin Firth

We all know The King's Speech was a fantastic film in all aspects, but it would not be such a success without its charismatic leading man. Firth has been serving up gems in the movieverse for years (even if they were book-ended with Bridget Jones Diary and What a Girl Wants); the man is a fantastic actor. I knew this way back when he was playing Mr. Darcy in the BBC version of Pride and Prejudice, but after the inspiring, heartfelt performance he delivered in The King's Speech I'm not the only one who sees it.
Bottom Line: I doubt anyone will be crying when the other four actors congratulate Firth on his well-deserved win. -Kelsea Stahler
Best Actress: Natalie Portman

For her role in Black Swan, Natalie Portman has already won a Golden Globe, a SAG and a BAFTA award. This means by the time we come to her category during the Oscars ceremony, there will not be any surprise when her name is — almost surely — called once again. However, since Natalie has only been nominated twice (and certainly has many more nominations ahead of her) whereas The Kids Are All Right star Annette Bening has been nominated four times, there's a slight chance that The Academy could believe Bening is slightly more worthy of the trophy because she's waited longer to receive it.
Bottom Line: Bening's performance this year was especially heartfelt and compelling, whereas Portman's (while undoubtedly great) lacked the same kind of emotional weight, which means Bening really could come out ahead. -Hannah Lawrence
Best Supporting Actor: Christian Bale

Bale has been waiting for a role like Dicky Eklund his entire life; one that would satisfy his creative desire while also wowing critics and helping the acclaimed film in which he co-stars (it's The Fighter, in case you don't have cable, internet, a phone or a life) achieve massive commercial success. He stole every scene in David O. Russell's rousing boxing drama with intense dedication to his character as he physically and psychologically transformed into a drug-addicted former bruiser living in denial. He's both the comic relief in the picture as well as its most tragic figure and though there are more than a handful of standout scenes to support my prediction, I'd tell you to look at the final shot of the film for proof of how stunning his performance is.
Bottom Line: If we are in store for an upset on Sunday, it'd be Geoffrey Rush taking home his second Academy Award for his prestigious portrayal of Lionel Logue in The King's Speech. -Daniel Hubschman
Best Supporting Actress: Melissa Leo

Melissa Leo has long been the frontrunner to receive an Oscar for her role in The Fighter, but there's a possibility she may have lost valuable votes when she released a series of glamorous photos of herself that were widely considered to be a campaign (which is, SO TACKY, to be polite). So with that in mind, it's important to consider Hailee Steinfeld's performance in True Grit.
Bottom Line: Though it's unlikely that someone so young would suddenly come on the scene and walk away with an award, Steinfeld nailed her character and asserted herself as a talent that will always and forever prevent the other women in her category from ever getting truly comfortable with their own work. -Hannah Lawrence
Best Director: David Fincher

In my book, Fincher was robbed of his Best Achievement in Directing award in 2009 for the unreasonably overlooked The Curious Case of Benjamin Button, arguably the filmmaker's most mainstream movie until this year's The Social Network. He deserves the Oscar not only for working way outside his comfort zone, but for putting his signature all over a film foreign to his own style. Nearly every shot is trademark Fincher as is its alarming tone that helped mount the tension between the characters. In a year when the majority of the Best Picture nominees were led to the Kodak Theater on the shoulders of its stars, The Social Network has achieved its success because of its quality as a complete production, and the honor belongs mainly to its helmsman.
Bottom Line: Of course, The King's Speech is poised to take Best Picture and that film's director, Tom Hooper, has been lauded to the same degree as Fincher. Though it would be saddening (for me, and many fans), a Hooper win wouldn't exactly be surprising considering his film has much more momentum going into the ceremony. -Daniel Hubschman
Best Original Screenplay: The King's Speech
Let's face it, The King's Speech is probably going to win the award, and it should. David Seidler has been sitting on the script for many years, twiddling his thumbs to tell his story and it is a remarkable one. But, it is no Inception. And while many derided Chris Nolan's film for its weak dialogue, I counter that by saying all the incredible visuals in the film were first found in the pages of script. Every kick, every city folding in on itself, every level of dream started out in the screenplay. The set pieces were so awesome it didn't need great dialogue.
Bottom Line: Inception deserves the win. -Sam Morgan
Best Adapted Screenplay: The Social Network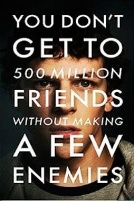 The Social Network probably won't land its deserved Best Picture Oscar, but we predict the Academy won't snub the film twice (well, thrice if David Fincher doesn't get Best Director). In this category (that is, still, very confusing because Toy Story 3 is nominated), The Social Network is the frontrunner that not only will win, but deserves to win. Think about it. At its heart, it's a movie about the founding of a freakin' website. A website! Sure, it's a multi-billion dollar website, but ultimately, it's based on something that we can't even physically hold in our hands.
Bottom line: Aaron Sorkin's words carried the picture and after years in the industry he deserves his first Oscar. -Eric Sundermann
Best Animated Feature: Toy Story 3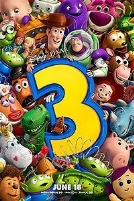 This one's a toughie for me because we grew up with the Toy Story movies and Toy Story 3 not only completed the trilogy perfectly, but contained a message that allows the film to stand on its own for youngsters who haven't had the chance to enjoy the original(s). I think this final chapter deserves the win, but DreamWorks' How to Train Your Dragon was such a heartwarming, delightful surprise that combined the freedom of animation with more heart than many serious dramas from 2010 can boast. We laughed, we cried, we were moved and all because of some mythical creatures!
Bottom Line: Toy Story 3 will get the win, and it deserves to, but I wouldn't be so bummed if Dragon sneaked in there. –Kelsea Stahler
Best Documentary: Exit Through the Gift Shop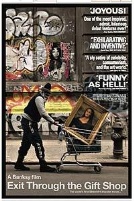 Documentaries are often the strongest category in any given year at Oscars. 2011 is no exception. We'll play it safe and go with Inside Job just because the award went to an environmental doc last year. But Restrepo could take the trophy as well thanks to its haunting portrayal of the war in Afghanistan. Of course, the real winner should be Exit Through the Gift Shop if only to see what Banksy would do if he won.
Bottom Line: The documentary was fantastic, but putting Banksy in front of Hollywood is too good an opportunity to pass up. -Sam Morgan