A 'Limitless' Bradley Cooper Tops Box Office!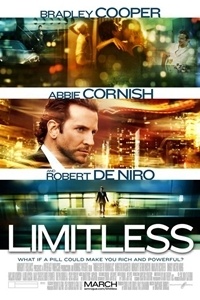 Relativity Media's Limitless tops the weekend with a bigger-than-expected $19 million and in the process makes Bradley Cooper America's favorite leading man.  Hangover star and favorite of women everywhere, Cooper impresses with his first truly non-ensemble role and proves that he can open a movie on his own.  A terrific marketing campaign that emphasized the star's face and a tag line that clearly explained the premise of the movie totally clicked with audiences both male and female.  The story of a man who stumbles upon a pill that can accelerate brain function and thus offer the user limitless possibilities, the film is a PG-13 rated mind-bender that co-stars Robert DeNiro and is directed by Neil Burger who helmed the 2006 release The Illusionist starring Edward Norton. 
Paramount's animated Rango, featuring the voice of Johnny Depp as a chameleon Sheriff of a wild-west town,  is a solid springtime family hit adding another $15.3 million this weekend.  Solid mid-week grosses in the $2.5 million range reflected great word-of-mouth and the film now has a total domestic gross of $92.6 million.
In third place, Sony's sci-fi alien adventure Battle: Los Angeles earned $14.6 million and realized a 59% second weekend drop.  With a better-than-expected debut last weekend of $35.6 million, the film also performed well mid-week with grosses in the $3 million range.  With the look and feel of a summer extravaganza, this is one battle that audiences seem more than happy get involved in, particularly the young males who came out in big numbers for the opening weekend.  The domestic total through Sunday is $60.6 million.
Of course there are two additional new wide releases that made their debuts this weekend.  In fourth place with $13.4 million, Matthew McConaughey gets back to the type of role that catapulted him to stardom fifteen years ago in 1996's A Time to Kill with a lawyer of a different sort in Lionsgate's The Lincoln Lawyer.  As an attorney who conducts business out of the back of his Lincoln automobile, the R-Rated drama boasts a solid cast including Marisa Tomei, Ryan Phillippe, William H. Macy and Josh Lucas.  In the first use of the online deal-of-the-day website Groupon to promote a film nationally, Lionsgate is using an innovative marketing campaign to reach the site's 60 million subscribers in an effort to raise awareness of the film.  The promotion paid off big with 40,000 redeemed coupons for the film enhancing the overall weekend box office revenue and should inspire future use of this type of tie-in.  A Saturday gross uptick of 37% reflects solid word-of-mouth and should hold the film in good stead in the next couple of weeks with the 85% of the audience that was over 25 years of age.
Fifth place goes to an alien of a more comedic nature than those looking to vaporize Los Angeles as Universal's R-rated Paul descended into theatres this weekend with $13.1 million.  With the alien given voice by Seth Rogen and co–starring Shaun of the Dead and Hot Fuzz alumni Simon Pegg and Nick Frost, Paul has already earned $28.1 million expanding into 9 overseas territories.  Notably the film posted the biggest debut of the year in the U.K. and the biggest opening for an American film in France in 2011 thus far.  With the director of 2007's Superbad at the helm, a decidedly off-beat sense of humor and the comedy credentials to back it up, Paul provided comic relief of an other-worldly sort this weekend.
The fourth consecutive "down" weekend at the box office fed us yet another bitter pill when a year ago Alice in Wonderland had a $34.2 million third weekend gross and saw the low $20 million debuts of Fox's Diary of a Wimpy Kid and "Sony's"The Bounty Hunter.
Weekend Box-Office
Top Movies – For Weekend of March 18, 2011 – Estimates
    Movie     Weekend Gross     Total to Date
1     Limitless (PG-13)     $19.0M     $19.0M
2     Rango (PG)     $15.3M     $92.5M
3     Battle: Los Angeles (PG-13)     $14.6M     $60.6M
4     The Lincoln Lawyer (R)     $13.4M     $13.4M
5     Paul (R)     $13.1M     $13.1M
6     Red Riding Hood (PG-13)  $7.2M     $26.0M
7     The Adjustment Bureau (PG-13)  $5.9M     $48.8M
8     Mars Needs Moms! (PG)   $5.3M     $15.4M
9     Beastly (PG-13)  $3.3M     $22.2M
10   Hall Pass (R)  $2.6M     $39.6M