A Musical Version of 'Rocky'? Really?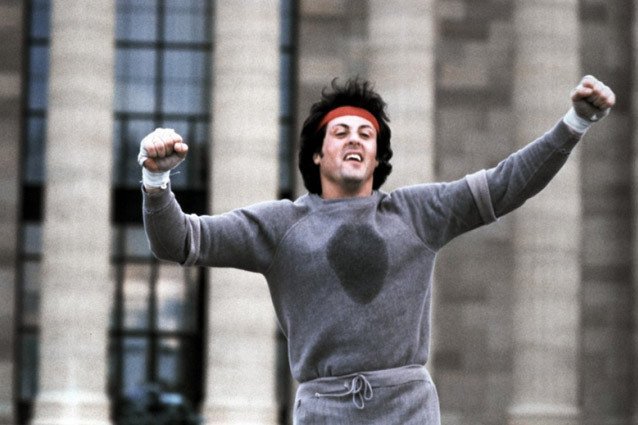 United Artists
There's going to be a musical based on the first Rocky movie. You know, the one that launched Sylvester Stallone to superstardom. To that, I say, "Really?" This isn't just going to be some small, off-Broadway affair. No, this is going to be on Broadway, the big leagues. Again, I say, "Really?"
On the surface of it, it is an inspiring story that could be turned into a play. It's one of the ultimate underdog stories and there's one thing the Great White Way loves, it's tales of people coming back to beat some of the longest odds. But I'm not sure that this is one that should have been given the green light. There's just a lot of things working against it.
The thing that worries me the most is the boxing sequences. As a huge sports fan, I am ALWAYS gritting my teeth when I watch sports movies because real-life sports events are really hard to duplicate. That's when you have the budget and camerawork to make it look as realistic as possible. This is going to be on a stage and I have a bad, bad feeling that the boxing sequences are going to stink. I'm talking WWE-telegraphed punches. Running up a fake set of stairs to the top is also going to look really awkward. I don't know how Andy Karl is going to be when playing Balboa and I'm not sure he was the best pick for the role. I also think that there's not an actress that can really play the awkward and endearing role of Adrian like Talia Shire did. 
Secondly… it's a musical! I think Burgess Meredith is up somewhere in heaven making a lot of angry noise about someone playing the role of Mickey and SINGING. "You're going to eat lightning and crap thunder!/Keep training, Rocky! You'll rend Apollo Creed asunder!"
Of course, if they don't have the orchestra play the main Rocky theme at the beginning, then everyone in the theater should just get up and walk out. That should be a given right there and they might as well have Survivor play "Eye of the Tiger" (Yes, yes, I know that was from Rocky III. It's not like the band is doing anything now).
I'm giving this play a standing eight-count already. Really.
More:
Is The Rom-Com Genre Gone For Good?
Who Will Die On 'The Simpsons'?
Breaking Bad Easter Eggs
---
From Our Partners:


40 Most Revealing See-Through Red Carpet Looks (Vh1)


15 Stars Share Secrets of their Sex Lives (Celebuzz)