'About Time' Trailer: Rachel McAdams, Stop Falling in Love with Time Travelers!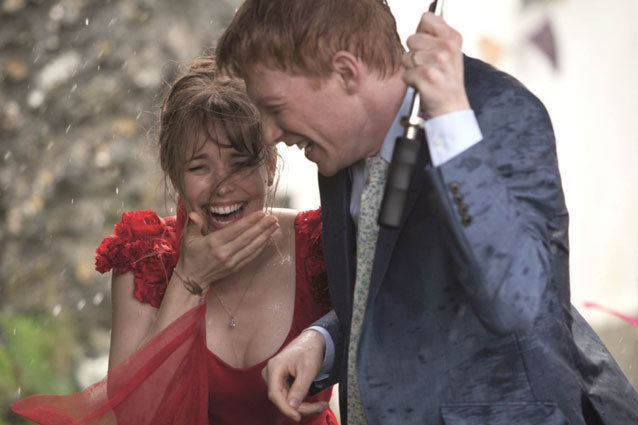 You know that friend you have who always seems to wind up dating jerks? No matter how toxic the relationship or brutal the breakup, no experience seems to turn her off from falling for another ass hat next time around. Well, Rachel McAdams is kind of like that. But not with jerks. With time travelers. If you haven't noticed the trend, then her latest romantic comedy About Time is sure to drill it into your head — our dear Regina George just can't seem to stop falling in love with men who selfishly, haphazardly, or otherwise destructively manipulate the space-time continuum. Think about it.
She fell for Eric Bana in The Time Traveler's Wife, enduring his involuntary jumps from future to past with a heavy heart. In Midnight in Paris, she waited patiently while her fiancé Owen Wilson teleported back and forth from the 1920s, where he'd cavort carelessly with the likes of Salvador Dalí and the Fitzgeralds. And, if you want to count time jumps as a storytelling device, there's also The Notebook. Okay, that one doesn't really count, but how can you discuss Rachel McAdams without bringing up The Notebook?
In any event, the romantic comedy About Time looks to be an enjoyable chapter in this actress' story of alarming addiction. The nervous young man Domhnall Gleeson learns about his ability to travel back to any time he wishes, and uses this (obviously) to score chicks. Check out the new trailer:
Follow Michael Arbeiter on Twitter @MichaelArbeiter
More:
Rachel McAdams Joins Cameron Crowe Rom-Com
Did Rachel McAdams Win 'Mean Girls'?
Rachel McAdams and Michael Sheen Split
---
From Our Partners:


What Happened to 33 Child Stars (Celebuzz)


40 Most Revealing See-Through Red Carpet Looks (Vh1)