Scientologists Are Not Happy That Everyone Keeps Saying 'After Earth' Is About Scientology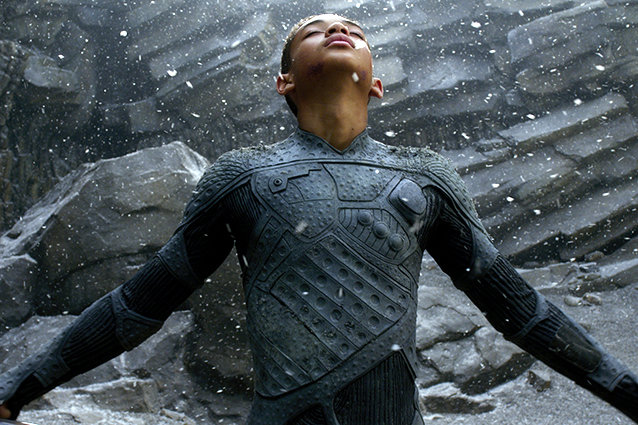 Maybe if After Earth was actually a halfway decent movie, major world religions wouldn't be totally appalled to be associated with its subtext. But as it were, the comparison of the themes lining Will Smith's latest outing to the tenets of Scientology — a theory intricately assembled in this brilliant article by writer Matt Patches — has stirred representatives of the controversial creed. The Church of Scientology caught wind of the aforementioned essay, which has become a widespread Internet talking point, and is none too pleased with the analogies illustrated within. The Church's media center issued the following statement to Next Movie, firmly denouncing any ideological similarities with the M. Night Shyamalan picture:
"The myth launched by a handful of self-promoters that After Earth is about the Scientology religion and its tenets is silly nonsense. After Earth has as much to do with Scientology as Lord of the Rings, Harry Potter, Star Wars, Moby Dick, King Arthur, Homer's The Odyssey or countless other stories about protagonists overcoming fears and opponents. The Church's website, www.scientology.org, contains accurate information on the Church and the many social programs it supports."
No matter how firm their stance on emancipation from the critically reviled film's themes, the Church of Scientology really has no say in what After Earth is or isn't about. If M. Night Shyamalan intended for it to be a film about Scientology, it is. If even one person has interpreted the movie as such, then the subtext exists. Movies and stories are all about ideas — not just conveying them, but producing them. Clearly, After Earth, with or without the benefactor of a Will Smith connotation, produced the idea that the scales of the religion helped to erect its allegory. The Church can call hogwash all it wants, but that won't take away from the fact that somewhere in this movie, somebody found and articulated the influence of Scientology. So now, it is forever with us. Thank you, Matt Patches.
Follow Michael Arbeiter on Twitter @MichaelArbeiter | Follow hollywood.com on Twitter @hollywood_com
More:
'After Earth' Review
'After Earth' Will Smith Interview
'After Earth' Jaden Smith Interview
---
From Our Partners


Stars Pose Naked for 'Allure' (Celebuzz)


Which Game of Thrones Actor Looks Least Like His Character? (Vulture)